Intel receives patent for remotely controlling using wearable device. Read about this and other recently published patents.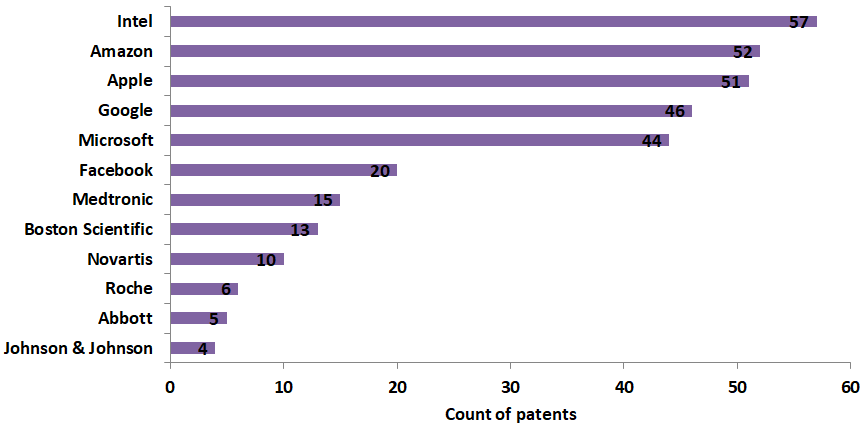 In this post, we take you through some of the recent patents from Intel, Facebook, Amazon, Microsoft, Apple, Google, Medtronic, Boston Scientific, Novartis, Roche, Abbott, and Johnson & Johnson.
Intel receives patents for remotely controlling using wearable device and a touch interface for a projection device
US patent 10,289,198 discloses remotely controlling a computing device using a wearable device that receives sensor data indicative of longitudinal and rotational movements associated with skin surface of a user. Illustration below depicts the wearable computing device.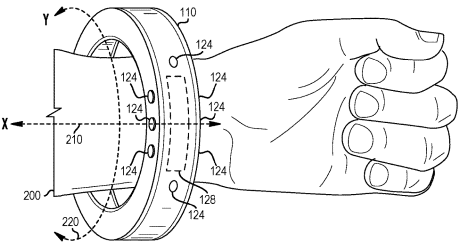 Another US patent 10,291,890 discloses a projection device configured to project groups of pixels in a frame of an image using visible and invisible optical radiation received from a first and a second light source. Illustration below shows a single light engine projection device .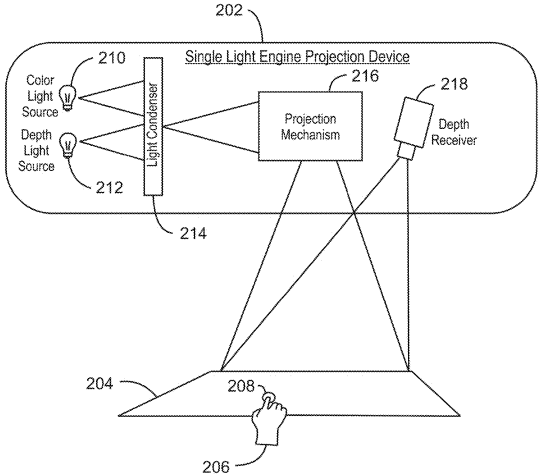 Facebook patents system for providing temperature sensation based on displayed content
US patent 10,290,190 titled "Providing Temperature Sensation to a User based on Content Presented to the User" discloses a device which allows the user to feel heat or cold based on the content displayed.
Amazon obtains patent relating to adjusting propeller blades for sound control
US patent 10,287,006 describes an aerial vehicle with adjustable propeller blade joints to alter the shape of the propeller blade. The altered shape of the blades generate different frequencies of sound for reducing total sound generated by the aerial vehicle. Figure below illustrates the view of an aerial vehicle with the propeller blade.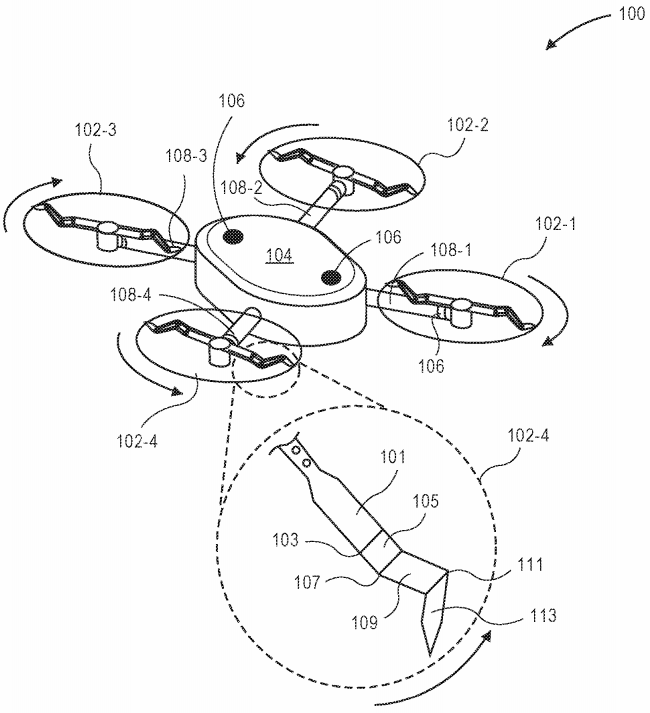 Microsoft bags patents relating to file activity feed and smart eyewear with movable display
US patent 10,289,282 titled "While You Were Away Experience" describes displaying file activity feed on a user equipment (UE). The method determines relevant activities that were missed by the user using a timestamp of the file and displays it in the file activity feed of the UE, as shown in the figure below.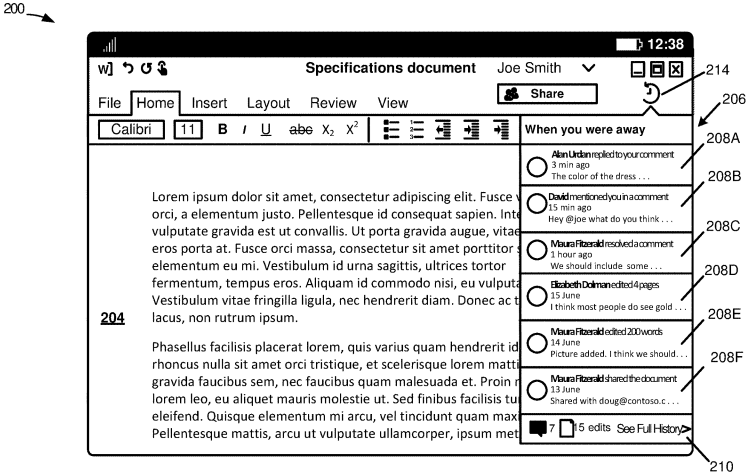 US patent 10,288,889 describes attaching an eyewear with a movable near-eye display, which includes a display optic support that is movable with respect to the frame of the eyewear. Figures below illustrate the eyewear and pivotally coupling two arms of the display optic support to the frame of the eyewear.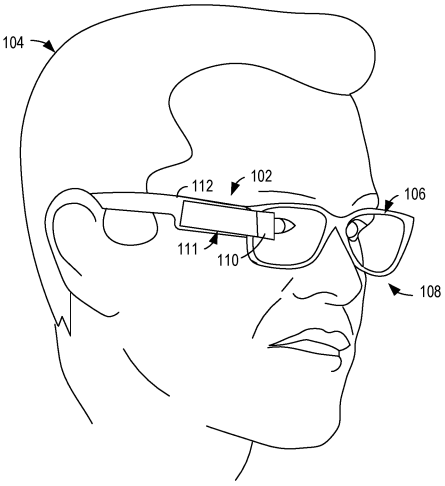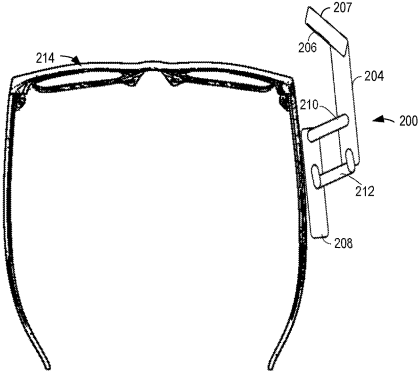 Apple awarded patent for self-adapting alert device
US patent 10,290,202 discloses a portable electronic device that autonomously adapts one or more user alerts to current operating environment. The figures below illustrate the self-adapting device and an operating environment.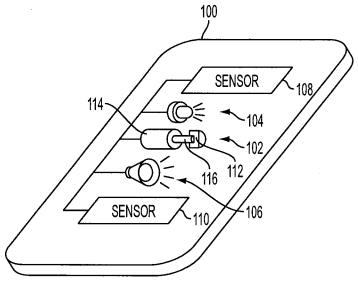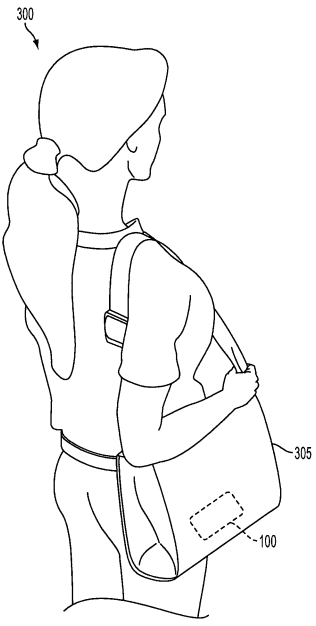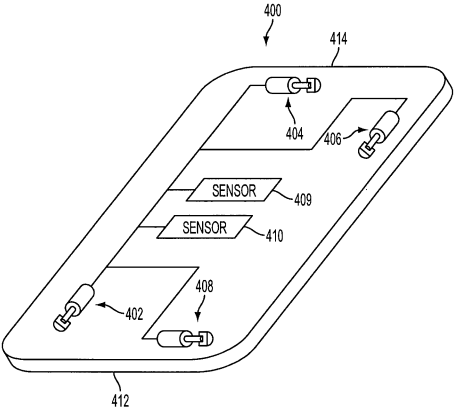 Google wins patent relating to damage sensors for a mobile computing device
US patent 10,291,742 discloses a mobile device utilizing sensors to detect a hazardous event and notifying a central server of being potentially damaged when the magnitude of the damage exceeds a threshold damage value. Figure below illustrates the computing device configured to detect potentially damaging events.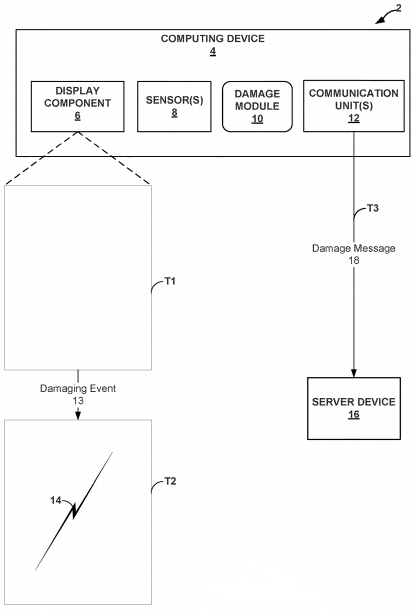 Medtronic patents user interface for configuring stimulation therapy
US patent 10,286,216 discloses a system that allows a user to configure electrical stimulation therapy by defining a three-dimensional (3D) stimulation field. A clinician manipulates the 3D stimulation field in a 3D environment, and the system generates the necessary stimulation parameters. Figures below illustrate an example stimulation system and show a screenshot of a lead icon placed on a coronal view of brain tissue.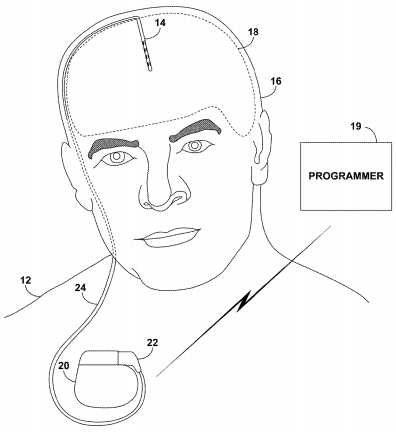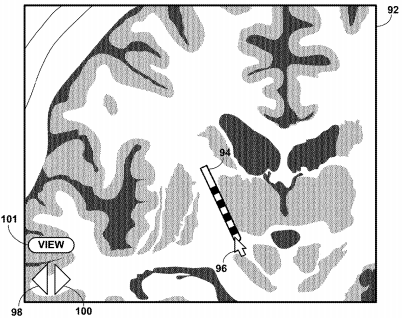 Boston Scientific wins patents for treating obesity by reducing stomach volume
US patent 10,285,838 discloses a method for treating obesity by acquiring and fastening a tissue fold within a stomach, by applying vacuum for drawing tissue into a chamber, allowing the tissue to be pressed into contact with other tissue sections until they are bonded together forming a two-layer fold, and fastening the fold with staples. Figure below illustrates the endoscopic tissue-fold and stapling system.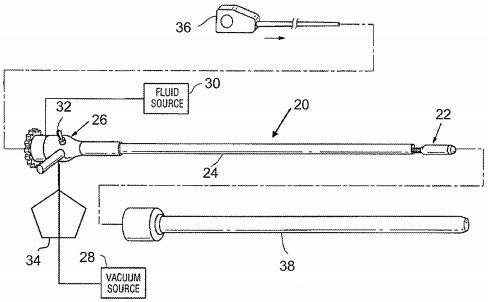 US patent 10,285,836 relates to a method for positioning an implant coupled to gastrointestinal tract tissue by anchors and defining a passageway that creates restrictions to passage of food into the stomach, thus reducing the effective volume of the stomach. Figure below illustrates the implant positioned within the stomach.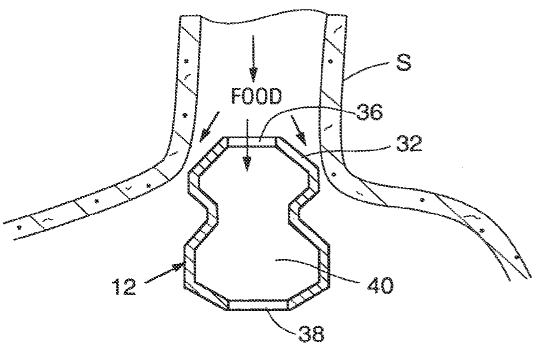 Novartis receives patent for a scanning optical probe
US patent 10,285,583 presents a scanning optical probe with flexing mechanism comprising a cannula, optical fiber, lens, and an actuating mechanism for tilting the optical fiber back and forth within the cannula. Figure below illustrates the scanning optical probe in an ophthalmic application.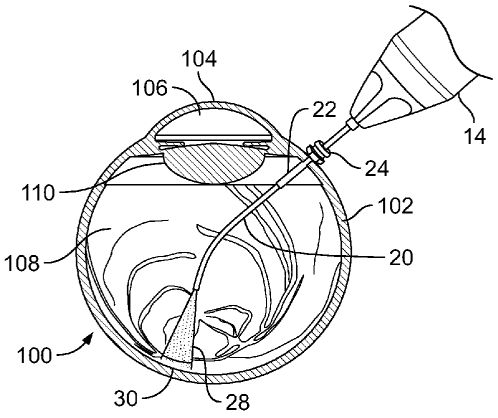 Roche awarded patent for mounting device for actuator modules
US patent 10,288,634 relates to a laboratory sample distribution system comprising a device for mounting a plurality of actuator modules in a grid pattern to a support frame with support bars. Figure below illustrates the device and shows an actuator module.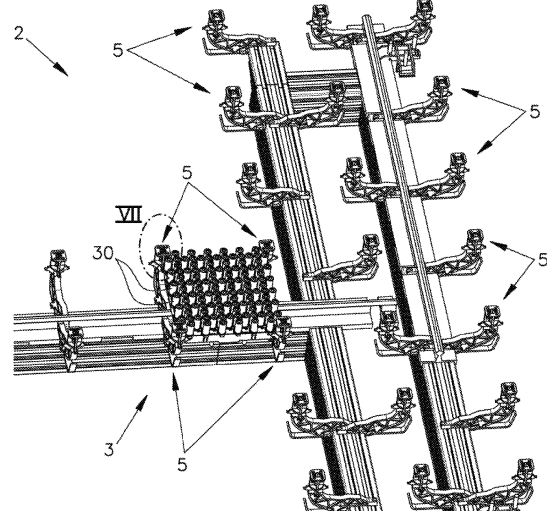 Abbott obtains patent for an analyte monitoring device
US patent 10,285,632 presents a system for determining real time analyte concentration including an analyte sensor having a portion in fluid contact with an interstitial fluid under a skin layer, an on-body electronics, several electrical contacts, and a data analysis unit. Figure below depicts the analyte monitoring system including real time data acquisition.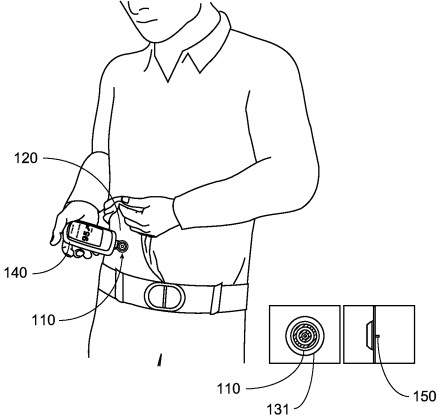 Johnson & Johnson wins patent for light therapy
US patent 10,286,224 describes devices and methods for delivering light-based skin therapy treatments for improving skin health, such as anti-aging enhancement or acne prevention, using light-emitting diode light therapy. Figure below is a view of one embodiment of a therapeutic lamp platform comprising a wearable mask.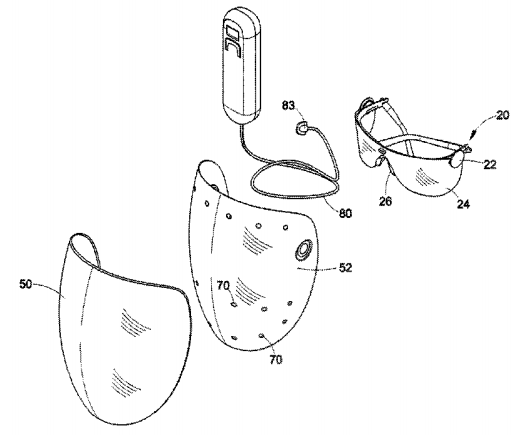 Did you like this piece of content? We would love to hear your thoughts! Leave a reply below to let us know which companies you would like to see us follow, and any other suggestions you might have. Be sure to subscribe to our blog to stay up to date with the latest information on patents, applications, and more.