Intel receives patent for techniques for intelligent route planning and transparent display for an electronic device. Read about this and other recently published patents.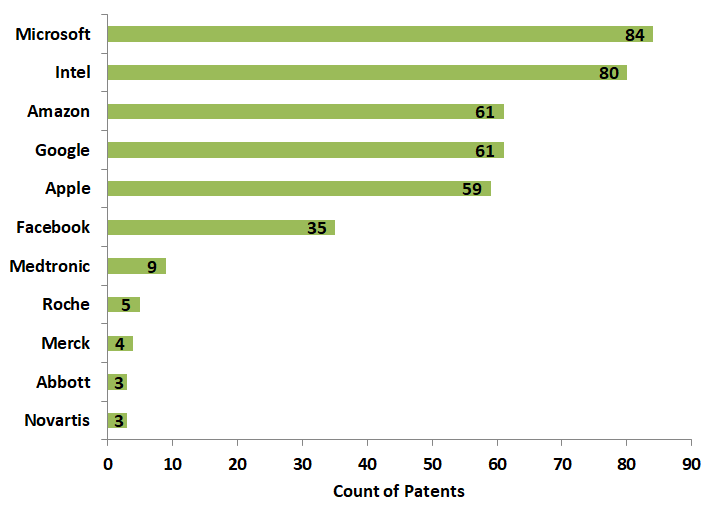 In this post, we take you through some of the recent patents from Microsoft, Intel, Apple, Google, Facebook, Amazon, Boston Scientific, Roche, Medtronic, Merck, and Novartis.
Microsoft bags patents relating to intelligent productivity monitoring and holographic augmented authoring
US patent 10,318,096 discusses a digital assistant configured to actively participate with a user to set and achieve productivity goals by determining the user's intent, maintaining awareness of context, providing productivity status and notifications to help the user stay productive and avoid distractions. Figures below illustrate graphs providing productivity feedback to the user.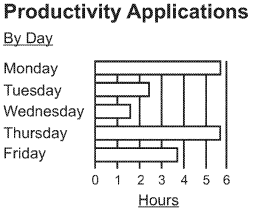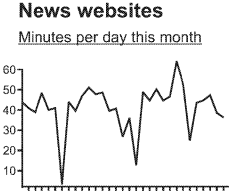 US patent 10,318,225 discusses switching a user interface of a productivity application executing on a computing device from a touch mode to a holographic mode, which opens communication between the computing device and a holographic enabled device providing a mixed reality system. Figures below depict an example of holographic augmented authoring.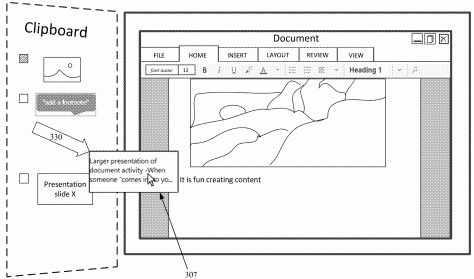 Intel receives patent for techniques for intelligent route planning and transparent display for an electronic device
US patent 10,317,225 discloses methods for intelligent vehicle route planning for a user based on tasks associated with one or more locations and the current user location information. Illustrations below show a current user location, a destination location, a possible route, and a push notification for a task en route.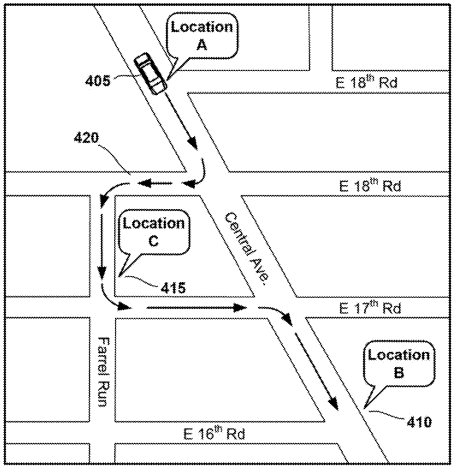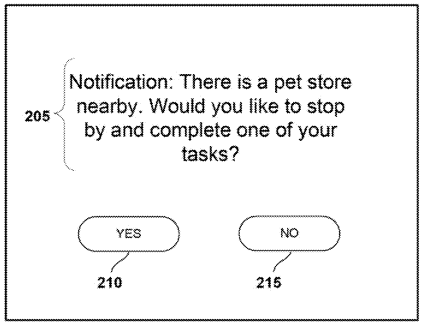 Apple awarded patents for devices with sidewall displays and tilt control user interface
US patent 10,318,029 pertains to flexible displays that are bent to form displays on multiple surfaces of an electronic device. The flexible displays include a touch-sensitive layer for receiving touch inputs and displaying visual information to a user. Figure below illustrates touch-sensitive edge displays on a device edge formed from a portion of a bent flexible display.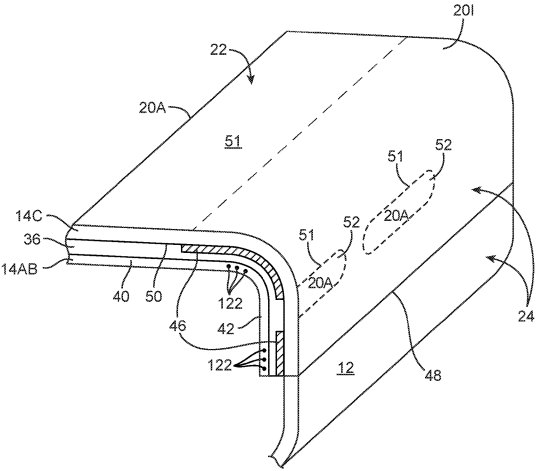 US patent 10,318,017 reveals a user interface for controlling viewing-angle of the image displayed on the device by tilting the device. The figure below illustrates three viewpoints through a camera viewfinder and a view the user might see in the three positions.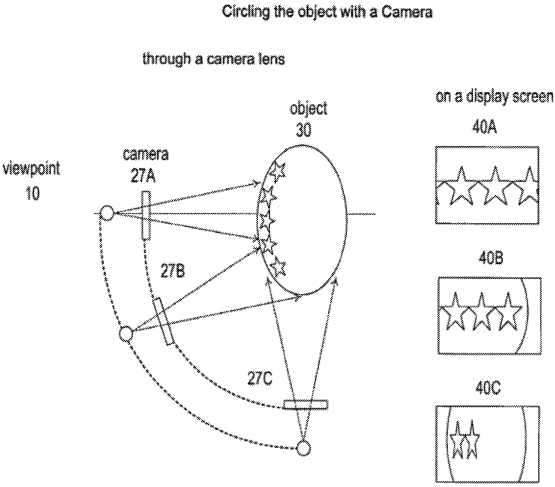 Google wins patent for creating and sharing automatic meeting note
US patent 10,320,861 discloses automatic generation of a meeting note document and sharing it with the participants based on data associated with the participant interaction and plurality of calendar events. Figures below depict graphical user interfaces for creating and sharing the document with selected users.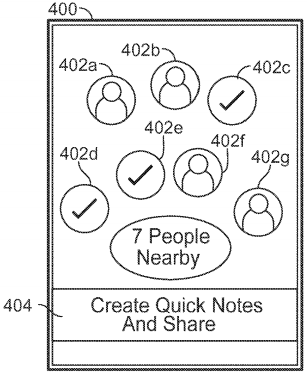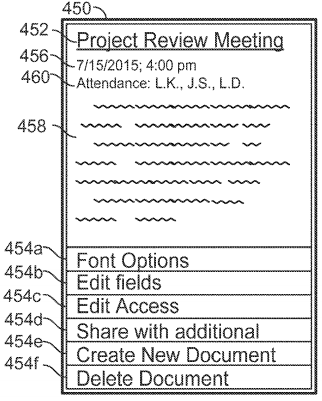 Facebook receives patents for identifying unexpected relationships in social networks and presenting ads based on battery level
US patent 10,319,045 discloses a social networking system for determining unexpected relationship between a pair of friends of a user. Information describing the pair of unexpected friends is presented to the user along with content relating the two friends. Figure below illustrates connections a user can have in a social network.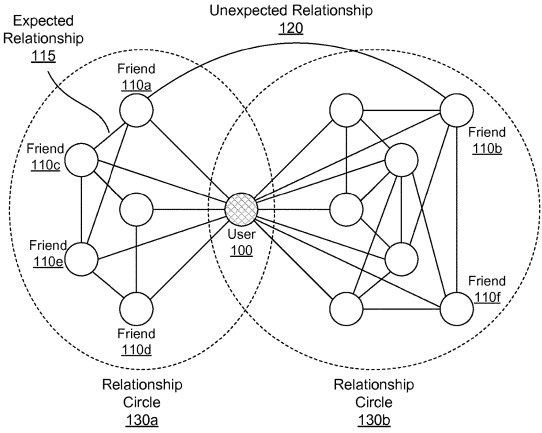 US patent 10,321,408 describes an online system that assesses the battery level of a client device before presenting advertisement contents to the client device.
Amazon obtains patent for a flexible battery
US patent 10,321,588 discloses a flexible battery in an electronic device that has a first portion and a second portion, wherein the second portion is bendable in one direction having a thickness less than the first thickness. Figure below illustrates the two portions of a flexible battery in a tablet.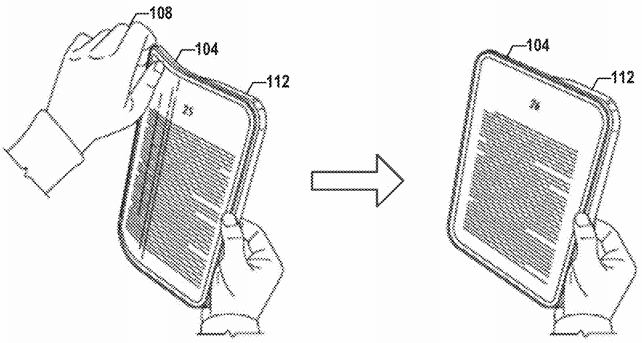 Boston Scientific obtains patents for pelvic implant system and heart valve replacement
US patent 10,314,681 discloses a system for treating pelvic conditions like urinary or fecal incontinence using implants to reinforce supportive tissue of the urethra by engaging and pulling the supportive tissue that intersects the urethra and vagina for stabilizing the urethra thereby helping to restore continence. Figure below shows the deployment of implant system in female pelvic region.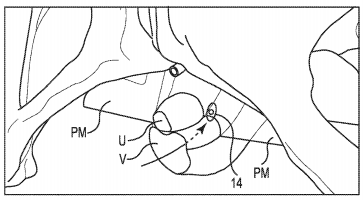 Another US patent 10,314,695 discloses an apparatus for endovascularly replacing a patient's heart valve, wherein the apparatus has an expandable anchor supporting a replacement valve for percutaneous delivery and grasping elements in the anchor to grasp tissue in the vicinity of the heart valve. Figure below illustrates the replacement heart valve with deployed anchor.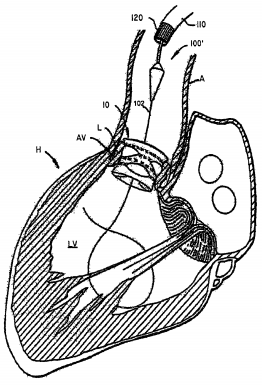 Roche wins patent for an improved multi-cell nanopore-based sequencing chip
US patent 10,317,392 relates to a multi-cell nanopore-based sequencing chip with improved accuracy and stability using formation, characterization, calibration, and normalization techniques, wherein DNA bases are determined based on normalized sequencing signals accumulated from each cell. Figure below illustrates a nanopore cell performing nucleotide sequencing using a nanopore-based sequencing-by-synthesis (Nano-SBS) technique.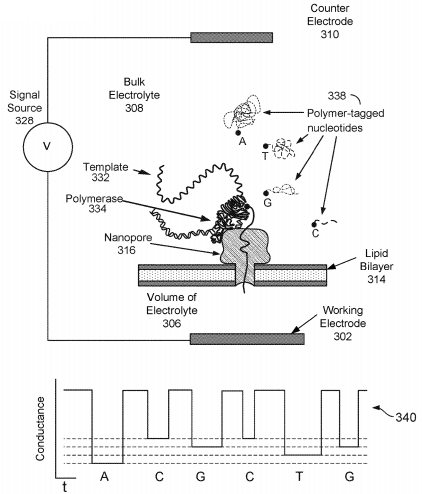 Medtronic awarded patent for a drug delivering kit
US patent 10,314,951 presents a kit for local delivery of water soluble agents comprising a mesh substrate with a polymer loaded with active agent configured to elute over time. Figures below show the various components of the kit and as implanted in the patient.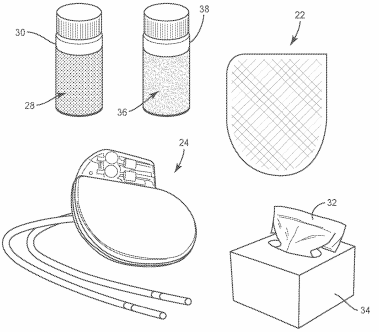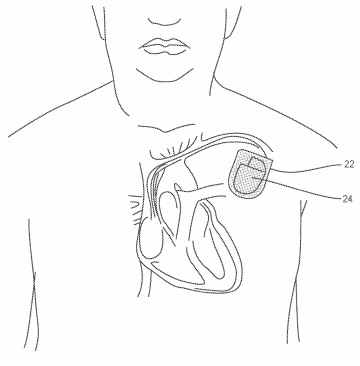 Merck gets patent for fluorinated tensides
US patent 10,315,989 reveals structures of novel fluorinated surface-active substances that are used as interface promoters, emulsifiers or viscosity reducers in paints, coatings and adhesives.
Novartis receives patent for inhalation salts
US patent 10,314,784 presents stable formulations of glycopyrronium salt to be inhaled for treating gastric ulcers.