Google obtains patent related to teleportation. Read about this and other recently published patents.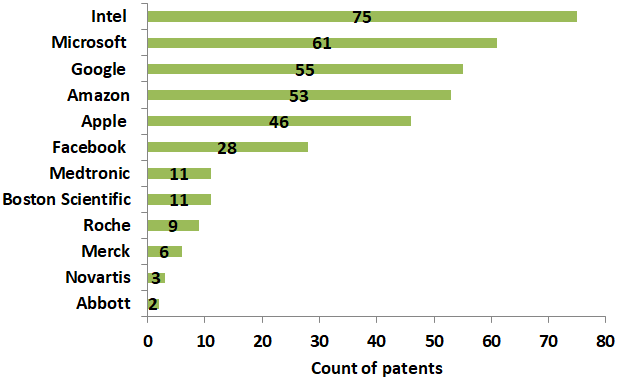 In this post, we take you through some of the recent patents from Google, Microsoft, Amazon, Intel, Apple, Facebook, Boston Scientific, Merck, Medtronic, Roche, Abbott, and Novartis.
Google obtains patents related to teleportation and virtual notation surfaces with gestures in an AR/VR environment
US patent 10,338,687 discloses a method of teleporting users in an AR/VR environment from a current virtual location to a new location upon receiving a user input via handheld electronic device. Figures below illustrate teleportation and scaling in AR/VR environments.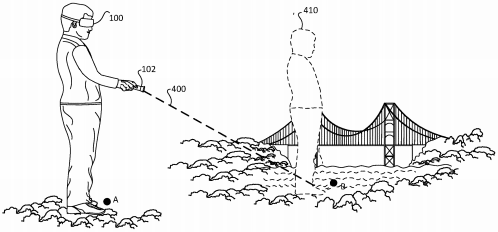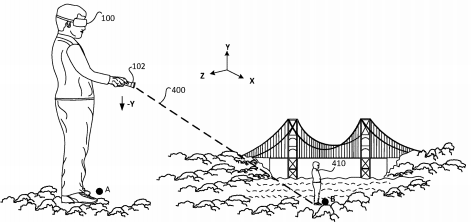 US patent 10,339,723 discloses a method of materializing a virtual annotation surface in an AR/VR environment upon detecting gestures from a user through controllers. Figures below illustrate annotation and manipulation of virtual notation surfaces in AR/VR environments.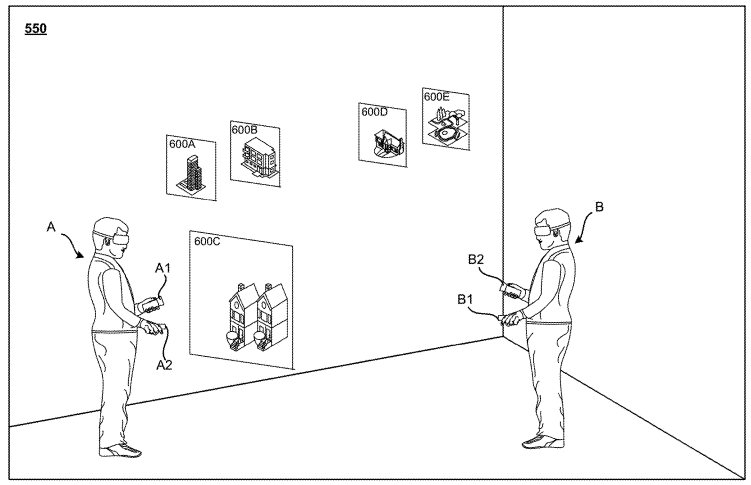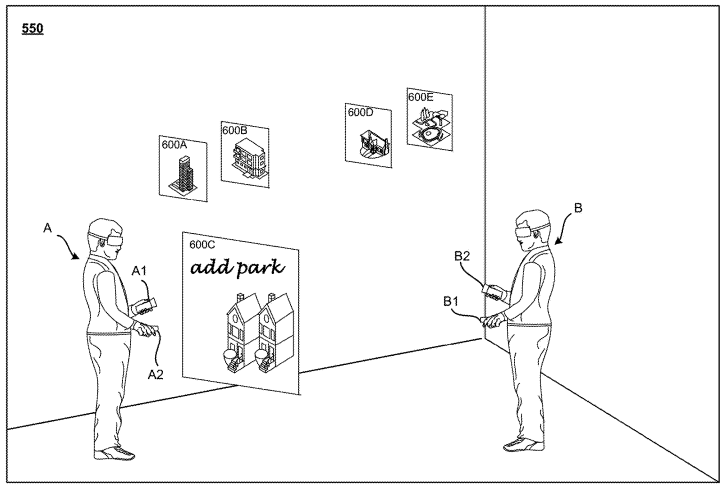 Microsoft awarded patent for gaze-based object placement within a VR environment
US patent application 10,338,676 discusses determining intersection of a user's projected gaze with a location in a VR environment to place a virtual object into the environment. A sensor package in the HMD projects the gaze ray from the user outwards and the virtual object is placed at the detected point of intersection as shown in the figures below.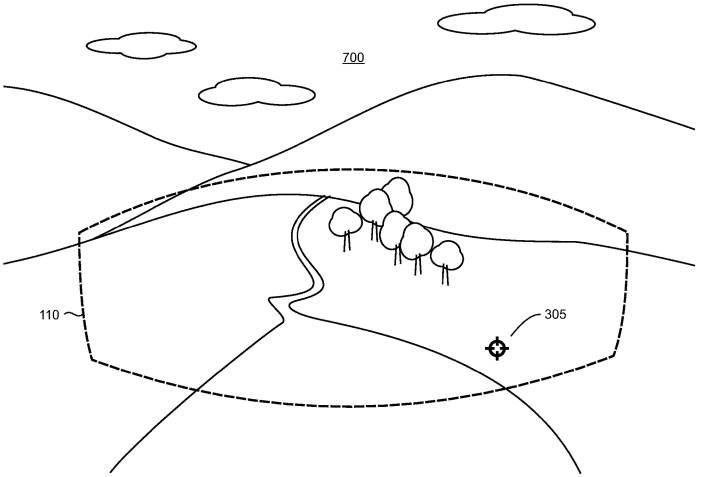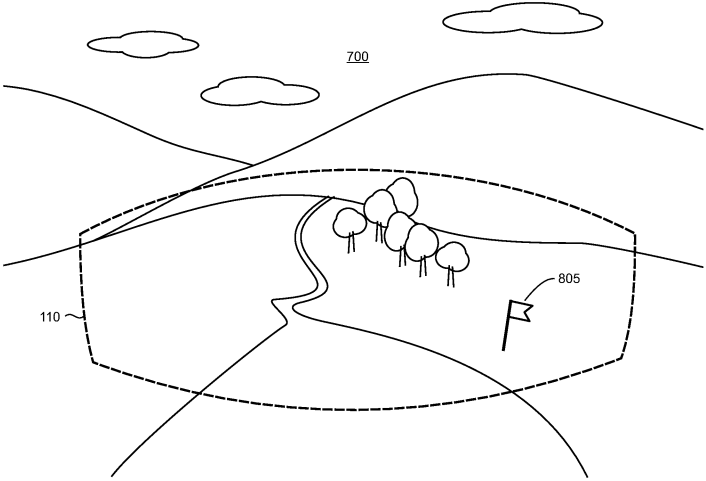 Amazon secures patent for communicating with mobile devices using LED
US patent 10,337,877 describes using a mobile device to detect embedded signals of LEDs and transmitting the detected data to a controller for determining the current location of the mobile device by associating positional information about the individual LED transmitted in the embedded signal to the mobile device.
Intel receives patents for retractable display systems for helmets and wearable adaptive electroactive polymer fabric
US patent 10,334,903 relates to a helmet that includes an outer shell, a heads-up information system that is movable from a storage position to a use position, wherein the system includes a display to render information received from a vehicle. Illustrations depict the heads-up information system (12) in the storage position and use position.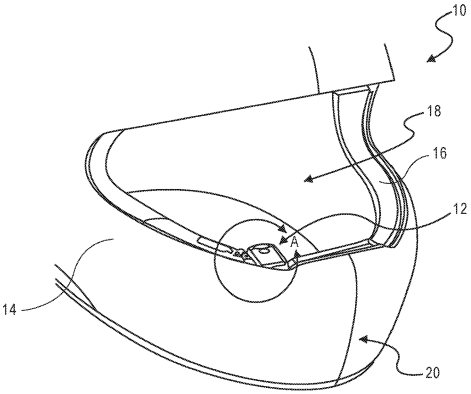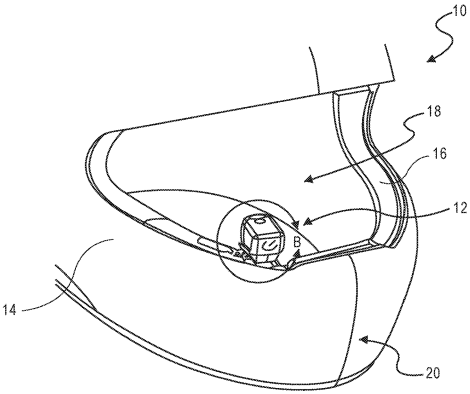 US patent 10,334,899 describes an adaptive garment formed from a smart electroactive polymer (EAP) fabric that may change textile density based on user needs, sensor states, context, and may be implemented in sporting garments, uniforms, etc. Illustration depicts an adaptive garment density change.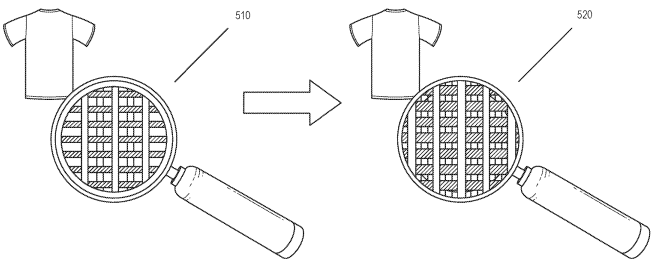 Apple bags patent for lifestream annotation
US patent 10,339,196 discloses a semantic note taking system and a method to collect, enrich, and bind information to various services. The figure below illustrates a data capturing device that measures respiration patterns, pupil dilation, blinking, audio/video stream recording, location, direction and electrical stress and arousal measurements.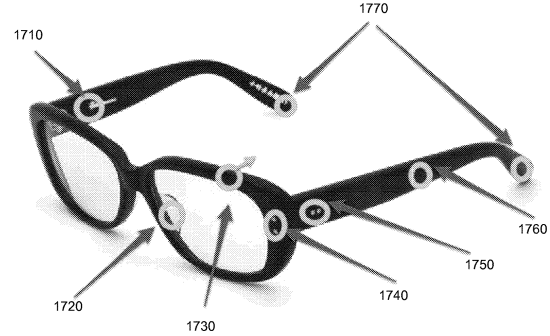 Facebook patents method of populating a virtual world based on a user profile
US patent 10,339,592 titled "Configuring a Virtual Store Based on Information Associated with a User by an Online System" discloses a customizable user specific virtual store offering various objects for purchase in which the users can interact with each other or with virtual objects or locations.
Boston Scientific wins patent for pelvic implant and remote access of electrical stimulation device
US patent 10,335,256 discloses pelvic implants and a method of surgically placing the pelvic implant by treating defects on the pelvic floor including supporting levator tissue or other tissues of the pelvic region to treat female or male faecal incontinence. Figure below illustrates the pelvic implant.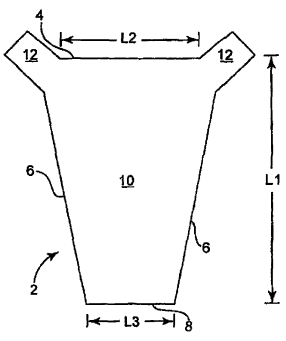 Another patent 10,335,598 relates to an electrical stimulation device to perform electrical stimulation therapy on a patient that allows a caregiver to remotely monitor, control settings of the device, and monitor the procedure, thereby allowing the patient to administer the stimulation at his or her home. Figure below illustrates the electrical stimulation treatment.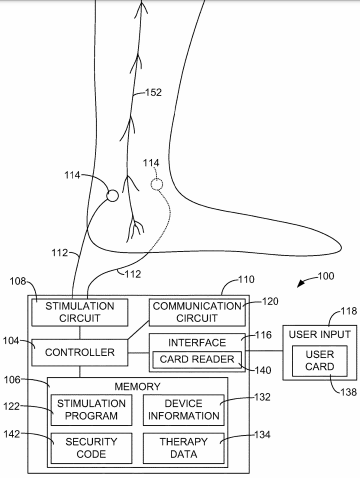 Merck patents aryl acylsulfonamides
US patent 10,336,733 presents novel aryl acylsulfonamide compounds for use as BLT1 antagonists to treat Type 2 diabetes mellitus, insulin resistance, hyperglycemia, dyslipidemia, lipid disorders, obesity, hypertension, non-alcoholic fatty liver disease/nonalcoholic steatohepatitis, metabolic syndrome, atherosclerosis, and cancer.
Medtronic bags patent for ring on a closed web stent-graft
US patent 10,335,265 describes a ring on a closed web stent-graft for use to capture tip fingers or prongs of a delivery system. Figures below illustrate the stent-graft in partially and fully deployed configurations.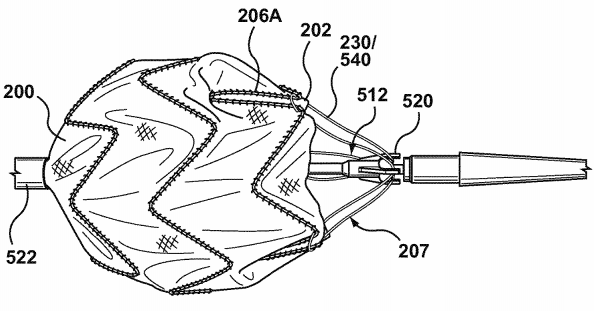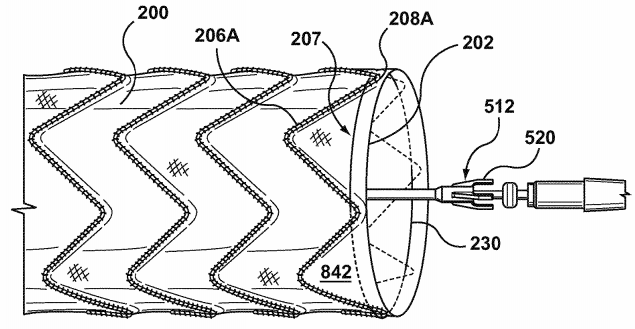 Roche obtains patent for CSF-1R antibodies
US patent 10,336,830 reveals CDR sequences of human CSF-1R antibodies along with a method of producing these antibodies and pharmaceutical compositions containing them.
Abbott secures patent for guidewire
US patent 10,335,580 relates to a guidewire for intraluminal application in medical procedures including description on the method of making a core metal element for the guidewire. Figure below shows the side view of the wire in the process of preparation for use.

Novartis bags patent for UV-absorbing ophthalmic lenses
US patent 10,338,408 reveals a method of making US-absorbing ophthalmic lenses that includes dipping a contact lens in a solution of UV-absorbing polymer comprising carboxyl-containing monomeric units, UV-absorbing monomeric units and covalently bound radical-initiating moieties to form a UV-absorbing coating on the contact lens.