Google obtains patent relating to user interface adaptation based on user location. Read about this and other recently published patents.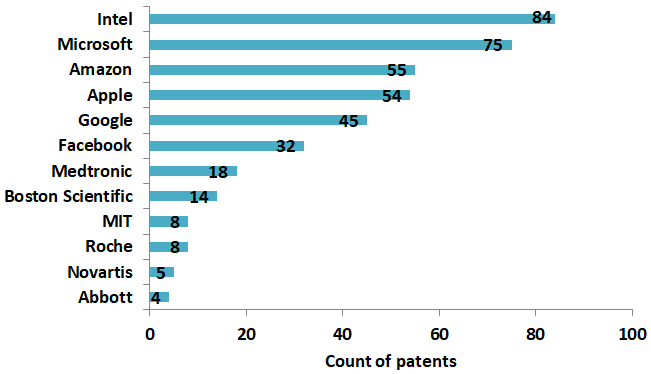 In this post, we take you through some of the recent patents from Google, Microsoft, Amazon, Intel, Apple, Facebook, Medtronic, Roche, Boston Scientific, MIT, Novartis, and Abbott.
Google obtains patent relating to user interface adaptation based on user location
US patent 10,372,193 discloses a method for changing the orientation of content presented in a computing device upon detecting user location relative to the device when the user is in close physical proximity to the device. Figures below illustrate an example process for implementing the user interface adaptation based on detected user location.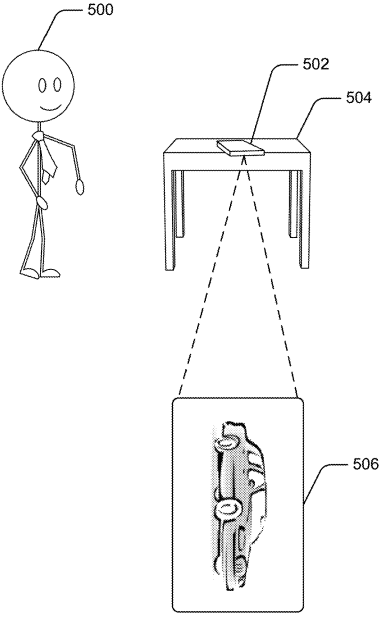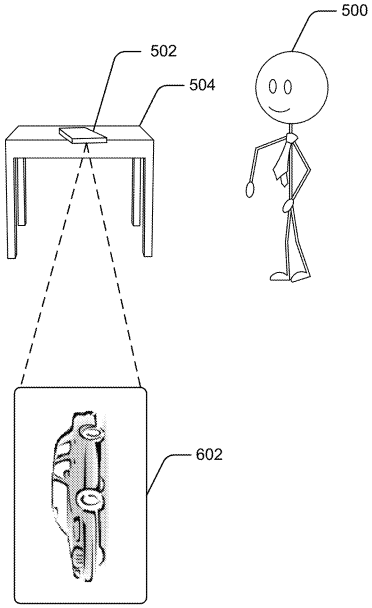 Microsoft bags patent for virtual object manipulation within physical environment
US patent 10,373,381 discusses an HMD for manipulating a virtual object displayed via a display device by extracting candidate anchor features that correspond to physical features in a 3D image, receiving input to manipulate virtual objects as displayed within the environment, and identifying correspondence between virtual anchor of virtual object and candidate anchor. An indication of the candidate anchor feature at its corresponding physical feature is displayed below.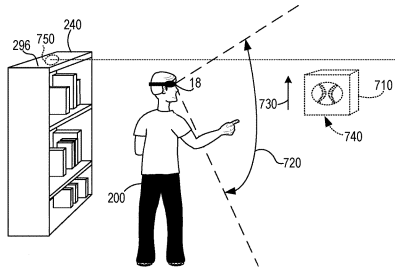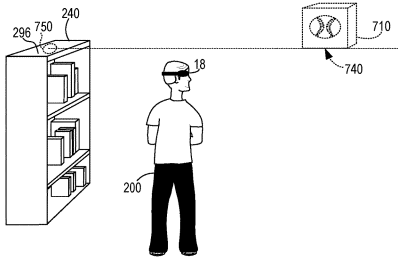 Amazon obtains patent for scent-based spoilage sensing refrigerator
US patent 10,373,472 discloses a computing device that identifies a food item in a refrigerator compartment and receives chemical sensor measurements associated with spoilage of the food item that enables the device to send a notification indication that the food item is spoiled, to the client device. Figure below illustrates the refrigerator with chemical sensor.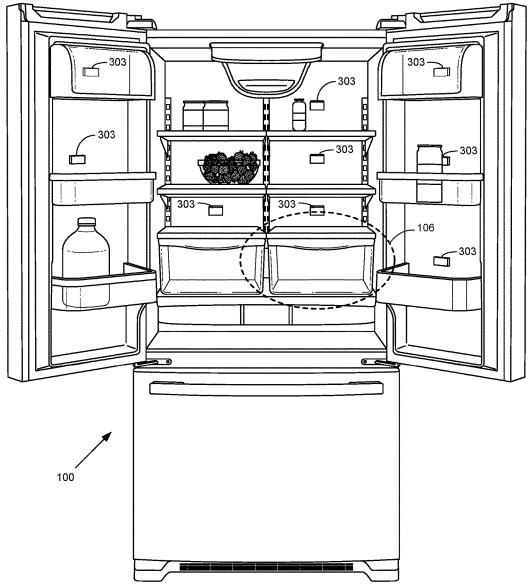 Intel receives patent for a Global Navigation Satellite System (GNSS) measurement
US patent 10,371,824 discloses a GNSS measurement technique that involves selecting a measurement configuration including a selected Space Vehicle (SV) set and a selected duty cycle profile, based on estimated power consumption and an estimated position error. Illustration depicts GNSS processor component architecture.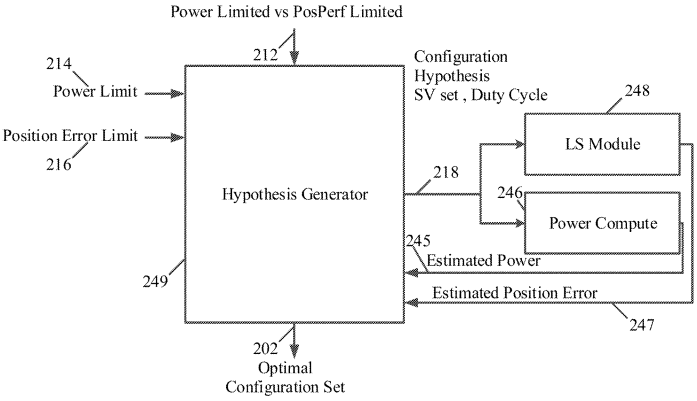 Apple wins patent for a method to identify and locate users on a mobile network
US patent 10,375,519 describes a method of locating users having mobile devices associated with a user account that includes sending a request to a mobile device and receiving a GPS location or name assigned to the location from the mobile device. Illustrations depict a user interface to locate friends.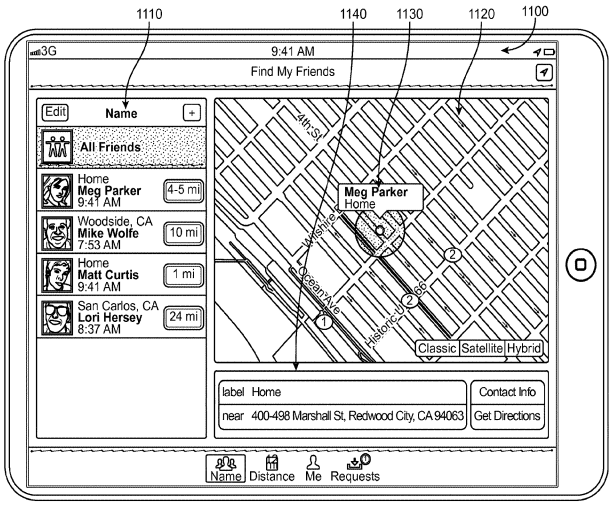 Facebook receives patent for omnidirectional wheels for use in holonomic drivetrains
US patent 10,369,839 titled "Omnidirectional wheels and associated wheel guards" discloses an omnidirectional wheel with rolling surfaces to help robots roll over or lift up and over an obstacle, when the wheel is moving sideways with respect to its axis of rotation. An isometric view of a tapered mecanum wheel is illustrated below.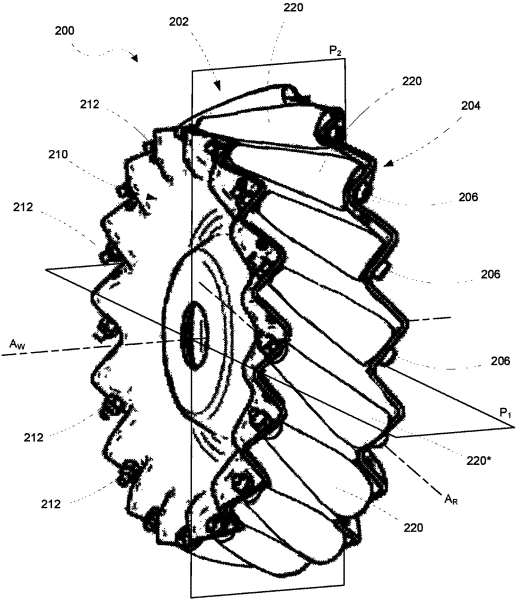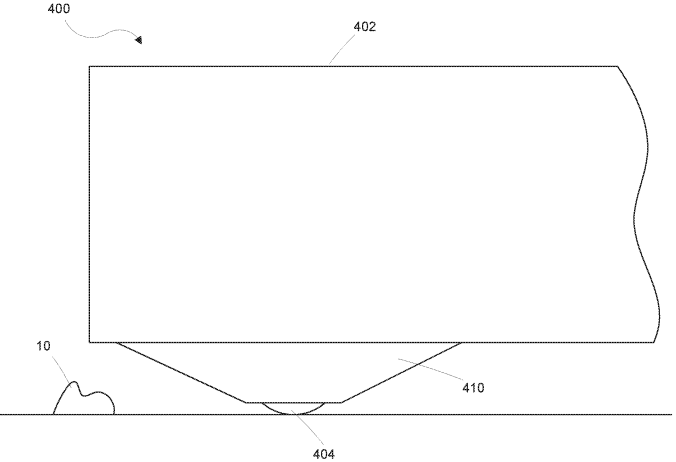 Medtronic obtains patents for systems that evaluate seizure disorders and stimulate trials
US patent 10,369,353 describes a system for evaluating seizure disorders, such as epilepsy, by monitoring intracranial pressure of a patient, the patient's motion and posture over time, generating a seizure metric for a detected seizure that helps to assess and distinguish between different types of seizures, delivering appropriate therapy to the patient. Figure below illustrates the intracranial monitoring and therapy system.
US patent 10,369,370 relates to a trial stimulation system designed for single use having means for securing the system to the body of a patient, features for reducing the risk of damage or malfunction of the system during showering or bathing, and measures for improving the durability of the system during the trial period. Figure illustrates the trial stimulation system.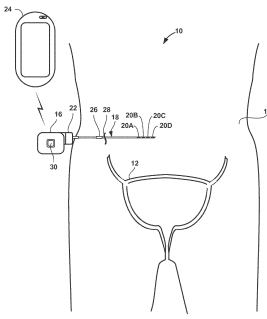 Roche bags a patent for an insulin delivery system
US patent 10,369,281 relates to a system that adjusts delivery based on past insulin delivery data of the user, wherein the system comprises a dispensing unit, and a processor that retrieves data relating to time windows from a memory, assesses a correction delivery for the time windows based on the data, determines a new CIR value for the time windows if the correction delivery regularly follows a meal bolus, and determines a new basal delivery profile for the time windows if the correction delivery regularly precedes the meal bolus. Figures below illustrate GUIs associated with the correction advisor presenting a modified basal delivery profile and a recommendation to the user to adjust the carbohydrate-to-insulin ratio value.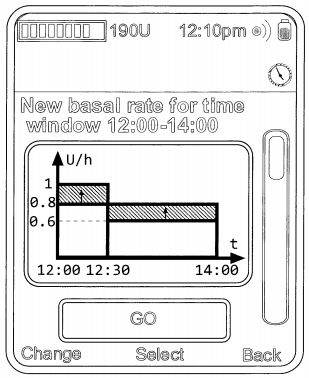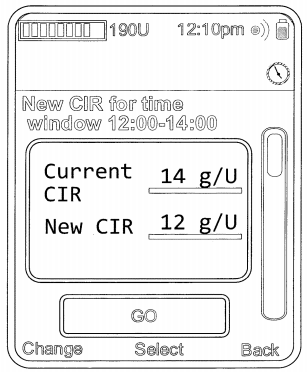 Boston Scientific wins patent for stone identification methods
US patent 10,368,820 comprises methods for stone identification including transmitting image data about a stone object inside a body cavity, generating a visual representation of the stone object, establishing a scale for the visual representation, determining the size of the stone object on the scale, comparing the size of the stone object with a predetermined maximum size to determine a removal status, and augmenting the visual representation to include an indicator responsive to the removal status. Figure below illustrates aspects of a visual representation generated from image data, and methods of using the system with the visual representation.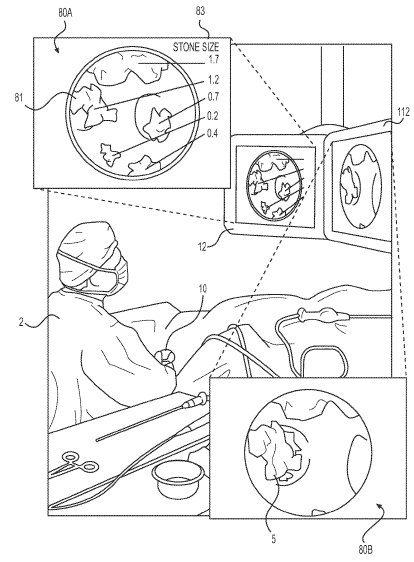 MIT patents cell scaffolds comprising nanoelectronic components
US patent 10,369,255 describes cell scaffolds for growing cells or tissues that are formed with nanoscale wires and connected to electronic circuits extending externally of the cell scaffold, wherein the nanoscale wires form an integral part of cells and can be controlled using various electronic circuits. Figures below depict cell scaffolds comprising nanoscale wires.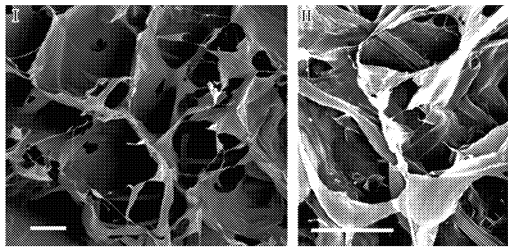 Novartis awarded patient adapter for an eye laser device
US patent 10,369,055 discloses an apparatus for laser assisted eye treatment comprising a laser device configured to provide focused laser radiation, an adapter coupling port having a contact surface for the eye, and an adapter module. Image below depicts the patient adapter apparatus.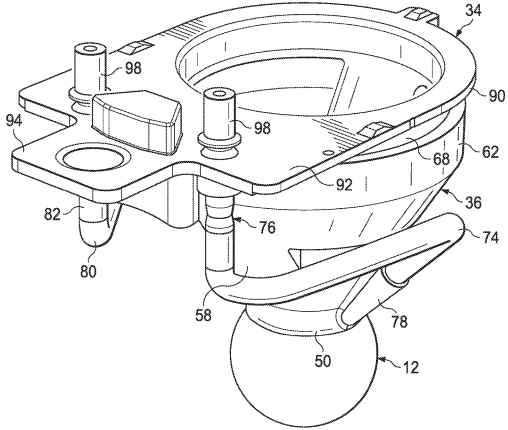 Abbott patents a fluid dose dispensing apparatus
US patent 10,369,294 describes an apparatus for dispensing doses of fluids comprising a dispensing vessel with a dispensing outlet, a piston that moves under pressure from a first position to a second position, and a bypass passage that is opened by a valve actuating plunger in the piston. Illustration below depicts a vessel of the device for dosing a fluid system.