Facebook wants to patent portable compute case for AR/VR eyewear. Read about this and other recently published patent applications.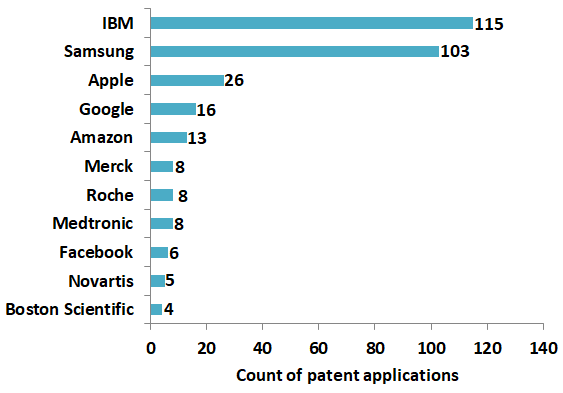 In this post, we take you through some of the recent patent applications from Google, Facebook, Apple, IBM, Amazon, Samsung, Medtronic, Roche, Boston Scientific, Novartis, and Merck.
Google files patent application related to baby monitoring with intelligent audio cueing
US patent application 20190272724 discloses a baby monitoring system that issues alert to a caregiver based on a baby's behavior by analyzing a video and audio stream associated with the baby. Figure below illustrates an example environment of the baby in a non-auditory discomfort state and issuing the alert based on baby's behavior.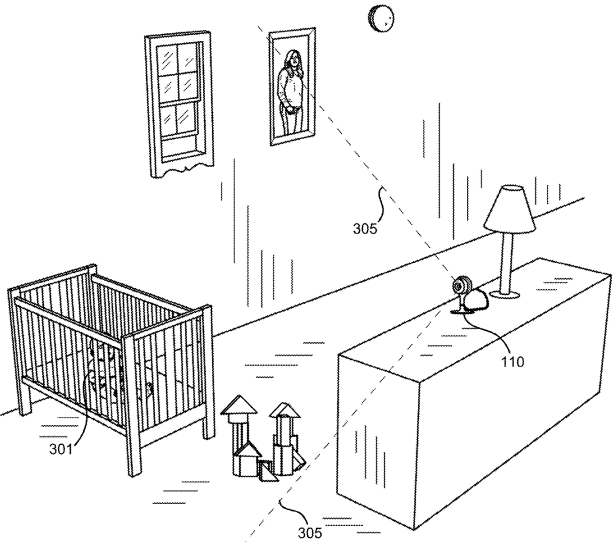 Facebook wants to patent portable compute case for AR/VR eyewear
US patent application 20190272800 discloses a portable case for an AR/VR eyewear device that establishes a connection with the eyewear device to receive, process and transmit sensor data from camera and for transferring power to charge the eyewear device. Figures below illustrate an eyewear device and a portable compute case.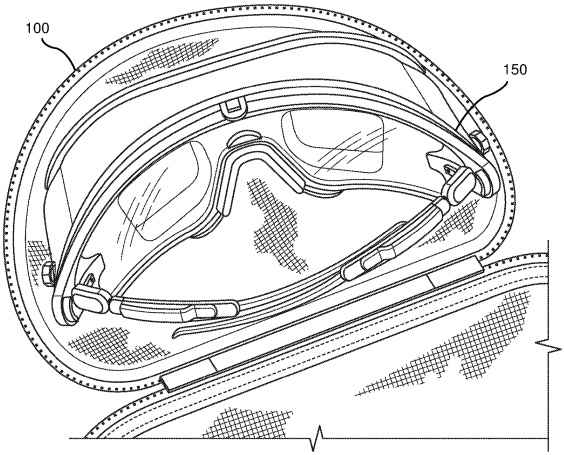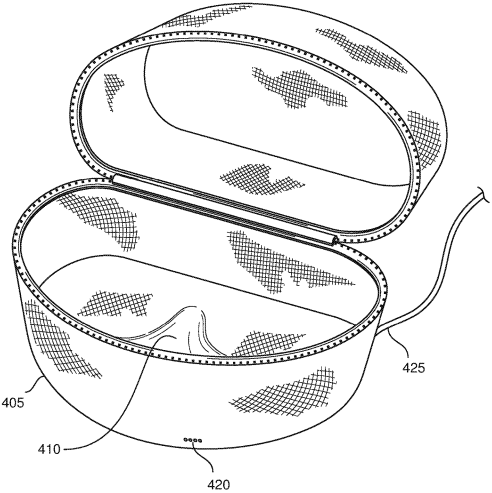 Apple files patent application for a fabric sensing device
US patent application 20190272055 discloses a touch-sensitive textile device that includes two sets of interwoven conductive threads oriented in two different directions and a sensing circuit. The device detects the occurrence of a touch, the location of a touch, and the force of a touch on the touch-sensitive textile device. Illustration depicts the device.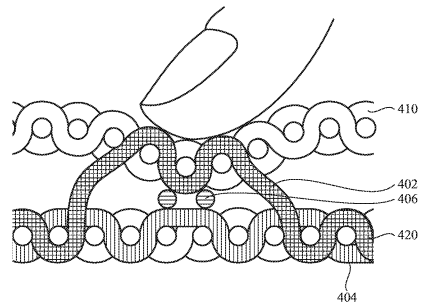 IBM pursues patent for repositioning of a display on a touch screen based on usage statistics
US patent application 20190273819 discloses a display on a touch screen device that collects usage statistics of the touch screen based on contact points and determines positioning information based on the collected statistics. The contact points are moved to different locations based on the position information and the display of the device is repositioned. Figure below illustrates a display with multiple contact points and a repositioned display.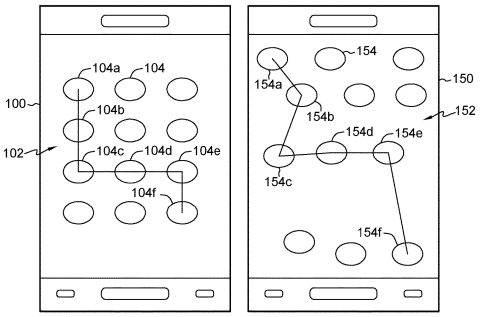 Amazon eyes patent for spectator audio analysis in online gaming environments
US patent application 20190270018 discusses an audio analysis system that may analyze participant audio input in a game spectating environment. The audio analysis information is used to determine popular broadcasts, broadcasters, games, recordings of broadcasts, and the popular content is indicated to spectators via a game spectating user interface. A spectating user interface for a game spectating system is illustrated.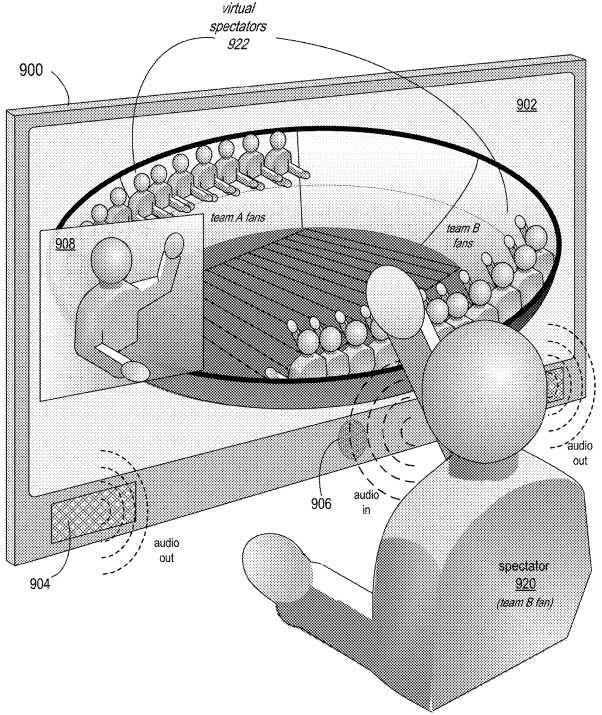 Samsung seeks patent for holographic display apparatus having steerable viewing window
US patent application 20190271941 discloses a holographic display apparatus capable of steering a location of a viewing window according to the location of an observer. Figure below depicts a configuration of a heads-up display apparatus in a vehicle that includes the holographic display apparatus.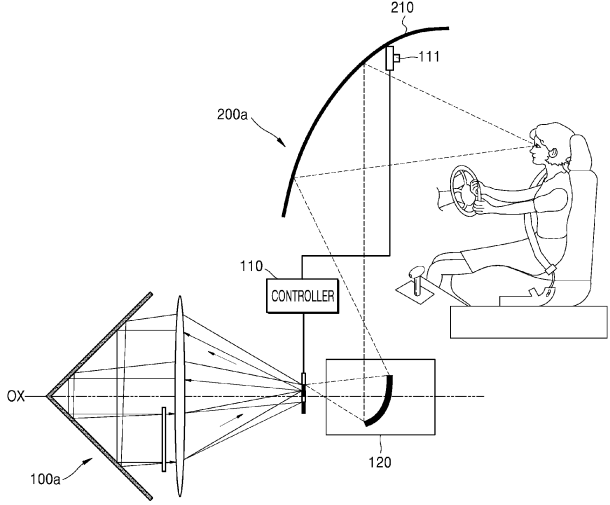 Medtronic files patent for bladder dysfunction therapy and cardiac pacing therapy
US patent application 20190269942 describes a bladder dysfunction therapy that involves delivering ultrasound energy from external transducers to nerve tissue associated with a bladder of a patient to modulate the bladder activity and to influence patient voiding. Figure below illustrates the system for delivering ultrasound therapy via a wearable ultrasound device.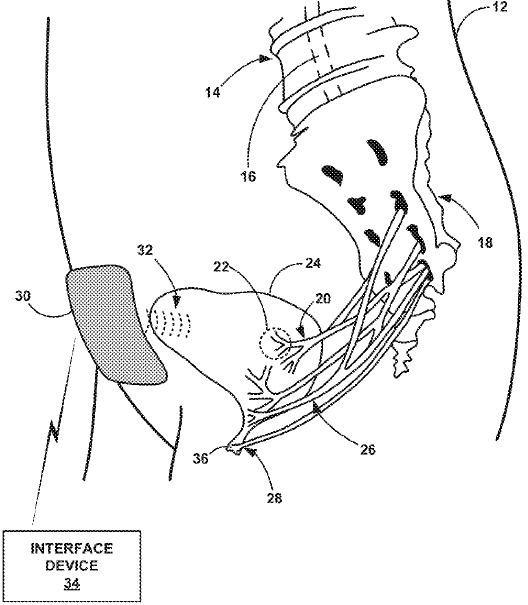 Another application 20190269926 relates to a system for delivering cardiac pacing therapy using an ECG belt and an implantable pacing device including patient activity sensor such as accelerometer, wherein the pacing parameters are adjusted under ambulatory conditions in response to electromechanical signals. Figure below shows the external electrode apparatus for the therapy delivery system.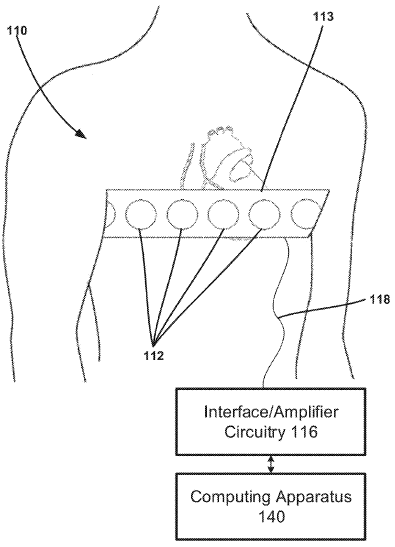 Roche wants to patent systems for predicting failure state of an automated analyzer
US patent application 20190271713 relates to a method for predicting failure state of an automated analyzer of biological samples based on historic analyzer data, historic calibration data, and quality control data, wherein the historic data includes data regarding the occurrence of failure states. Below figures depicts the method of data flow for predicting the failure state.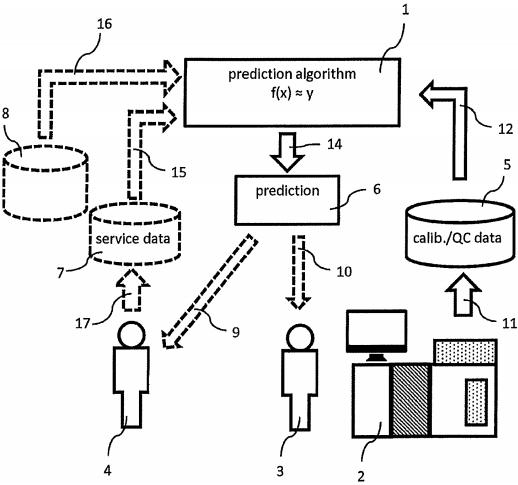 Boston Scientific eyes patent on fluid delivery devices
US patent application 20190269310 presents a medical device with an insertion portion coupled to a handle, wherein the handle includes an irrigation port attached to a source of irrigation fluid. The device can be used for diagnosis and treatment of internal areas and is depicted in the illustration below.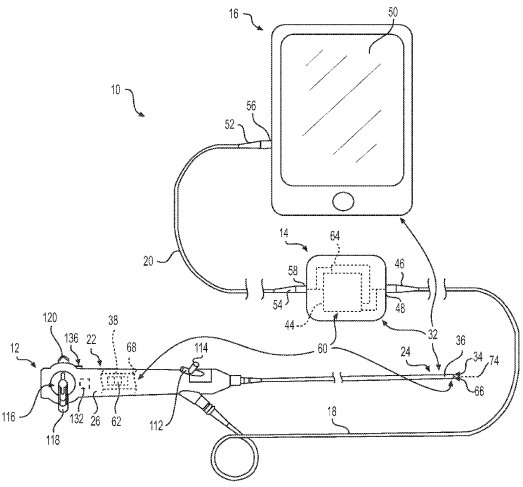 Novartis collaborates with University of Pennsylvania to file a patent on CAR expressing cells
US patent application 20190269727 reveals a method of engineering a population of immune effector cells to express a chimeric antigen receptor (CAR), wherein the method involves a) providing a frozen input sample comprising immune effector cells, b) thawing the frozen input sample to produce a thawed sample, and c) performing elutriation on the thawed sample and collecting immune effector cells, thereby producing an output sample comprising immune effector cells that are suitable for expression of a CAR.
Merck wants to patent a manually-actuated injection device
US patent application 20190269857 presents a manually actuated drug-injecting device that is configured for injecting high-viscosity pharmaceuticals into the body of a human patient. Figure below shows the injection device held in a user's hand.