Apple files patent application for capturing an image of interest by a vehicle mounted camera.
Read about this and other recently published patent applications.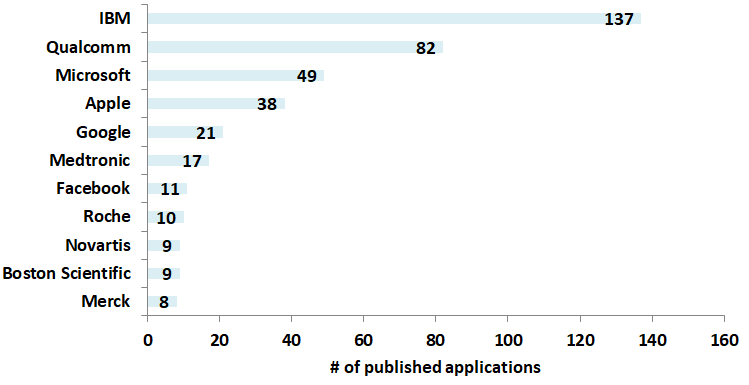 In this post, we take you through some of the recent patent applications from Qualcomm, Apple, IBM, Microsoft, Facebook, Google, Medtronic, Boston Scientific, Roche, Merck, and Novartis.
Qualcomm wants to patent a method to track stolen robotic vehicles and a method to control robotic vehicles based on attention level of operator
US patent application 20190310628 discloses methods to enable a robotic vehicle to determine that it has been stolen, determine an appropriate opportunity to perform a recovery operation, and perform the recovery operation at the appropriate opportunity. Components of a UAV as described in the application is illustrated below.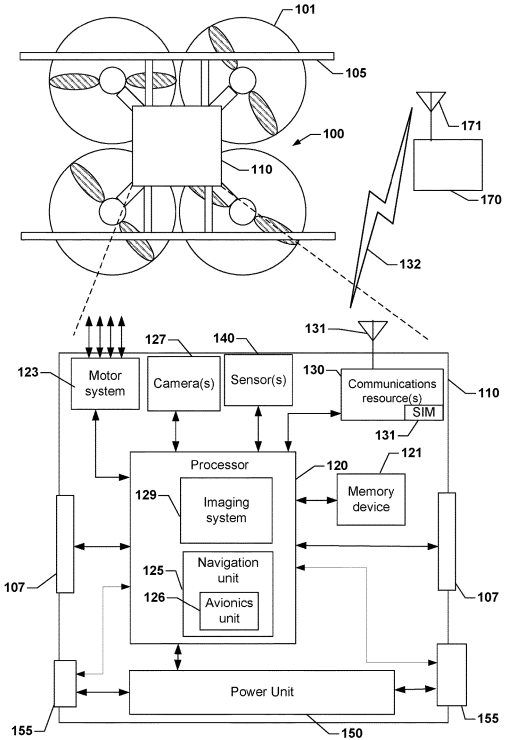 Another US patent application 20190310630 discloses a method for automatically taking control of a robotic vehicle if a distraction event is detected while an operator is manually controlling the robotic vehicle. Illustration depicts a robotic vehicle operating within a communication system.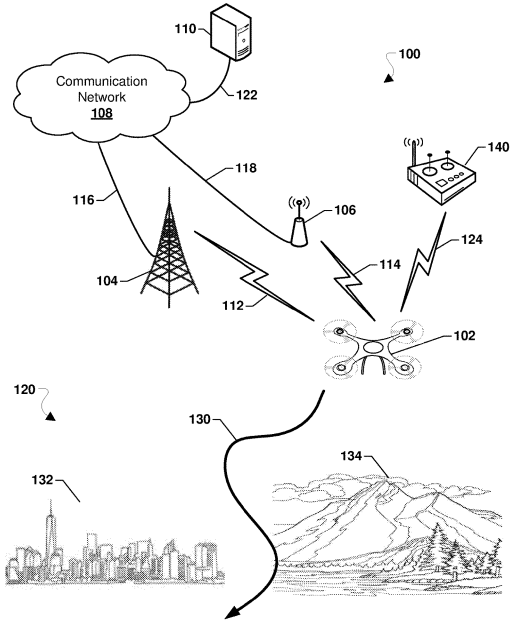 Apple files patent application for capturing an image of interest by a vehicle mounted camera
US patent application 20190313063 discloses a method of taking a picture of a real world object of interest (e.g. skirt worn by a pedestrian) to the driver of the vehicle. The object of interest is based on the gaze direction or the position of the user. Figure depicts an image of a real object captured by a camera mounted on a vehicle.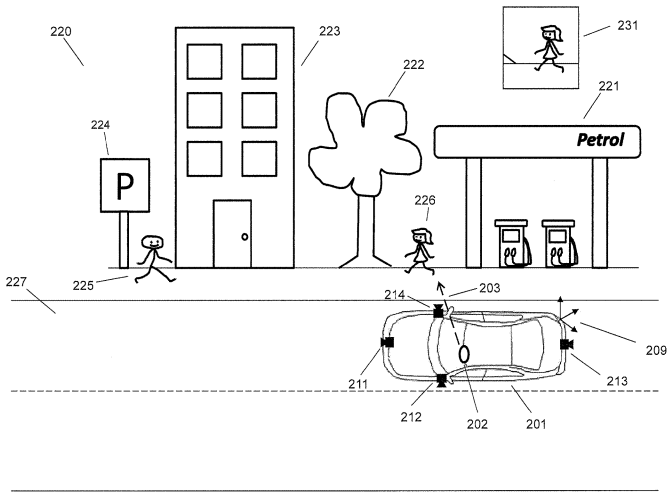 IBM files patent application for assisting with written communication style based on recipient dress style
US patent application 20190311032 discloses a method for altering a written communication based on a dress style associated with a recipient. The method includes receiving and analyzing visual data associated with the recipient, determining the dress style associated with the recipient, retrieving a writing style from a knowledge base based on the determined dress style, and generating writing guidelines based on the retrieved writing style associated with the recipient.
Microsoft eyes patent related to environment based adjustments to UI architecture
US patent application 20190310741 describes adjusting UI architecture of a content displayed on an electronic device and selecting the content presentation option of multiple selectable content presentation options based on the content collected from a 3D scene, wherein each option defines an application window of the device. Figure below illustrates the device with features for self-regulating UI architecture based on sensed 3D scene.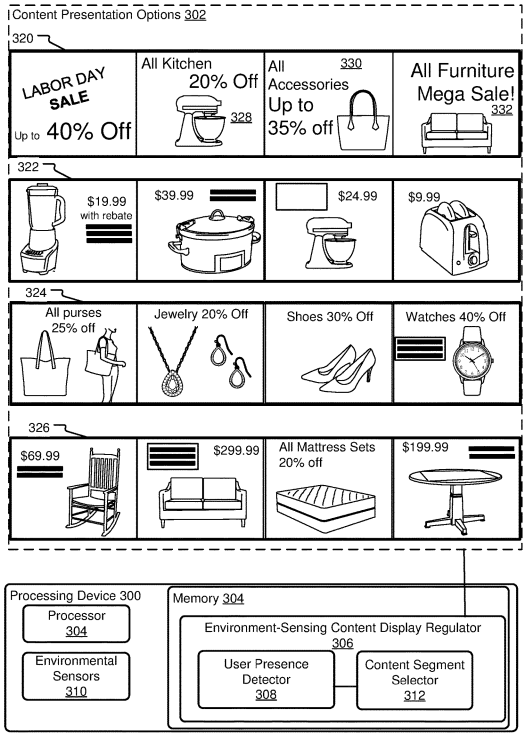 Facebook seeks patent for object tracking assisted with hand or eye tracking
US patent application 20190311232 describes a system with imaging devices and an object tracking unit for identifying an object in a search region, determining a tracking region that is smaller than the search region, and scanning the tracking region to determine a location associated with the object. The system may generate a ranking of objects, determine locations associated with the objects, and generate a model of the search regions depicted below.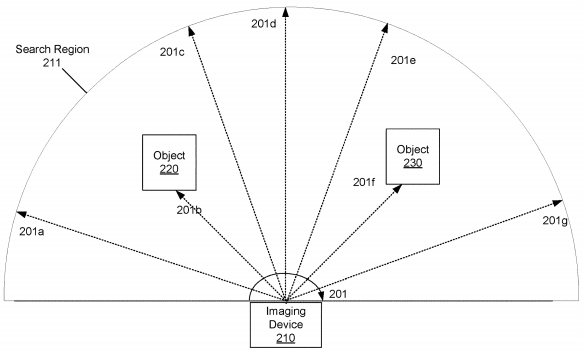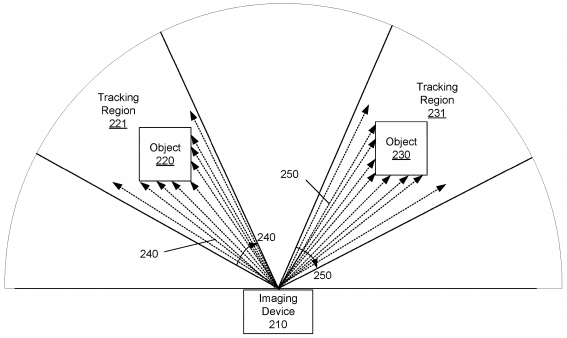 Google seeks patent related to ambient audio history and personalization
US patent application 20190311714 discloses a method for detecting a trigger sound from an environment of a device and presenting a related user experience responsive to trigger sound detection such as providing links to media, web searches, translation services etc. Figure below illustrates displaying user interfaces according to detection of sound phrases.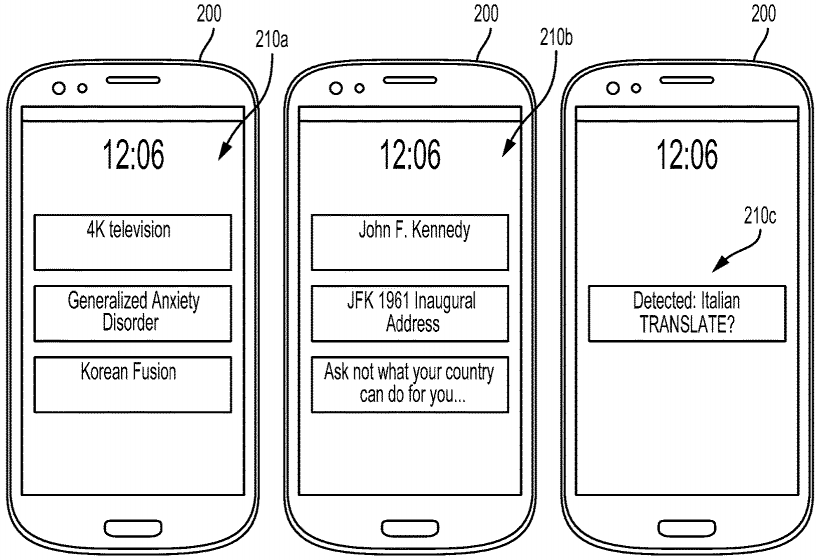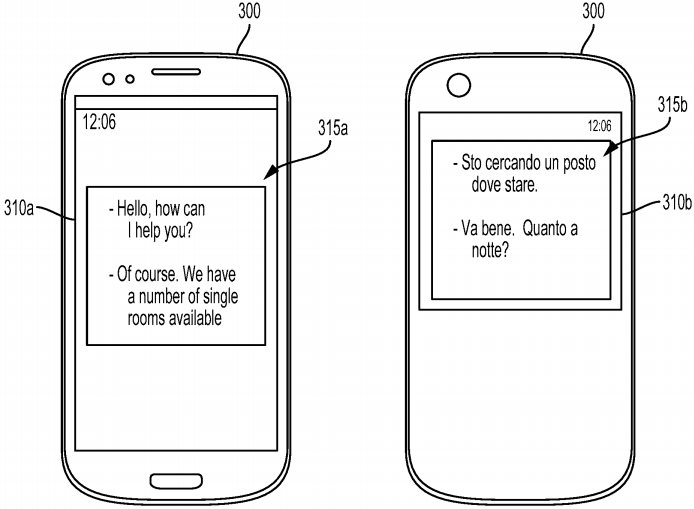 Medtronic seeks patents for image-based navigation system and cranial implant
US patent application 20190307518 relates to an image-based navigation system that is adapted to receive ultrasound image data from an ultrasound sensor, receive EM tracking data from an EM tracking system, and identify a physiological landmark of the region of the patient based on the ultrasound image data. Figure below shows a GUI of the system.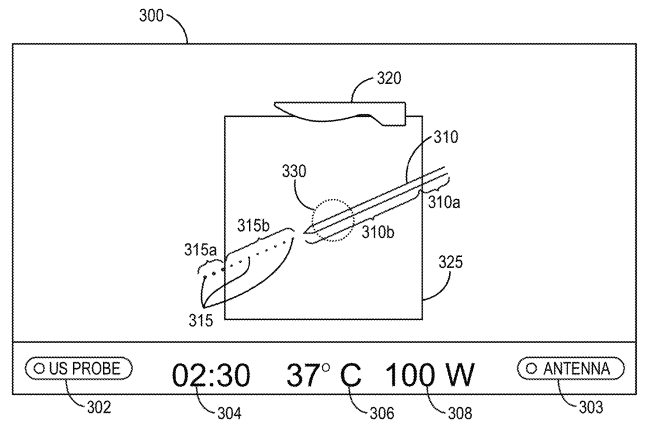 Another US patent application 20190308025 relates to a medical device configured to be inserted into the cranium of a patient and another device that is used to secure elongated members, such as an electrical lead or a drug delivery catheter to the cranium of a patient. Figure below illustrates an exemplary cranial implant system.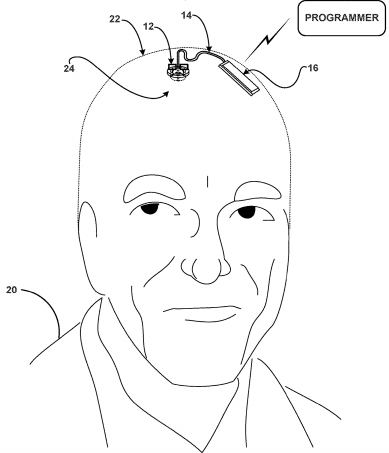 Boston Scientific aims to patent medical device with pressure sensor
US patent application 20190307338 pertains to blood pressure sensing guidewires which contain a tubular member with an optical fiber disposed within. The disclosure reveals the design, manufacturing method, and use of such devices and the image below illustrates a partial cross-sectional view of such a device.

Roche wants to patent biotin-specific monoclonal antibody
US patent application 20190309091 relates to a monoclonal antibody capable of binding to biotin and is used in a method for measuring an analyte in a sample, wherein a (strept)avidin/biotin pair is used to bind the biotinylated analyte specific binding agent to a (strept)avidin coated solid phase.
Merck eyes patent on fused pyrazine derivatives
US patent application 20190307753 reveals the structure of fused pyrazine compounds which can modulate the body's production of cyclic guanosine monophosphate, and are suitable for the therapy and prophylaxis of diseases which are associated with a disturbed cGMP balance.
Novartis files patent for surgical probe with an integrated motion sensor
US patent application 20190307523 describes a surgical probe comprising a motion sensor within, that measures movement and orientation data. The diagram below illustrates an embodiment of the hand-held surgical probe system.