Microsoft seeks a patent for smarter copy and paste. Read about this and other recently published patent applications.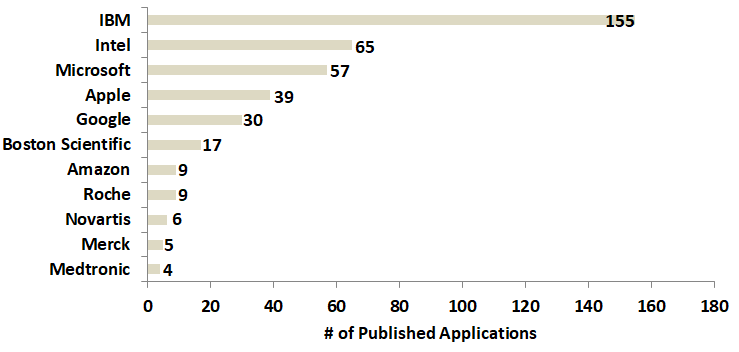 In this post, we take you through some of the recent patent applications from IBM, Amazon, Intel, Google, Microsoft, Apple, Boston Scientific, Medtronic, Roche, Merck, and Novartis.
Microsoft Seeks a Patent for Smarter Copy and Paste
US patent application, 20190347320, discloses an intelligent tool to copy and paste a table, where the labels of the table are automatically determined and incorporated in the clip-board even if the headers were not selected for copying. The figure below illustrates an enhanced copy and paste operation of the table.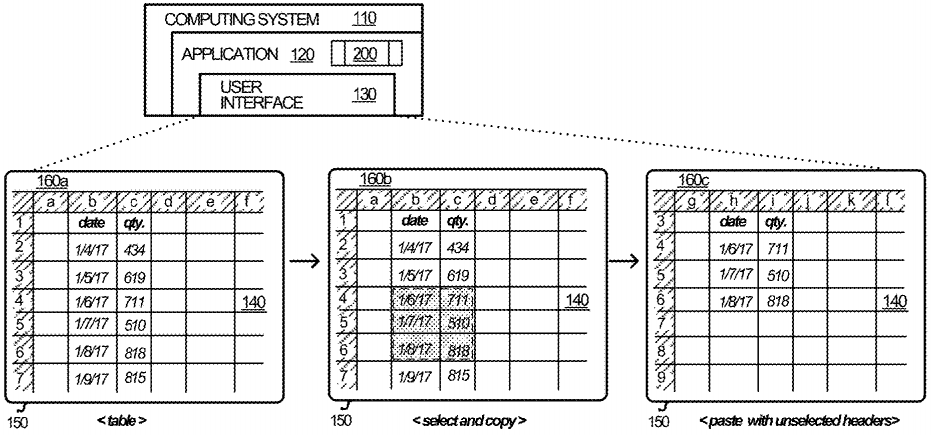 Apple Files a Patent Application for Enhancing the Situational Awareness of a Vehicle by Transmitting and Receiving Wireless Messages
US patent application, 20190347936, discloses a technique of providing wireless transceiver circuitry in a vehicle to transmit and receive wireless information for monitoring the surroundings of a vehicle and presenting alert messages to the driver. Example display screens displaying enhanced situational awareness alerts provided to a driver are depicted, below.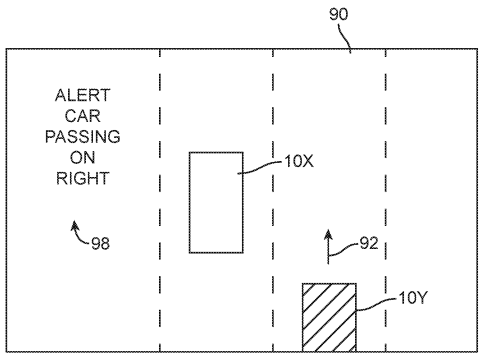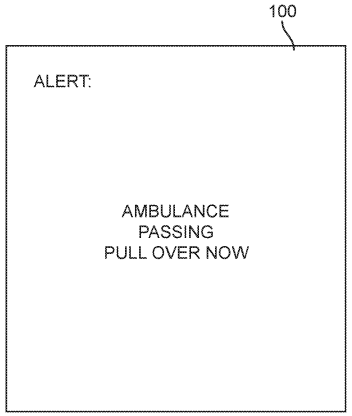 IBM Wants to Patent a Method for Detecting Health Issues Based on User Photographs
US patent application 20190347799 describes a method that selects images based on a time lapse interval associated with the plurality of images and a specific physical characteristic being monitored. Based on the monitoring, changes in pixel patterns are detected that correlate with the physical characteristics. If the changes in pixel patterns exceed a threshold, then an alert indicating a health issue is displayed. An image health monitoring system is illustrated.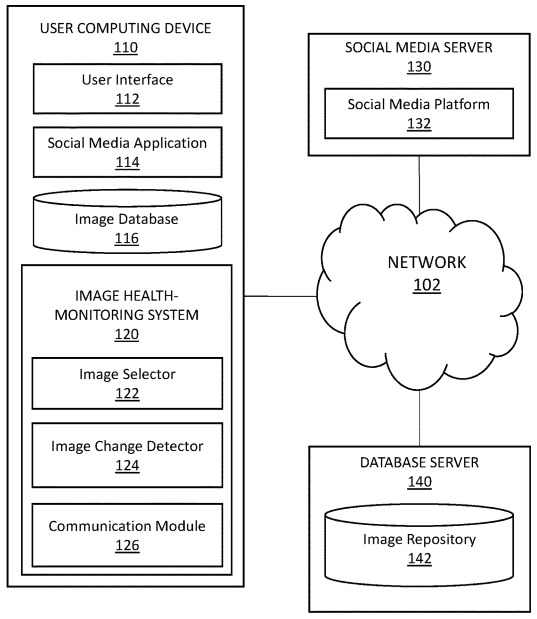 Amazon Seeks a Patent for an Autonomous Unmanned Aerial Delivery Vehicle
US patent application 20190347942 describes a UAV that autonomously delivers items by receiving inventory information and a destination location and autonomously retrieving the inventory from a location within a materials handling facility, computing a route from the materials handling facility to a destination, and travelling to the destination to deliver the inventory. A GUI for selecting a delivery option for the delivery of an item is illustrated.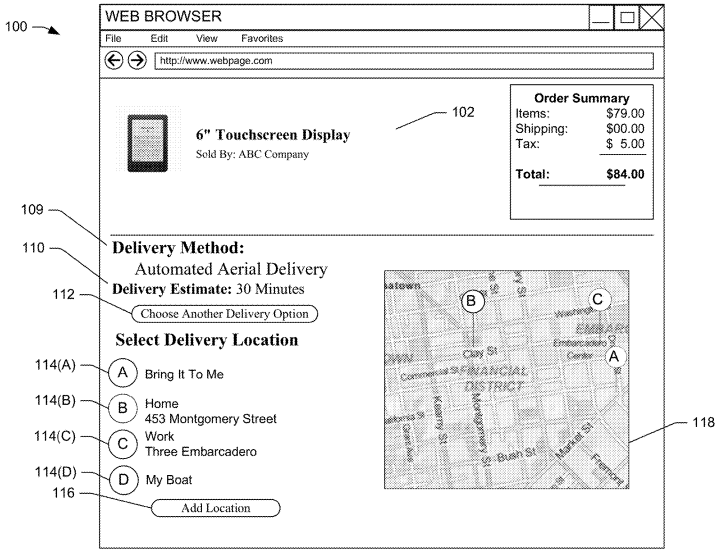 Google Files a Patent Application Related to Drag Gesture Animation
US patent application 20190346985 discloses a method for animating a drag gesture that includes moving a user interface element along an additional path to a resting location based on a user-induced path and the speed of a user input upon determining whether the user input has ceased. The figures below illustrate example interfaces for animating and completing a drag gesture.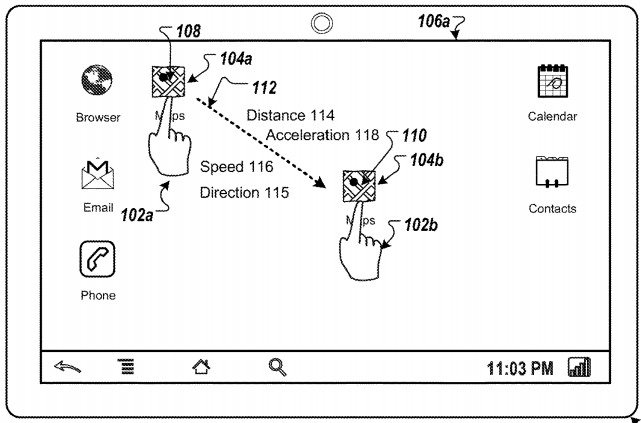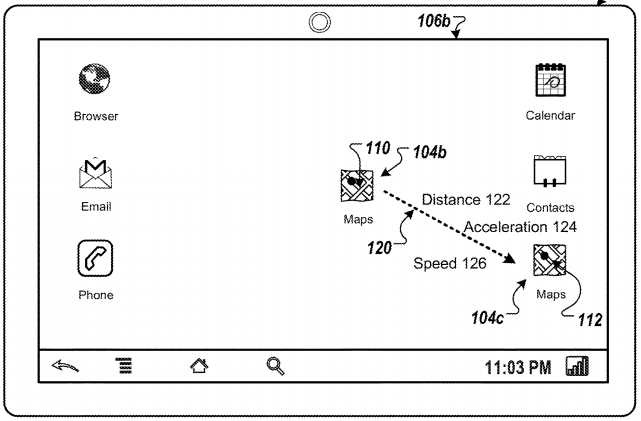 Intel Files a Patent Application for Hybrid Display Integratable Antennas Using Touch Sensor Trace and Edge Discontinuity Structures
US patent application 20190346946 discloses a touch panel for a display that includes a touch sensor having an edge dummy area between an edge and an electrode trace, a plurality of electrode traces, an antenna with a radiation structure located within a routing traces area and a ground structure located within the edge dummy area. The illustration below, depicts components of a touch panel display.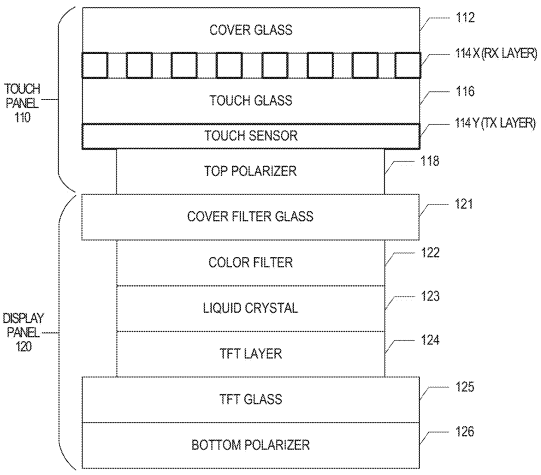 Boston Scientific Applies for Patents for Communicating with an Implantable Medical Device and for a Wristband with a Hemostatic Valve
US patent application 20190344087 describes a system that uses a consumer mobile device as an external controller to bi-directionally communicate with an implantable medical device, and a dedicated patient remote control as an intermediary device having a graphical user interface for control and monitoring of the implanted device. The figure below shows the dedicated remote control system with optical head-mounted display.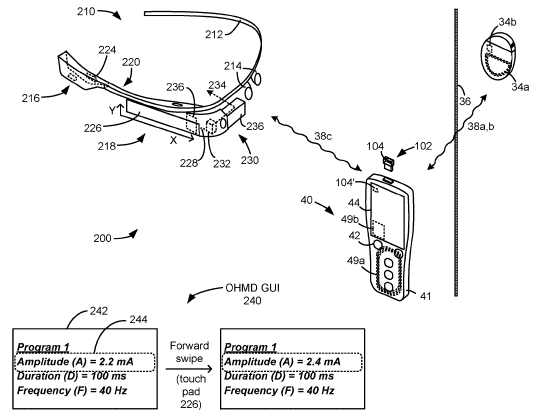 Another US application, 20190344049, relates to an assembly having a wristband with a hemostatic valve that is securable about a patient's wrist. A shaped member provides pressure near an access point for gaining access to a radial artery during sheathless transradial procedures. The figure below shows the assembly used during the procedures.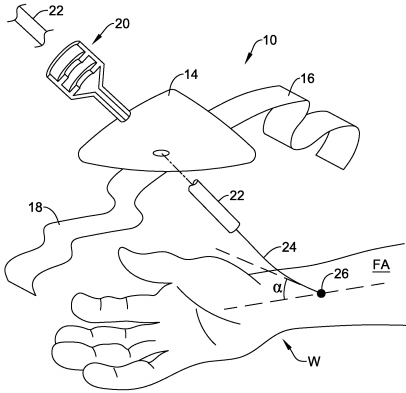 Medtronic Aims to Patent Devices That Use Multiple Diagnostic Parameters for Predicting Heart Failure
US patent application, 20190343413, describes devices and systems using multiple diagnostic parameters to provide an early warning for worsening heart failure, wherein the device uses intrathoracic impedance or pressure and one or more secondary diagnostic parameters. The image below illustrates an exemplary system that detects worsening heart failure using multiple diagnostic parameters.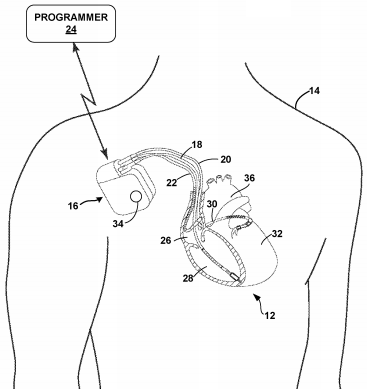 Roche Seeks to Patent mGLU2/3 Antagonists for the Treatment of Intellectual Disabilities
US patent application 20190343839 discloses mGlu2/3 negative allosteric modulators for use in the treatment of intellectual disabilities.
Merck Wants to Patent Compounds for Treating Depression
US patent application 20190343831 discloses polymorphic forms of 1-[4-(5-cyanoindol-3-yl)Butyl]-4-(2-carbamoylbenzofuran-5-yl) piperazine hydrochloride for treating depression, anxiety, bipolar disorders, mania, dementia, and several other medical conditions.
Novartis Eyes a Patent on a Method of Treating Obesity and Related Disorders
US patent application 20190345251 reveals methods of treating central adiposity, obesity or overweight condition and related comorbidities using myostatin, activin, GDF11 antagonists or receptor antagonists.