Microsoft seeks patent for electronic document content augmentation and removing personal data before transmission. Read about this and other recently published patent applications.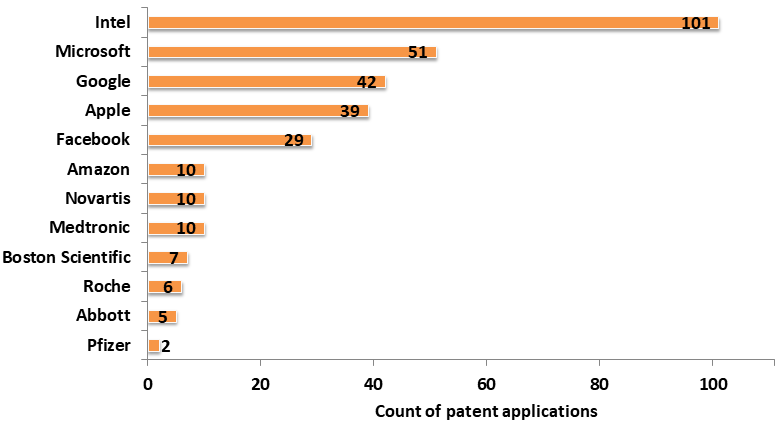 In this post, we take you through some of the recently filed patent applications of Intel, Facebook, Google, Amazon, Microsoft, Apple, Medtronic, Novartis, Boston Scientific, Roche, Abbott, and Pfizer.
Intel wants to patent wearable assay system and real-time 3D vehicle display
US patent application 20190133500 discloses a wearable assay system that is adapted to collect a biological sample from a wearer and detect a property of the sample. Illustration below depicts a perspective view of the wearable assay system.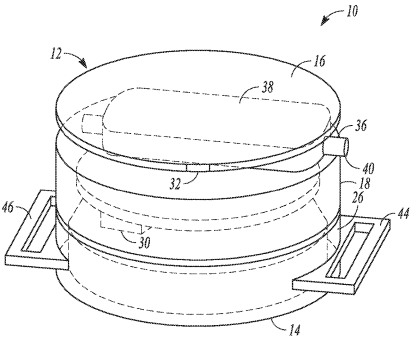 In the US patent application 20190141310, Intel discloses an imaging system configured to receive image data of a vicinity of a vehicle from image sensors, reconstruct and display a 3D image in real time. Illustrations depict 3D recreation along x-axis.

Facebook eyes patents related to advertisements during live streaming and predicting user knowledge
US patent application 20190141410 titled "Systems and Methods for Automatically Inserting Advertisements Into Live Stream Videos" discloses identifying a store or a product in a live stream video and inserting an advertisement related to the identified store or product in that video, as illustrated in the figure below.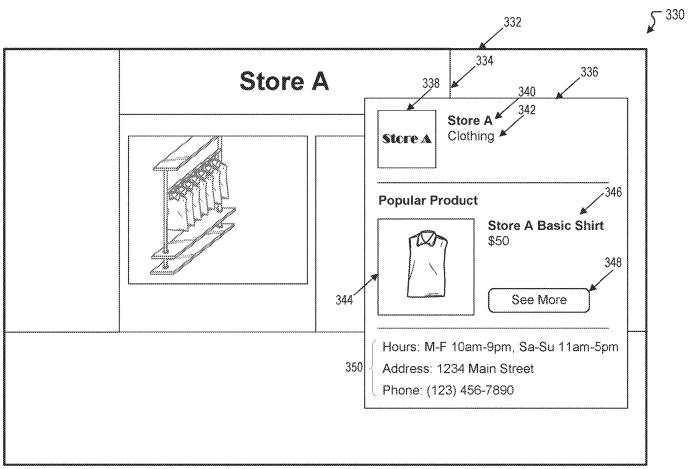 US patent application 20190138651 discloses a social networking system generating hierarchical level of connections between a user and a topic based on a predicted likelihood of user knowledge, which is determined based on the presentation of content items associated with the topic.
Google seeks patent for creating playlists using calendar, location, and event data
US patent application 20190138548 discloses a playlist generation method that involves identifying an event based on a user's interest data, generating a playlist of the identified event and providing a logical link access of the playlist to the user. Figure below offers a glimpse of the invention.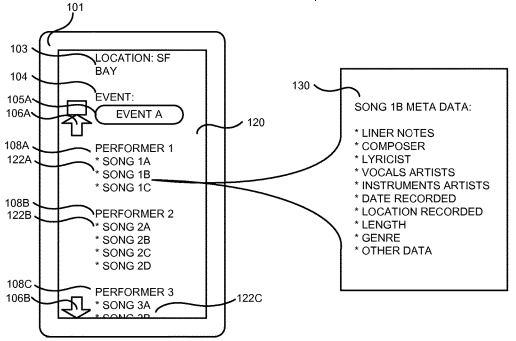 Amazon files patent application for a device for sharing video footage for parcel theft deterrence
US patent application 20190139380 discloses monitoring a parcel drop-off zone using an audio/video (A/V) recording and alerting a user when parcel theft occurs by sharing video footage from A/V recording. Figure below illustrates A/V recording and communication device for detecting parcel theft.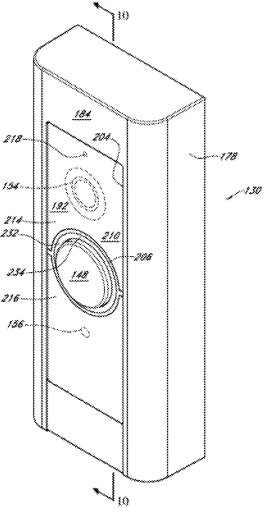 Microsoft seeks patent for electronic document content augmentation and removing personal data before transmission
US patent application 20190138611 describes a software application extracting content from an electronic document, obtaining information relevant to the extracted content from social networking system and recommending it to a user. Figure below illustrates user interface being dynamically updated with recommendations for a resume.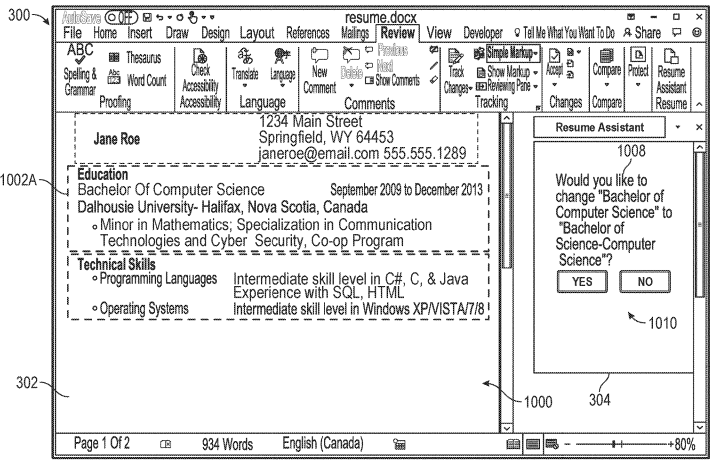 US patent application 20190138748 discloses a device that receives monitoring data from a camera, removes personally identifiable data of individuals from the monitored data, and then transmits to a cloud system with reduced security risk. Figure below illustrates heads removed or covered by black squares in an image captured by the camera.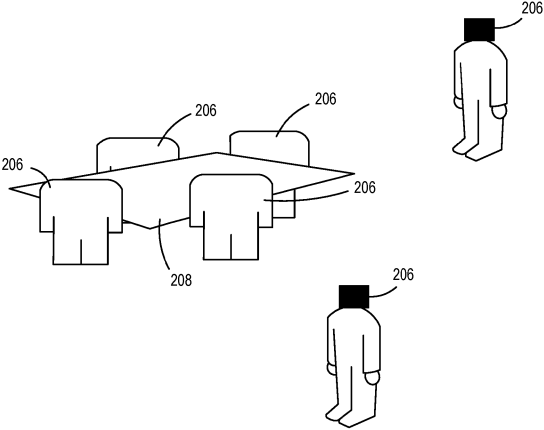 Apple pursues patents for browser driven power saver and eye tracking system
US patent application 20190138077 discloses a method for saving power and extending battery life of user equipment by suspending plug-ins on a web page and reducing processing associated with web pages that are not in focus. The figure below illustrates examples of GUIs, wherein a plug-in has been replaced by a still image.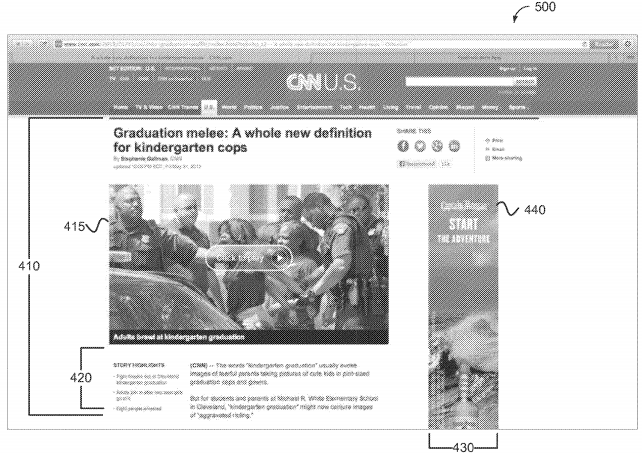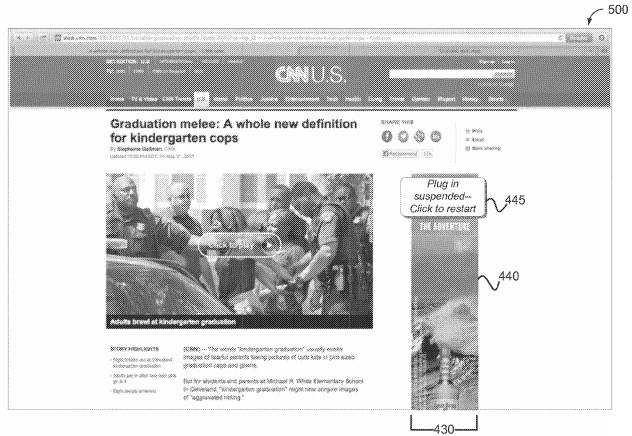 US patent application 20190133440 titled "Eye Tracking System and Method to Detect the Dominant Eye" discusses determining the dominant eye by capturing multiple images of the left and the right eye of a user based on predefined accuracy scores for each eye.
Medtronic wants a patent for a pressure measuring catheter
US patent application 20190133461 reveals a pressure sensing catheter wherein one end of the sensor is coupled to the distal end of the catheter shaft while the other end of the sensor is not coupled to the catheter thereby the effect of bending stress is reduced. Figure below depicts the measurement catheter with a pressure sensor and a guidewire.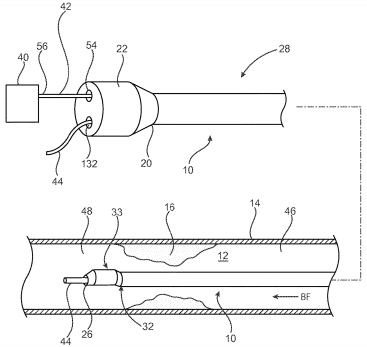 Novartis seeks to patent chondrogenesis inducing compositions
US patent application 20190134012 presents a pharmaceutical composition that induces cell growth in damaged joined and cartilages.
Boston Scientific files patent applications for anatomical region displaying user interface and a device for capturing kidney stones
US patent application 20190134411 titled "User Interface with View Finder for Localizing Anatomical Region" relates to an external control device for a medical component implanted within a patient, having a user interface with a view finder for displaying graphical representations of the medical component and anatomical regions of the patient. Figure below illustrates the spinal cord stimulation system described in the patent application.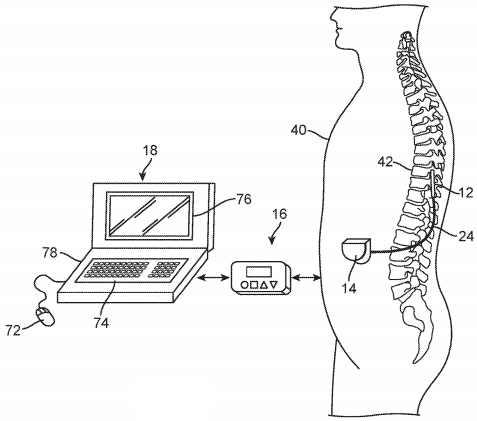 Another US patent application 20190133615 discloses a system having a tube to be inserted into a cavity, a filter assembly disposed between the tube and a vacuum source to apply negative pressure through the tube to trap material in the filter assembly and allow liquids and gases to pass through the filter assembly. The system is used to remove kidney stones from a patient and is illustrated in the figure below.

Roche wants to patent a device that aids an insertable element
US patent application 20190133505 describes a medical device for inserting an insertable element into body tissue. Figure below illustrates an embodiment of the device.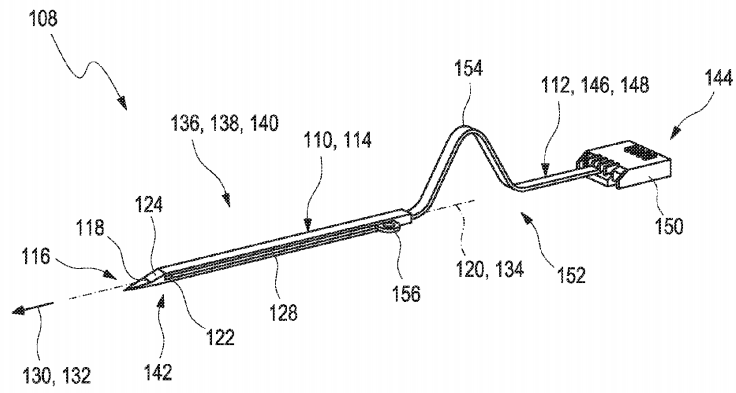 Abbott aims to patent a grasping device for tissue repair
US patent application 20190133581 presents an improved grasping device that aids tissue approximation and repair. The grasping device is illustrated in the figure below.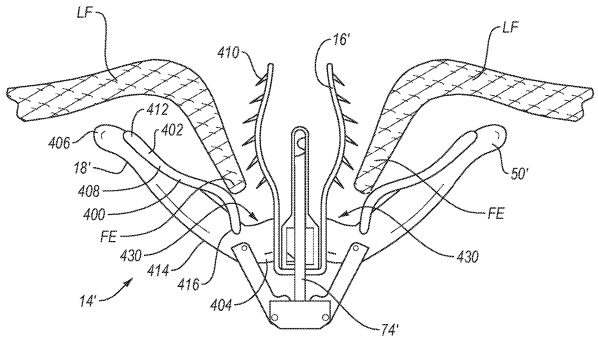 Pfizer eyes patent on CDK2/4/6 inhibitors
US patent application 20190135817 discloses the structure of a novel pharmaceutical compound that inhibits CDK2/4/6 and aids in cancer treatment.
Did you like this piece of content? We would love to hear your thoughts! Leave a reply below to let us know which companies you would like to see us follow, and any other suggestions you might have. Be sure to subscribe to our blog to stay up to date with the latest information on patents, applications, and more.