Amazon seeks patent for digital chain of custody. Read about this and other recently published patent applications.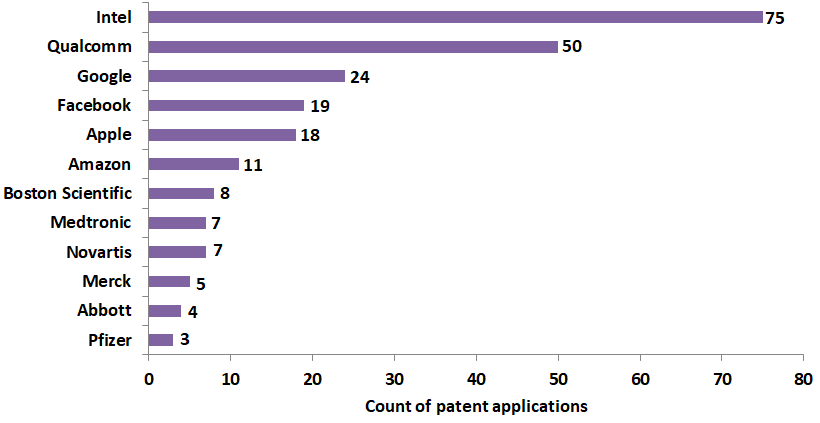 In this post, we take you through some of the recently filed patent applications of Google, Intel, Amazon, Apple, Facebook, Qualcomm, Novartis, Medtronic, Boston Scientific, Abbott, Merck, and Pfizer.
Google aims to patent automated assistant with conference capabilities
US patent application 20190132265 discloses automated assistant with a conference mode to participate in meetings and perform speech-to-text processing on multiple distinct spoken utterances and subsequently present pertinent information, as depicted below.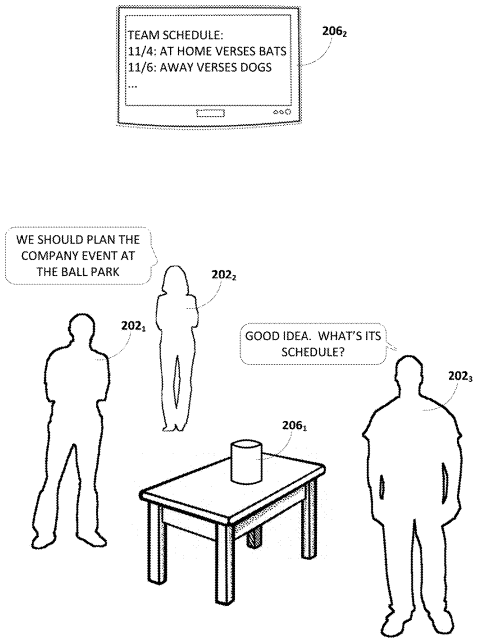 Intel files patent application for vehicle for variably sized transportation
US patent application 20190126999 discloses a vehicle for variably sized transportation that includes a vehicle basis coupled with collapsible exterior elements, wherein the vehicle is configured for adaptive size and shape adjustment. Illustrations below show two vehicles merging to form a combined vehicle.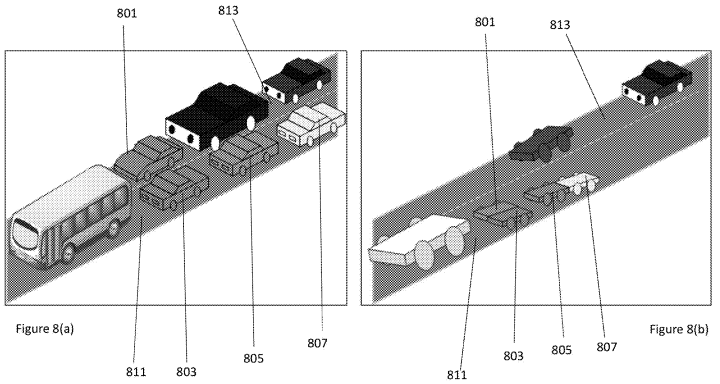 Amazon seeks patent for digital chain of custody
US patent application 20190130417 describes maintaining digital chain of custody of products to be loaded into containers by scanning, verifying, identifying the products and containers using a monitoring device. Figure below illustrates the described product identification system.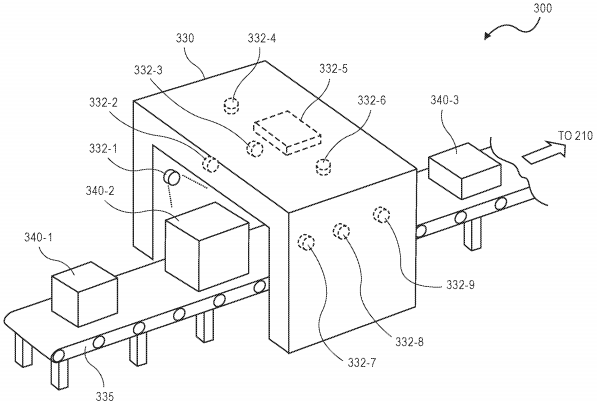 Apple pursues patents for resolving image duplication and browser user interface
US patent application 20190129969 titled "Consolidating Information Relating to Duplicate Images" discloses techniques that identify and remove duplicate images from an image library by comparing the metadata of images. Figure below illustrates multiple sets of duplicate images within an image manipulation software application.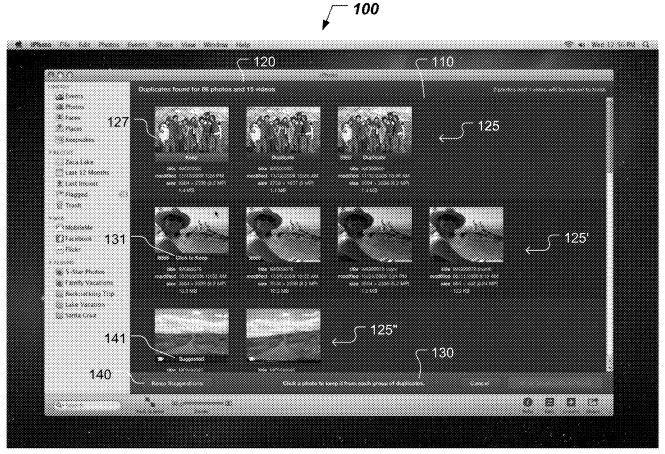 US patent application 20190129588 discloses a unified media browsing user interface (UI) for browsing content from multiple content applications on a device. Figure below illustrates a unified media browsing application for selecting diverse media contents based on swipe inputs.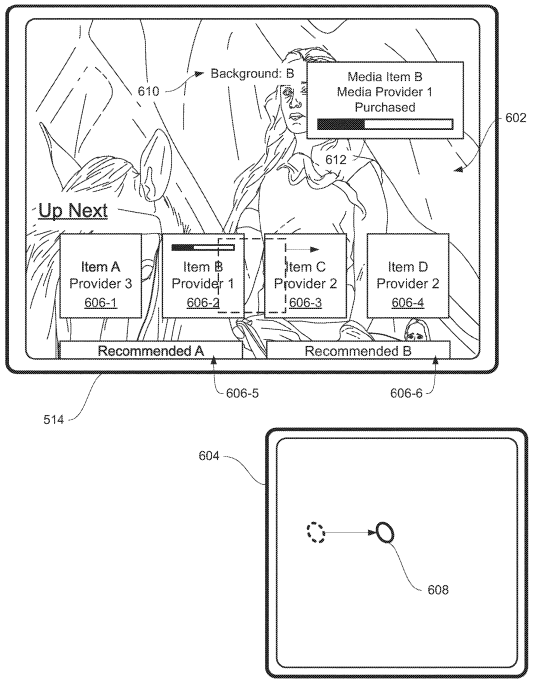 Facebook eyes patent for tracking trademark violations
US patent application 20190130508 titled "Searching For Trademark Violations In Content Items Distributed by an Online System" discusses a machine learning model that indicates the likelihood of trademark violations by a content item and subsequently controls or blocks associated content providers based on the predicted likelihood.
Qualcomm wants patent relating to robotic delivery vehicle
US patent application 20190130342 titled "Managing Operation of a Package Delivery Robotic Vehicle" describes determining a specific delivery location within a delivery area based on an information received from an Internet of Things (IoT) device and manoeuvring a robotic delivery vehicle to the specific delivery location, as illustrated below.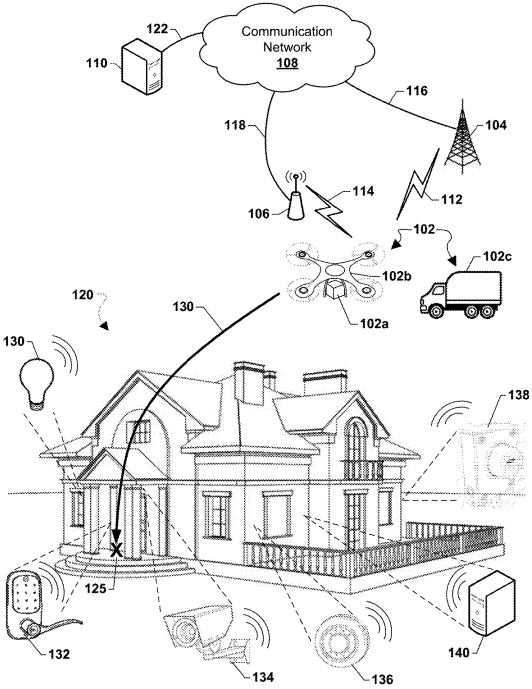 Novartis aims to patent foot pedal controlled OCT –display and Bernoulli gripper
US patent application 20190125182 describes an OCT-display for vitreoretinal surgery, wherein the tissue layers displayed in an en face image generated from OCT scanning may be navigated downward or upward based on user input supplied by a foot pedal device. Figures below illustrate (i) a block diagram of a surgical microscopy scanning instrument, and (ii) an example foot pedal device.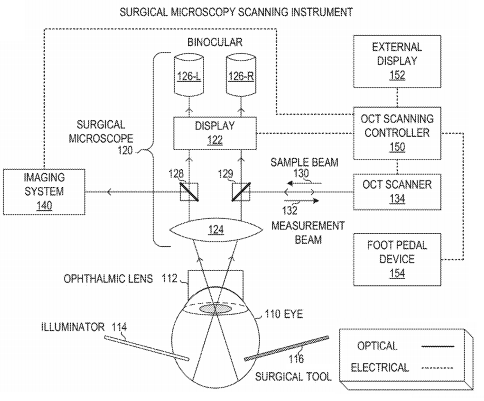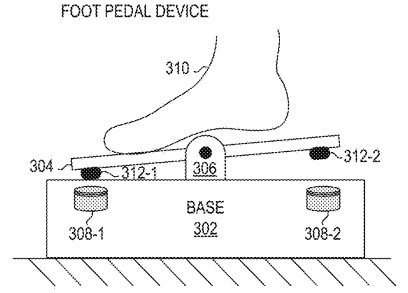 US patent application 20190125524 discloses a Bernoulli gripper for ophthalmic lenses which allows easy handling of contact and intraocular lenses. Figures below show different implementations of the Bernoulli gripper for IOLs and contact lenses.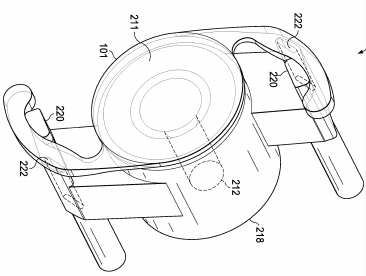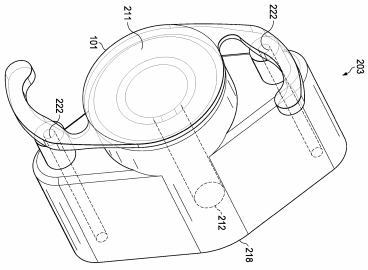 Medtronic seeks to patent illuminated electrosurgical apparatus
US patent application 20190125429 reveals illuminated electrosurgical devices having reduced tendency to cause unintended current flow or plasma discharge leading to patient injury. Figure below depicts the illuminated electrosurgical device of the invention.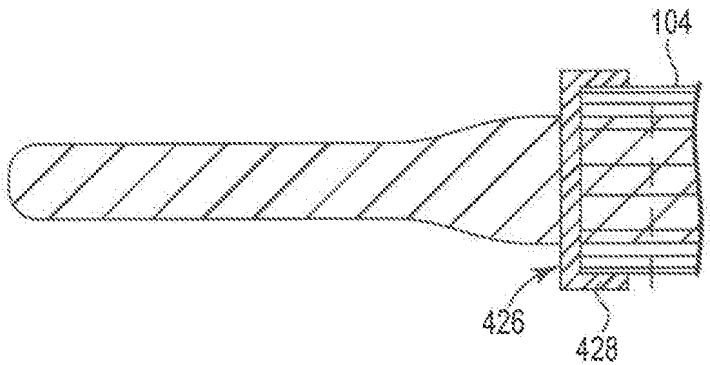 Boston Scientific pursues patent for calcium electroporation delivery apparatus
US patent application 20190125788 discloses methods for applying ablation therapy to a target tissue region by delivering energy to the tissue and eluting calcium-ion-containing solution from a balloon before, during, and/or after delivering the energy to the target tissue region. Figure below shows a cutaway view of a catheter that comprises a porous balloon structure positioned in a vein as per the disclosed method.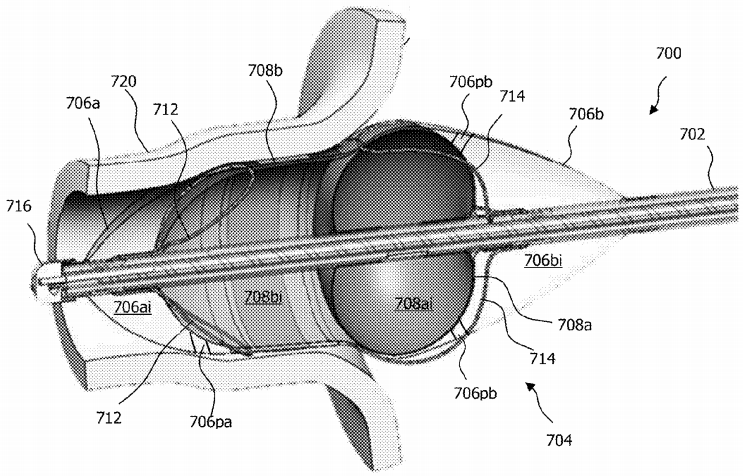 Abbott files patent application for methods of delivering an implant
US patent application 20190125565 describes a method for delivering a braided implant using a planetary gear actuation assembly. Figure below depicts the delivery system of the invention.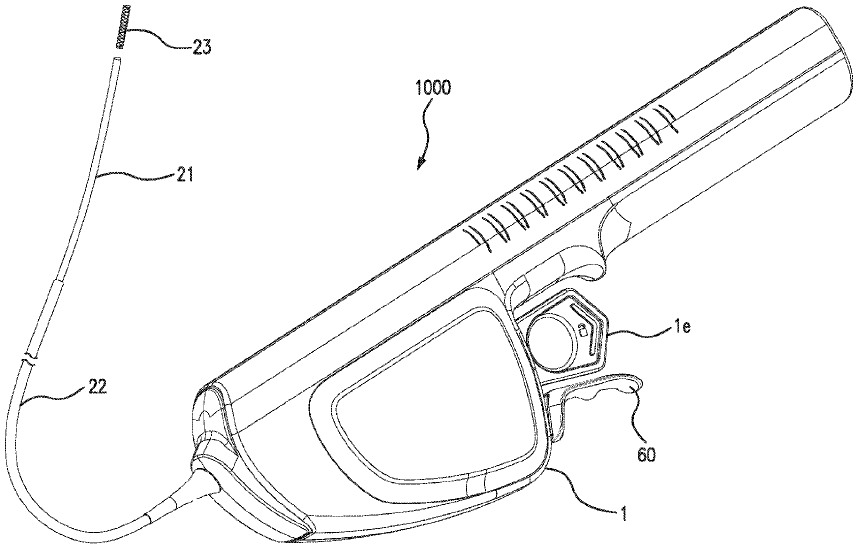 Merck attempts to patent an inhibitor for hepatitis C virus
US patent application 20190127365 discloses structure and compound of HCV NS5A inhibitors.
Pfizer wants to patent human cytomegalovirus GB polypeptide
US patent application 20190127422 reveals sequences of a polypeptide that includes mutation in the fusion loop 1 region, fusion loop 2 region and/or in the furin-like cleavage site of a human cytomegalovirus gB polypeptide.
Did you like this piece of content? We would love to hear your thoughts! Leave a reply below to let us know which companies you would like to see us follow, and any other suggestions you might have. Be sure to subscribe to our blog to stay up to date with the latest information on patents, applications, and more.