Microsoft files patent application for automatically creating travel diary. Read about this and other recently published patent applications.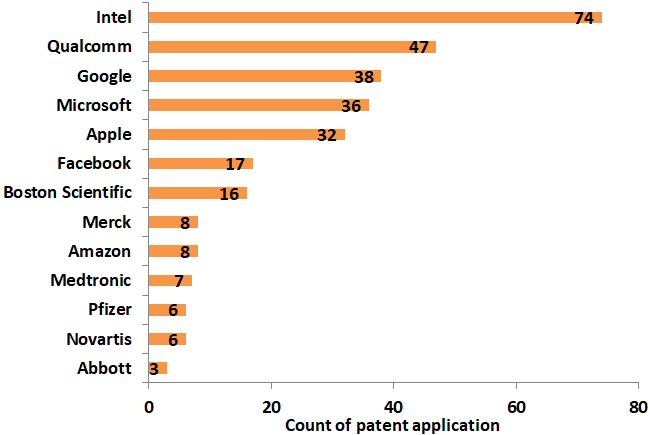 In this post, we take you through some of the recently filed patent applications of Microsoft, Intel, Facebook, Google, Qualcomm, Amazon, Apple, Medtronic, Novartis, Boston Scientific, Merck, Abbott, and Pfizer.
Microsoft files patent application for automatically creating travel diary
US patent application 20190147042 titled "AUTOMATED TRAVEL DIARY GENERATION" discusses allowing a user to edit and share an automatically generated travel diary, which displays the images of the places visited and describes the place based on a writing style of the user. Figures below offer a glimpse of the invention.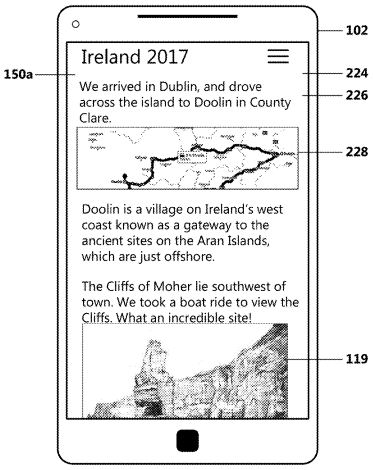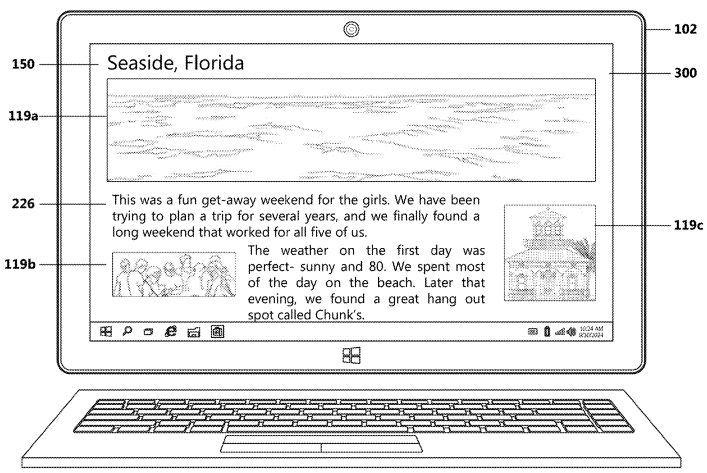 Intel pursues patents for UAV light show and method of detecting topics in audio environments
US patent application 20190146501 discloses an unmanned aerial vehicle (UAV) segment-imagery system that includes a first UAV configured to emit laser light on a targeted second UAV to create a light show. Illustrations below show a UAV initiated laser line segment and a 3D polygon image formed by a plurality of UAVs.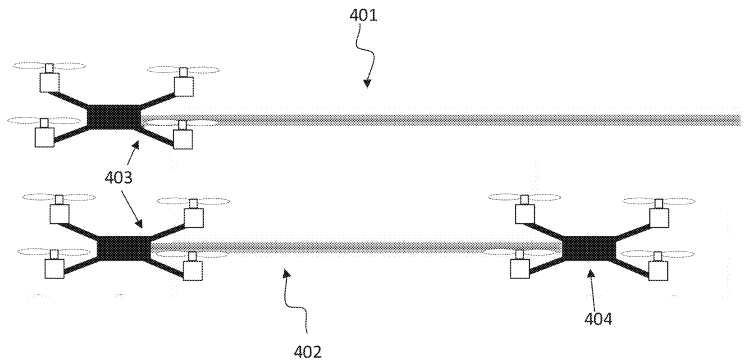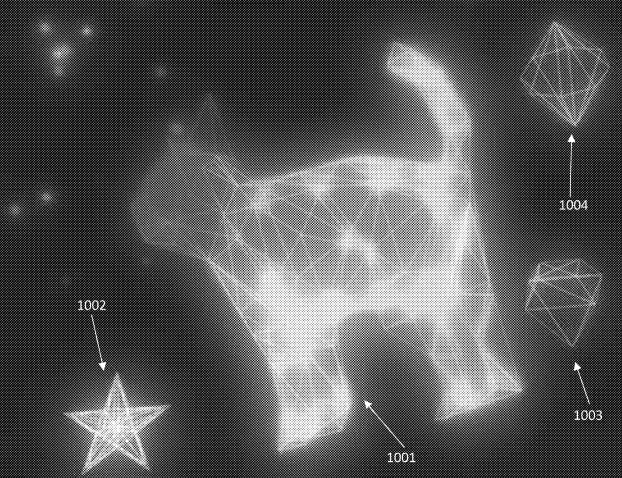 Another US patent application 20190147875 filed by Intel describes a mechanism for facilitating continuous topic detection based on a term in an input audio and triggering an event for a computing device to perform an action consistent with the term and the topic.
Facebook files patent application for playing music based on facial features
US patent application 20190147229 titled "Methods and Systems for Playing Musical Elements Based on a Tracked Face or Facial Feature" discloses a method of analyzing a video to detect a face and generating a music track based on the facial features, expressions or emotions, as illustrated below.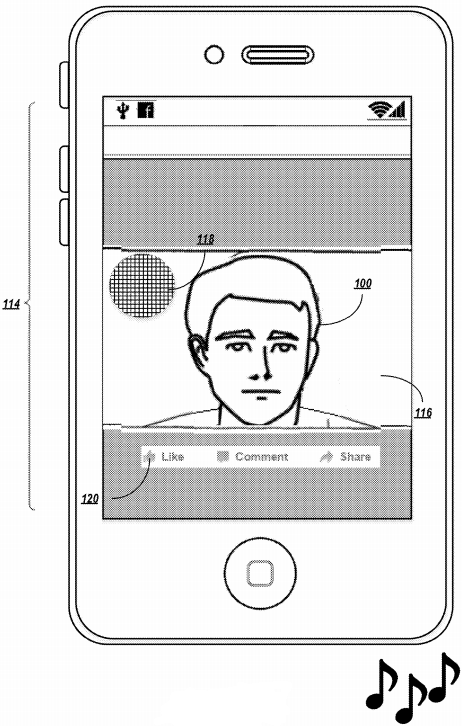 Google wants to patent irrigation management method
US patent application 20190141919 discloses a method for visual control of a network-enabled irrigation system that monitors a lawn using video stream and adjusts the functionality of the irrigation system based on identification of a visual change in a state of the lawn. Subsequently, a notification may be provided to a user based on the identification, as shown below.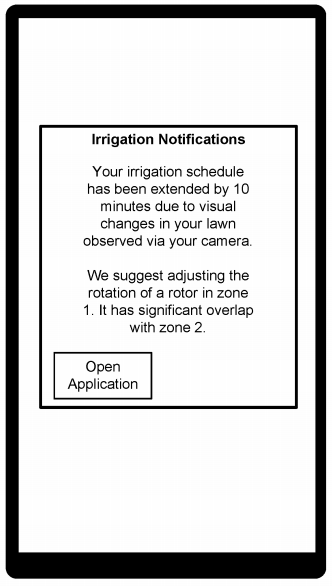 Qualcomm eyes patent for pose estimation and model retrieval for objects in images
US patent application 20190147221 discloses determining the pose of an object in an input image and determining a candidate 3D model from one or more 3D models representing the object in the determined pose. Figures below illustrate a 3D model retrieved for an airplane object in an input image.
Amazon aims to patent lighting systems for colorblind associates
US patent application 20190147710 discloses a lighting system with programmable light sources for modifying brightness or choosing colors that are easily distinguishable to a colorblind person. Figures below illustrate the storage location with light source and lighting configurations for identifying a container.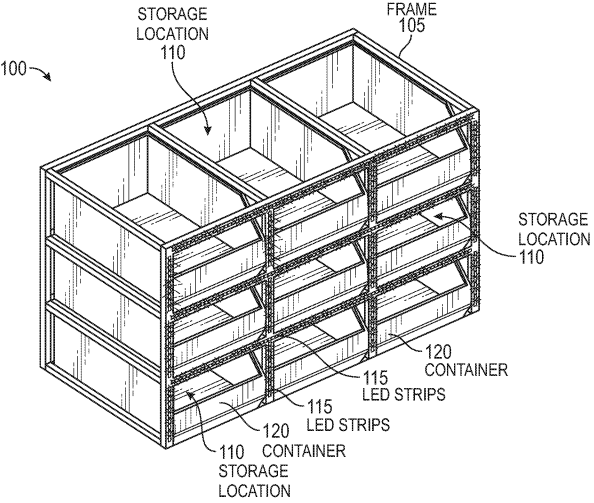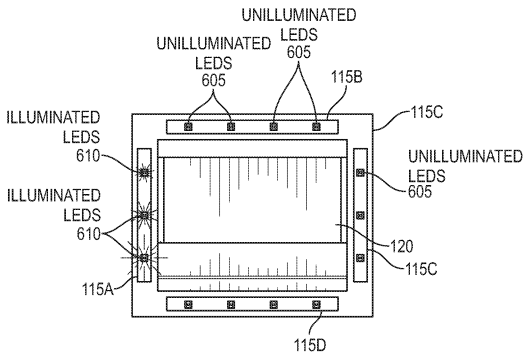 Apple seeks patents for a band tightness sensor and a navigation application
US patent application 20190142341 titled "Band Tightness Sensor of a Wearable Device" relates to sensing the tightness of a band attaching a wearable electronic device to a user's body part to improve operation of a health sensor in the wearable device. Figures below illustrate the wearable device before and after tightening of the band.


US patent application 20190145792 discloses navigation application that provides navigation when the display screen is locked. The app receives a verbal request to start navigation and allows a user to change the position of a virtual camera through gestural input on the device's screen, as shown in the figure below.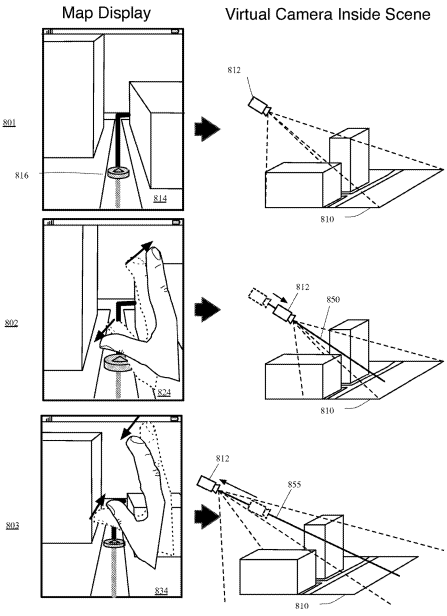 Medtronic files patent applications for infusion device and valve prosthesis
US patent application 20190143039 relates to an insulin delivery device for controlled delivery of drug to a patient, having a disposable base portion with a reservoir and a durable portion with drive components for driving fluid from the reservoir in a controlled manner. Figure below shows the delivery device with its components.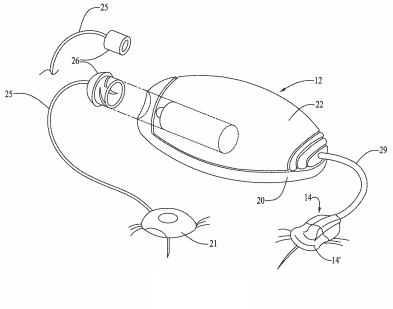 Another application 20190142588 titled "Valve Prosthesis and Method for Delivery" discloses a method for treating valve disorder in a patient's heart by collapsing valve prosthesis onto a delivery system, delivering the delivery system and the valve prosthesis to the patient's heart, expanding the valve prosthesis in the heart and withdrawing the delivery system from the heart. Figures below illustrate the valve prosthesis frame and the valve as implanted in the heart.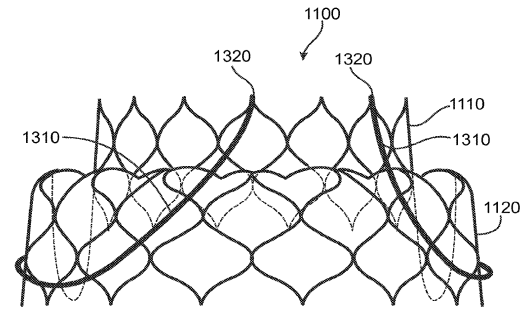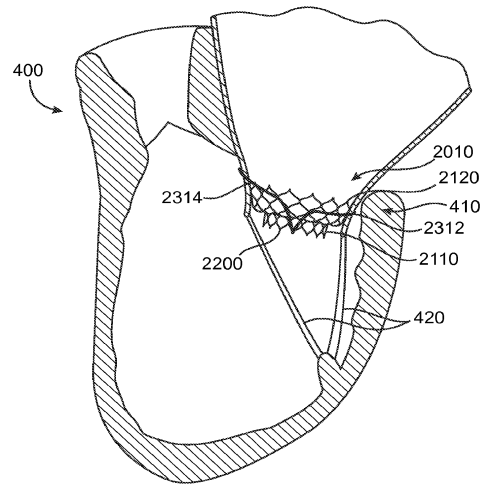 Boston Scientific wants to patent a lung volume reduction valve
US patent application 20190142570 describes a valve designed to perform lung volume reduction procedures and can be used to treat emphysema. Figure below illustrates the lung volume reduction valve.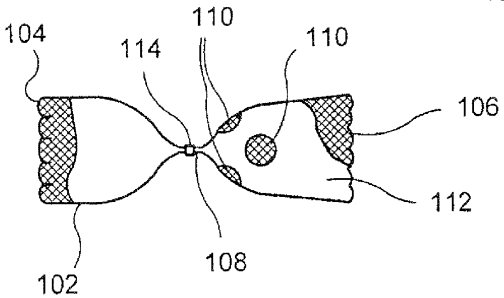 Abbott seeks to patent energy efficient device activation
US patent application 20190142315 presents devices and methods for changing the power state of a sensor control device in an in vivo analyte monitoring system through the use of external stimuli such as light, magnetics and RF transmissions. Figure below illustrates an analyte monitoring system for real time analyte measurement, data acquisition and processing.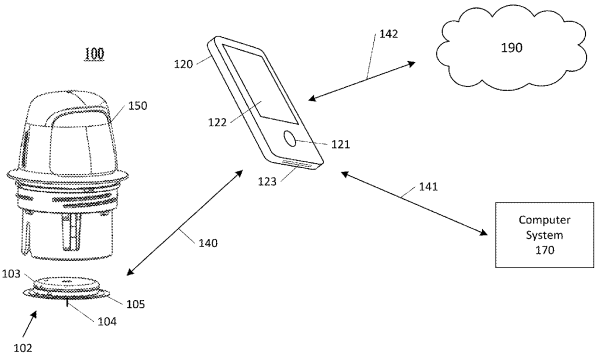 Novartis aims to patent a laser probe
US patent application 20190142544 discloses a multi-spot laser probe having illumination features designed for use in laser photocoagulation therapy. Figure below depicts an example mechanism for coupling illumination light and laser light into a single core fiber.

Merck wants to patent antibodies for fibrosis treatment
US patent application 20190144547 presents anti-alpha-v integrin antibody DI17E6 for treating fibrosis and fibrotic diseases.
Pfizer eyes patent for cancer vaccines
US patent application 20190142918 reveals a multi-antigen construct along with its sequence information aimed to treat or prevent neoplastic disorders.