Amazon seeks patent for autonomous guided vehicle (AGV) traffic management system. Read about this and other recently published patent applications.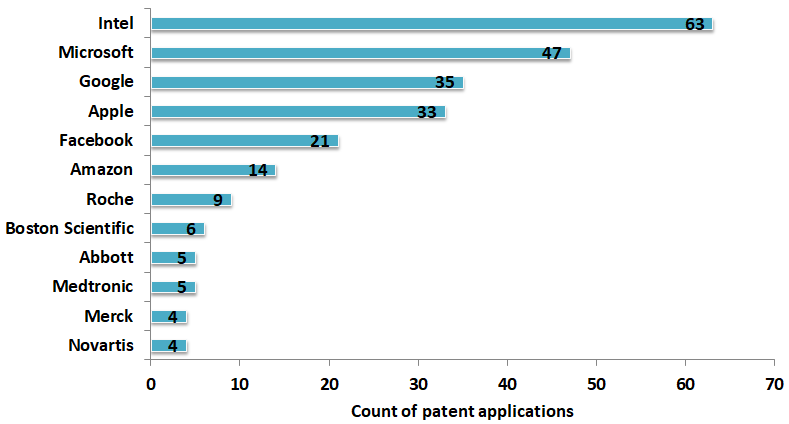 In this post, we take you through some of the recently filed patent applications of Facebook, Microsoft, Google, Amazon, Intel, Apple, Boston Scientific, Roche, Medtronic, Abbott, Novartis, and Merck.
Facebook files patent application for protecting sensitive information
US patent application 20190171794 titled "Systems and Methods for Protecting Sensitive Information" discusses a method for detecting a copy of a content presented in a social networking system as sensitive information and modifying it. Figures below illustrate example user interfaces for protecting sensitive information.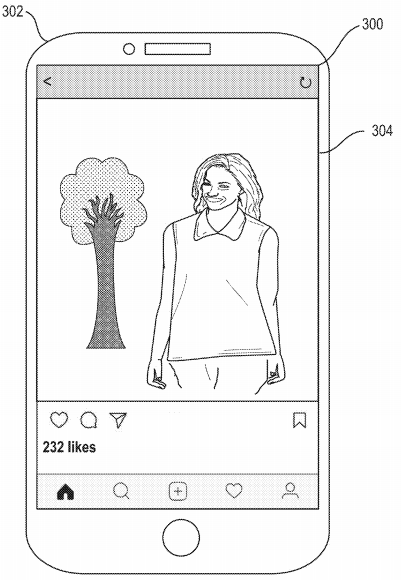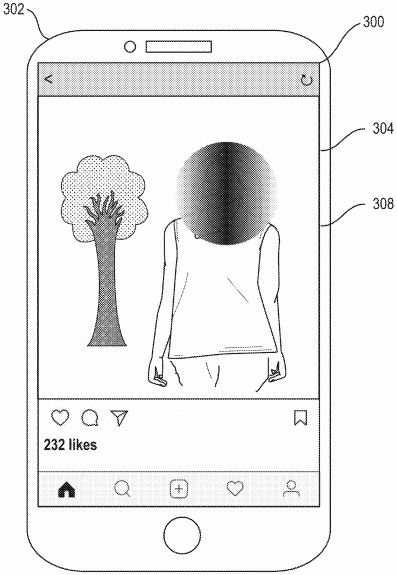 Microsoft wants patents related to virtual reality system and original content in electronic messages
US patent application 20190172178 discloses modifying resource allocation for subset of pixels of a source image whose contribution in the final rendered image in a virtual reality display device (shown in figure) is below a contribution threshold. The image processing technique omits or de-prioritizes the subset of pixels to conserve valuable resources.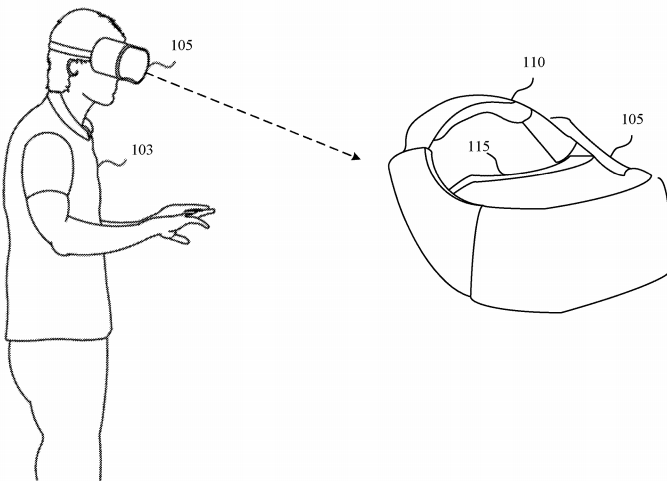 US patent application 20190173890 discloses verifying embedded original content with a signature metadata in a message from a first user to a second user in an electronic messaging or mail system as shown in the figure below. The second user can verify whether or not the first user altered the original content prior to sending the message.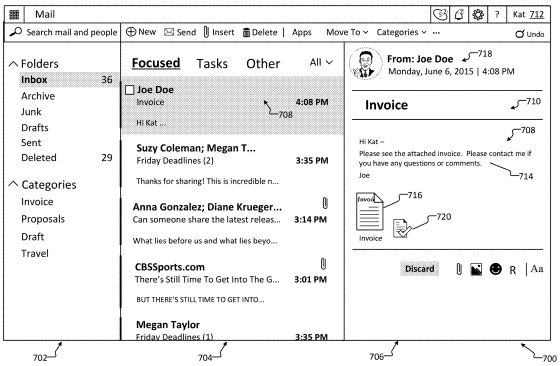 Google eyes patents for system for ducking and erasing audio from nearby devices
US patent application 20190173687 discloses an audio control system of a voice assistant device that transmits audio control signals for reducing a volume level of nearby audio devices upon detecting voice commands from a user. Figure below depicts a block diagram of networked computing devices implementing the audio control mechanism.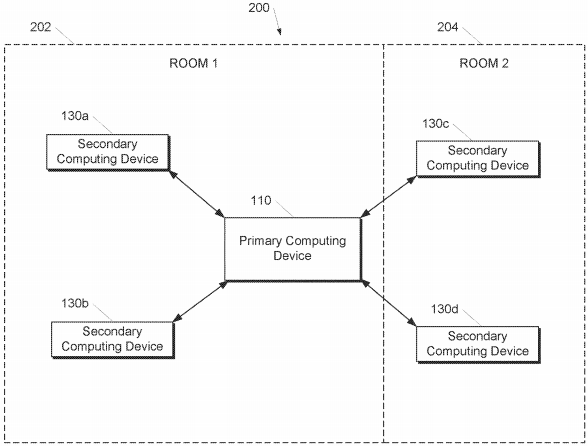 Amazon seeks patent for autonomous guided vehicle (AGV) traffic management system
US patent application 20190172005 discloses a computer system of an AGV that identifies the moving path of the inventory within a materials-handling facility and changes the travelling speed of the AGV based on signals received from transmitters. Figure below illustrates an example workflow of the signaling feature in the inventory management system.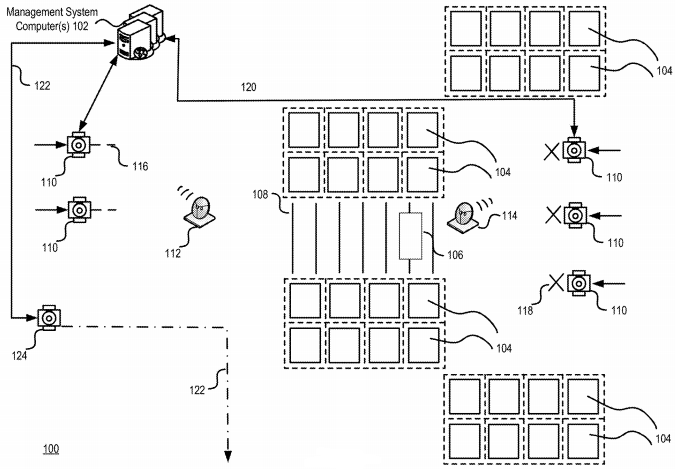 Intel seeks to patent an apparatus for selecting keypoints in images and techniques for community drone monitoring and information exchange
US patent application 20190171909 discloses an apparatus configured to select keypoints in images based on keypoint scores and descriptor scores for each of the selected keypoints to find point to point correspondences in images. Illustration below is a block diagram of the system.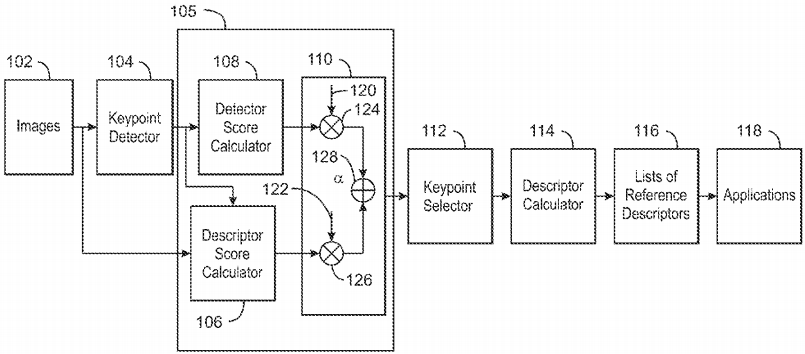 Another US patent application 20190172360 discloses a technique to monitor a location of a UAV and send notification to a party associated with a property when the distance of the UAV with respect to the property is within a range. Illustrations depict an overview of a drone information sharing system.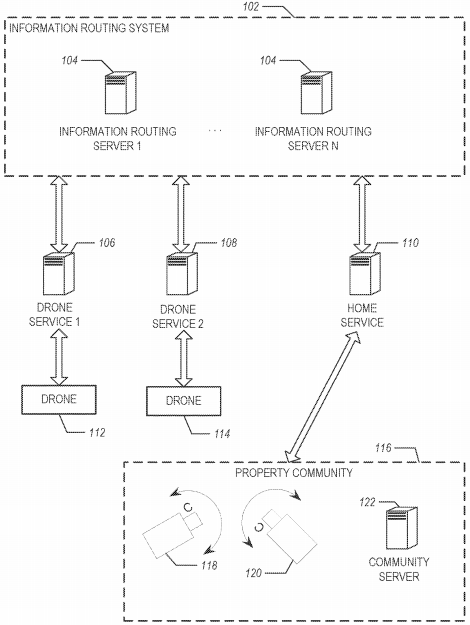 Apple seeks patents for recognizing objects by determining camera pose
US patent application 20190172220 relates to a method for determining the pose of a camera relative to a real environment and recognizing an object in an image taken by the camera. The figures below illustrate plan views of schematic arrangements of the device set-ups with respect to a real environment.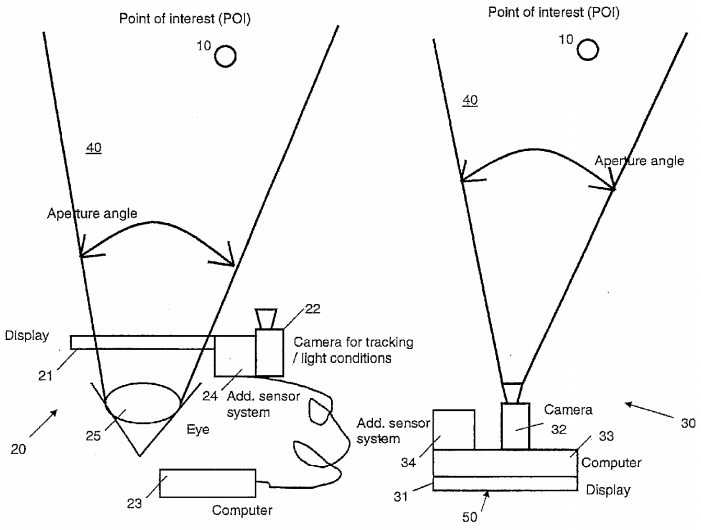 Boston Scientific files patent application for tissue retraction system
US patent application 20190167950 discloses a system for performing minimally invasive procedures in a body lumen having a flexible catheter with an endoscope and a tool lumen, a plurality of support elements that form an expanded cage to reshape the body lumen to form a working space and a grasping tool within the tool lumen that grasps tissue close to the working space thus minimizing or avoiding risks of tissue damage. Figure below illustrates the use of the system in the body lumen.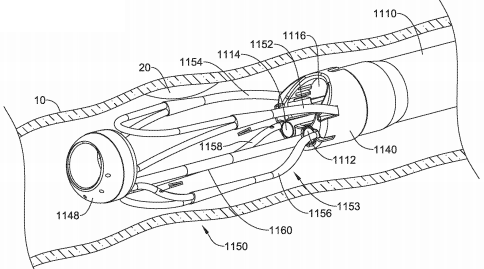 Roche seeks a patent for an ambulatory infusion device
US patent application 20190167900 relates to an infusion device with an electroacoustic transducer that can be operated as a noise emitter and a receiver, and hence the transducer may be used for picking up acoustic signals that are generated by the infusion devices during regular operation in diabetes therapy.
Medtronic wants to patent a tumor ablation system
US patent application 20190167333 describes a tumor ablation system having a microwave antenna, an energy port to connect the antenna to a microwave source, a fluid port, and a balloon that is inflated by the fluid. The tumor ablation system is used to treat cancer and is illustrated below.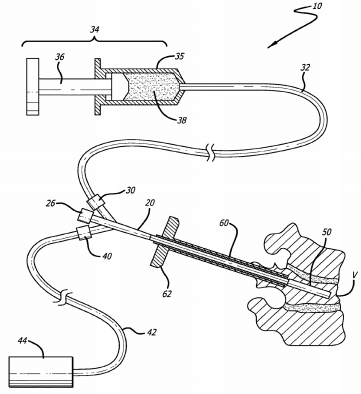 Abbott aims to patent system to analyze medical devices linked by wireless communication
US patent application 20190174568 discloses a system for processing information regarding medical devices in wireless communication with each other by monitoring the wireless link status of multiple wireless communication units to determine a reason for link degradation. Figures below depict a user having an integrated diabetes management system, wherein a hand-held controller receives data from a pump and a glucose sensor are attached to the body and provides the user with relevant information for diabetes management.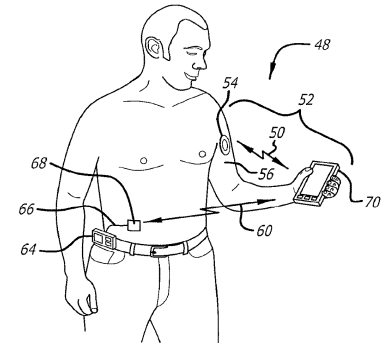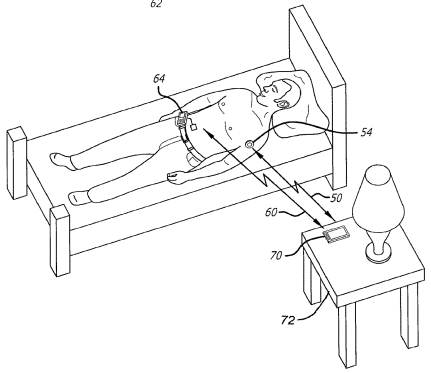 Novartis eyes patent on illuminated ophthalmic infusion line
US patent application 20190167087 reveals an ophthalmic illuminated infusion line that includes an arrangement having a flexible elongate member and a flow tube configured to deliver a fluid to an eye of a patient during a surgical procedure. The infusion line also includes an optical fiber coupled to the arrangement and is configured to penetrate the eye of the patient with the flow tube and transmit light to illuminate the interior of the eye during the surgical procedure simultaneously when the flow tube delivers the fluid to the interior of the eye. Figure below illustrates the ophthalmic surgical system including an illuminated infusion line in situ in an eye.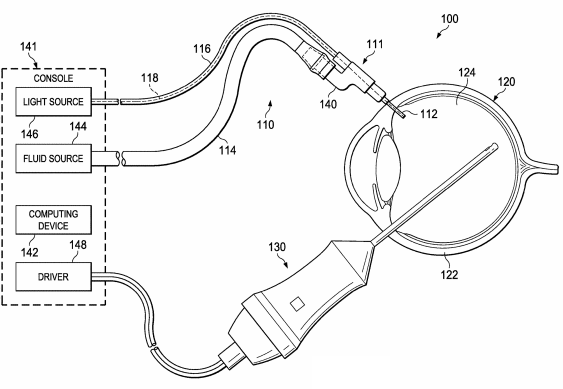 Merck pursues patent on Cladribine regimen for treating progressive forms of Multiple Sclerosis
US patent application 20190167707 discloses specific oral dosings, dosage forms, and oral dose regimens including cladribine that can be effective for the treatment of progressive forms of Multiple Sclerosis.