IBM files patent application related to suggestion of visual effects based on detected sound patterns. Read about this and other recently published patent applications.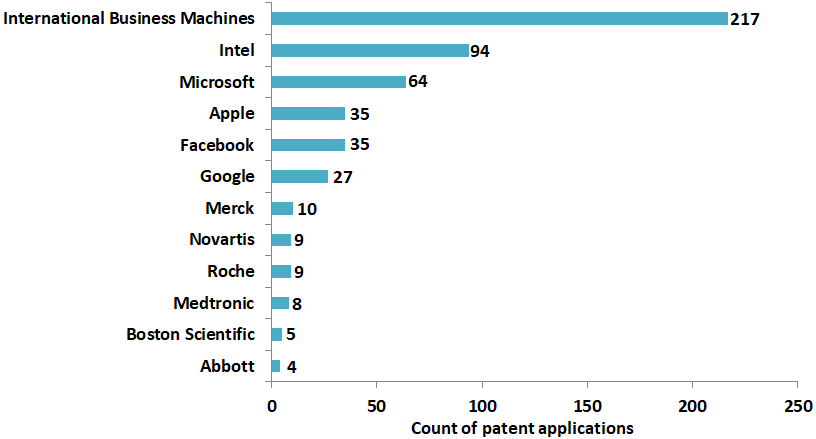 In this post, we take you through some of the recently filed patent applications of Apple, IBM, Intel, Microsoft, Google, Facebook, Medtronic, Boston Scientific, Novartis, Merck, Roche, and Abbott.
Apple pursues patents for guidance device for the sensory impaired
US patent application 20190196594 relates to guidance devices for the sensory impaired that detects information about the user's environment and presents it to the user to aid the user's interaction with the environment as shown below.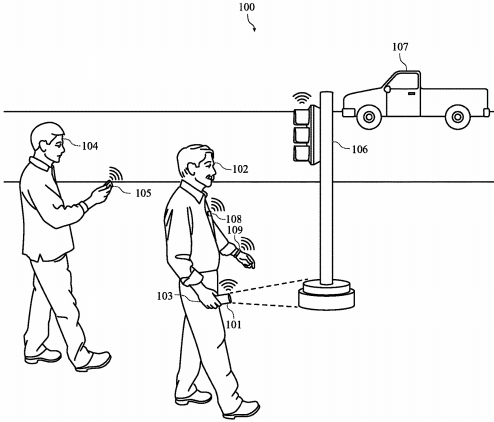 IBM files patent application related to suggestion of visual effects based on detected sound patterns
US patent application 20190199939 discloses a method for presenting a visual effect as a selectable option to a user based on a detected sound pattern during communication such as video chat. Figures below depict presentation of effects in the user interface based on a speech detection process.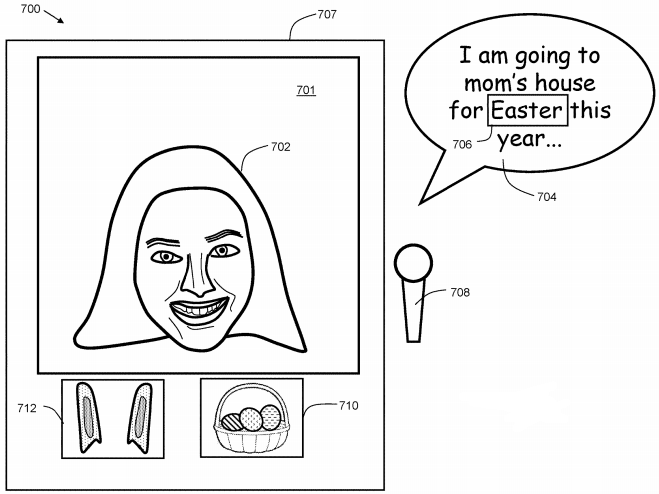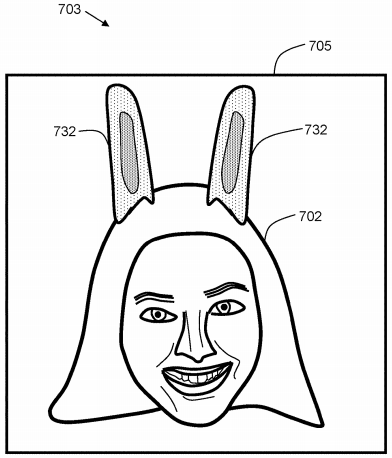 Intel seeks to patent augmenting autonomous driving with remote viewer recommendation and drone path planning systems
US patent application 20190196471 discloses an augmenting autonomous driving system that includes remote viewers that provide recommended responses incorporated in the vehicle to react to threats. Illustration depicts an environment with an intersection 102 with potential threat to a vehicle 104.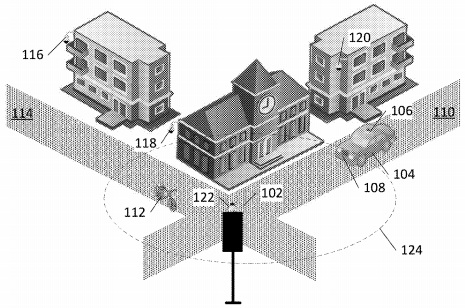 US patent application 20190196467 discloses a drone path planning system that is configured to store a current wavepoint from a current location and previous wavepoint, detect current set of frontiers and store the frontiers in a list of active goals to find a target. Illustration depicts a drone with a path planning system.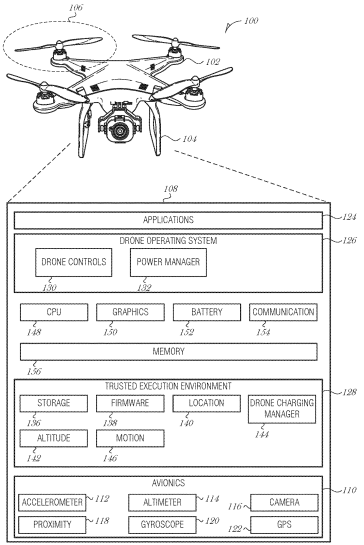 Microsoft wants to patent generalized additive machine-learned models
US patent application 20190197422 discloses combining three machine generalized linear mixed (GLMix) model for making predictions and recommendations. A global model models the similarity between user attributes and item attributes, a per-user model models user attributes and activity history, and a per-item model models item attributes and activity history.
Google files patent application related to assistive screenshots
US patent application 20190196674 discloses an application executing on a computing device providing selectable options or links related to a user when the user attempts to capture a screenshot. Figures below depict a display screen before and after a screenshot capture input.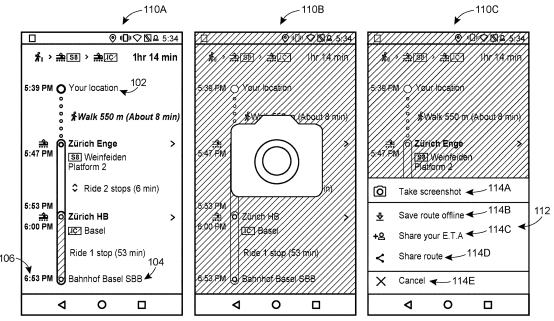 Facebook eyes patent for language-agnostic understanding
US patent 20190197119 relate to techniques to classify or detect the intent of content written in a language using a classifier that can be applied to the universal embedding without needing to be trained on that language.
Medtronic files patent application for atrial arrhythmia episode detection
US patent application 20190192020 relates to a medical device for determining atrial arrhythmia episodes by identifying a cardiac event, determining whether the cardiac episode is occurring in response to the number of identified cardiac events exceeding a predetermined threshold and providing an alert to the user. Figure below shows the medical device for detecting arrhythmia.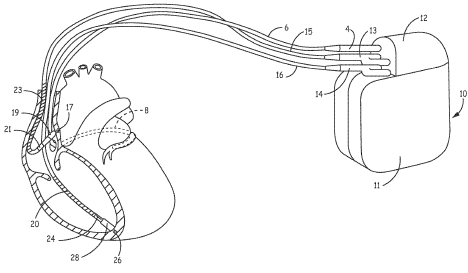 Boston Scientific eyes patent on open-irrigated ablation catheter
US patent application 20190192222 describes an open-irrigated catheter system with a catheter body, a tip assembly with a conductive exterior for delivering radio frequency (RF) energy, several irrigation ports, fluid chambers connected with a fluid lumen that extends from a fluid source through the catheter body to the tip assembly. Image below illustrates the mapping and ablation system that includes the open-irrigated ablation catheter.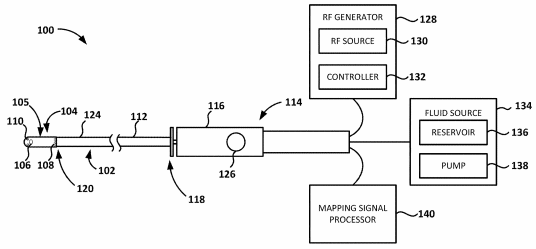 Novartis seeks to patent method of manufacturing an ophthalmic surgical probe
US patent application 20190192340 presents a method of manufacturing an articulating ophthalmic surgical probe that includes providing a cannula and a slotted tip, attaching a pull wire to the slotted tip, attaching a metal anchor to a distal end of the pull wire, positioning a weld pin within a handle assembly that is sized to fit within a single hand, and welding the metal anchor to the weld pin within the handle assembly. Figure below illustrates the disclosed probe with the cannula tip.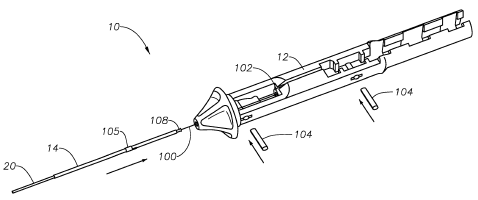 Merck wants to patent 3D printing of pharmaceutical products
US patent application 20190192383 reveals a process of 3D printing solid pharmaceutical administration forms, the process including spreading a powder comprising a fusible material and an active ingredient across the manufacturing area to create a powder bed, jet printing a fluid comprising an energy absorbing material onto the powder, irradiating the powder to induce heating of the energy absorbing material in the powder and thereby to induce melting and fusing of the material present in the powder, repeating this irradiation process as often as needed to build up the solid pharmaceutical administration form, separating the solid pharmaceutical administration form from the powder bed.
Roche aims to patent a drug delivery device
US patent application 20190192767 discloses a therapeutic fluid delivery device with a housing connected to a cannula, a reservoir to hold the therapeutic fluid, a mechanically powered pumping mechanism to cause delivery of the fluid from the reservoir, and a power-transfer mechanism to transfer manually-delivered power provided by a user to mechanically actuate the pumping mechanism. Image below illustrates the drug delivery device being secured to the skin of a patient.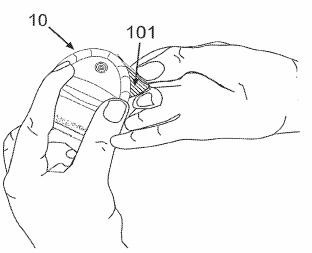 Abbot wants to patent ketogenic nutritional compositions
US patent application 20190191755 reveals a nutritional composition comprising fat, protein and carbohydrate such that fat provides 60 to about 90% of the total calories, the protein provides from about 10 to about 30% of the total calories of the composition, and carbohydrate provides from about 0.1 to about 15% of the total calories of the composition.