Apple seeks patent for a system with multiple displays. Read about this and other recently published patent applications.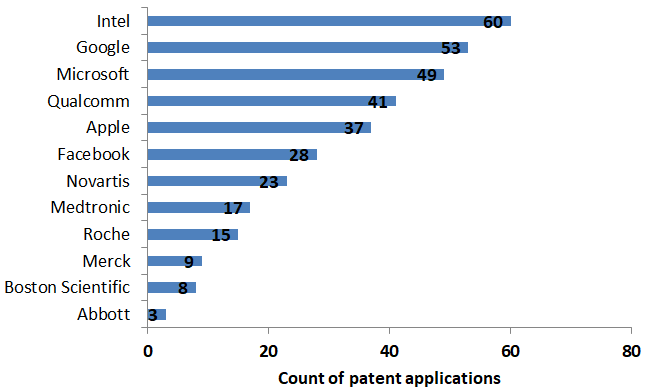 In this post, we take you through some of the recently filed patent applications of Intel, Apple, Microsoft, Facebook, Google, Qualcomm, Medtronic, Roche, Abbott, Boston Scientific, Novartis, and Merck.
Intel files patent applications for animation simulation of biomechanics and QR image based device management
US patent application 20190180493 discloses techniques for generating and displaying animations of simulated biomechanical motions using inverse kinematics to determine desired positions and orientations of an avatar based on sensor data. Illustration below depicts an example arrangement as described in the application.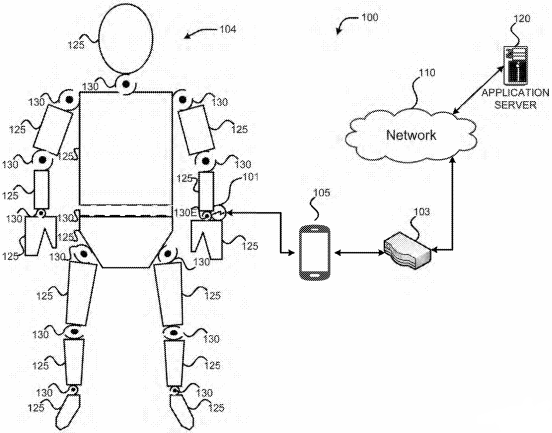 US patent application 20190180066 describes techniques for device management using QR image to identify a control command based on a QR control code embedded in a QR tag in the image.
Apple seeks patent for a system with multiple displays
US patent application 20190182972 relates to an apparatus for magnetically attaching a device to a supporting structure, which rigidly holds a portion of the device in place and shields magnetic field from adversely affecting nearby devices susceptible to strong magnetic fields. Figure below depicts a tablet device attached to the roof of a car using the magnetic stand.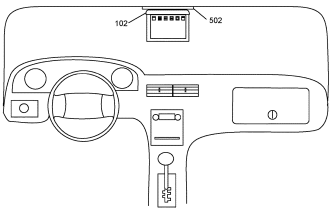 Microsoft wants patent for location-based holographic experience
US patent application 20190180513 discusses monitoring position of the head-mounted display (HMD) along a path of a holographic experience and displaying a holographic object on detecting that the HMD meets a position-based condition regarding the holographic object. Figure below illustrates an location-based holographic experience within an experience space.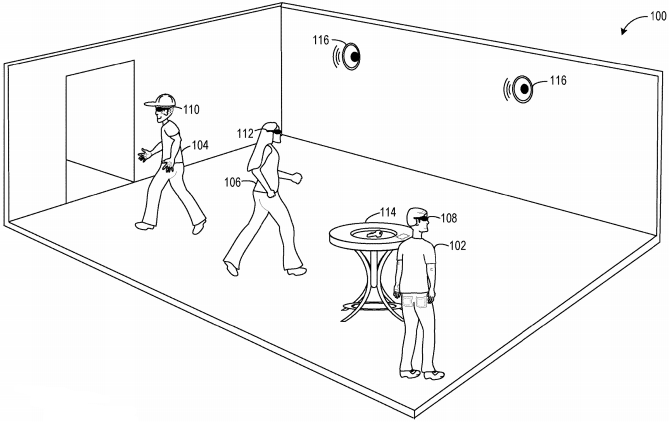 Facebook eyes patent for predicting next place of visit on social networks
US patent application 20190180171 discloses a social-networking system that predicts a geographic location that a user might visit subsequent to the user's presence at another geographic location. Figure below shows a social graph for the prediction.
Google pursues patents relating to automated recovery of unstable mobile devices and monitoring eyes in wearable devices
US patent application 20190179707 discusses a method for automatically determining that a device has entered a corrupted state and identifies the untrusted changes in the device based on changes to system data and resets the untrusted changes to default values for recovery. Figure below depicts a corrective action interface for the device.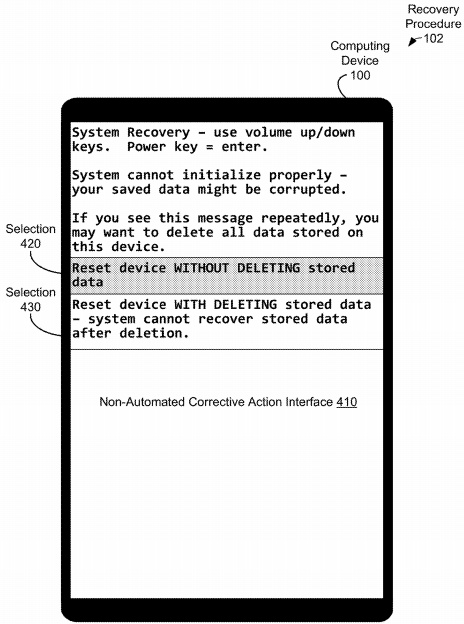 US patent application 20190179418 discloses a method for allowing a user to edit media images captured with a wearable device and assign saliency to captured media based on users' eye gaze directions.
Qualcomm seeks patent for triggering natural instincts of a user using audio signals
US patent application 20190182610 discloses a wireless device determining a time delay, intensity difference, position and signal strength associated with a signal and detecting differences in the sound wave's time of arrival and intensity at the left ear versus the right ear to perceive the location of the audio source. Figure below illustrates the output signal triggering a user's instincts to perform sound source localization.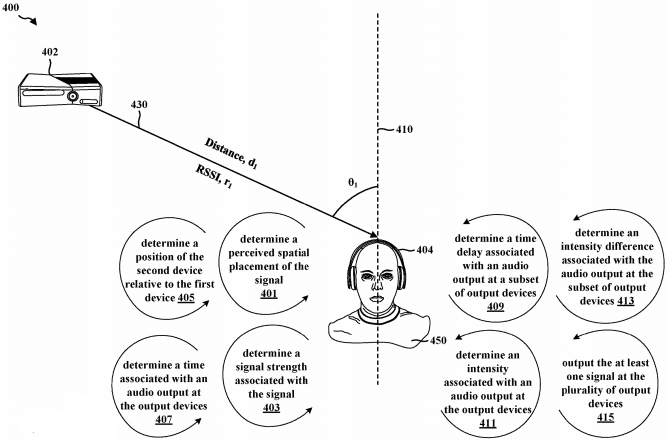 Medtronic files patent application for augmented reality viewing system and vibration reduction system
US patent application 20190175059 relates to an augmented reality viewing system that displays a field of view image with an instrument icon that allows the user to view the subject through the screen while also viewing the subject. Figure below is a view of the user viewing the real world and displayed icon.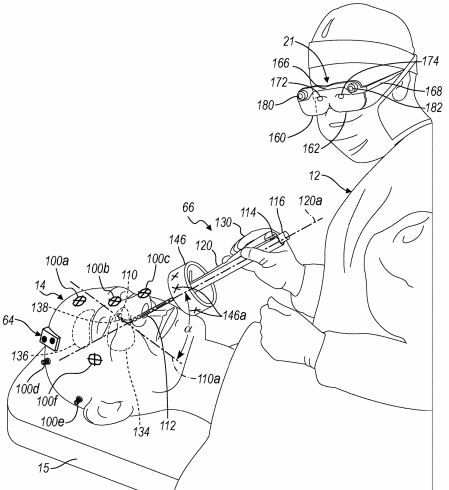 US patent application 20190175194 titled "Method and Apparatus to Select Vibration" discloses an assembly for holding a tool with damping members providing a vibration reduction feature that reduces or eliminates vibrations felt during surgical procedures, thus reducing the chatter at the working end of the tool. Figure below shows the perspective view of the instrument assembly.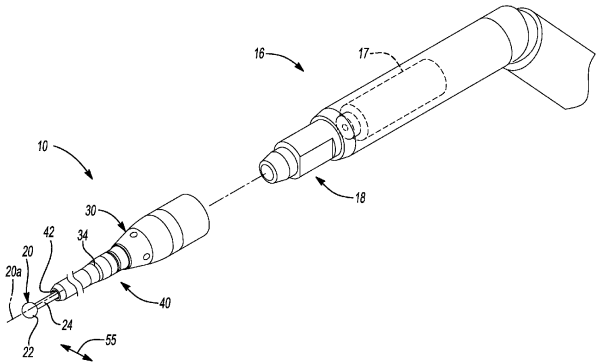 Roche seeks patent for a portable liquid drug delivery device
US patent application 20190175824 reveals a portable drug delivery device having reservoir part and a driving part, wherein the driving part produces a torque. Figure below illustrates the portable liquid drug delivery device in a state in which the driving part is connected to the reservoir part.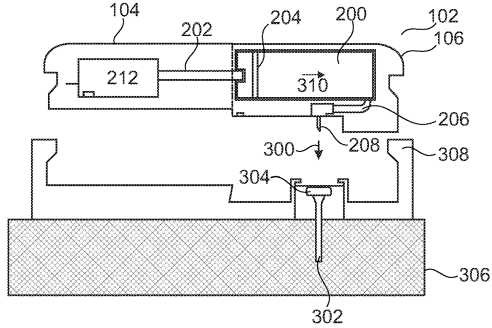 Abbott wants to patent surgical suturing devices
US patent application 20190175168 presents transcatheter devices and methods for suturing of intracardiac defects such as patent foramen ovale. Figure below depicts the suturing device.
Boston Scientific aims to patent a tracheal stent
US patent application 20190175371 discloses a tracheal stent with several wave form structures each extending radially about the support structure. Figure below illustrates the stent.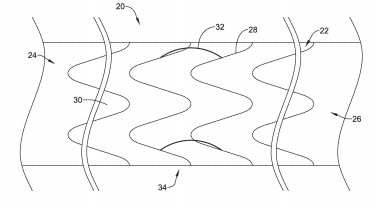 Novartis eyes patent on water gradient contact lenses
US patent application 20190179055 reveals contact lenses that comprise the much desired water gradient structural configurations, and have minimized uptakes of polycationic antimicrobials and a long-lasting surface hydrophilicity and wettability even after going through a 30-days lens care regime.