Google seeks a patent for automated understanding of 3D scenes for AR applications.
Read about this and other recently published patent applications.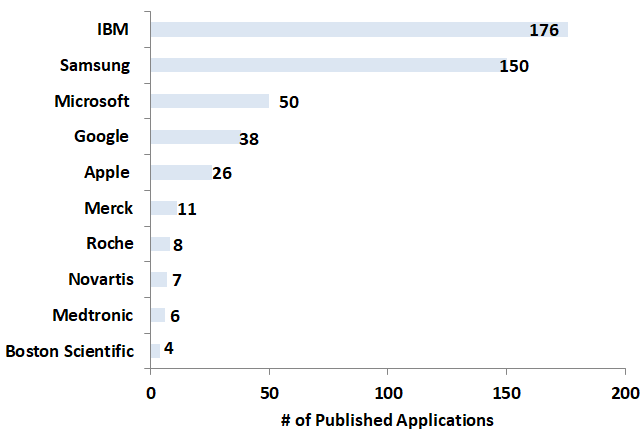 In this post, we take you through recent patent applications from Google, Apple, Microsoft, IBM, Samsung, Boston Scientific, Medtronic, Roche, Merck, and Novartis.
Google Seeks a Patent for Automated Understanding of 3D Scenes for AR Applications
US patent application 20190392630 discloses a device configured to perform 3D scanning of an interior space using depth information and voxels in a 3D grid. The device also uses queries to perform spatial reasoning at an object level of granularity, positions, overlays, or blends virtual objects into an AR representation of the interior space. An interior space and a device that performs 3D scanning of the interior space are depicted below.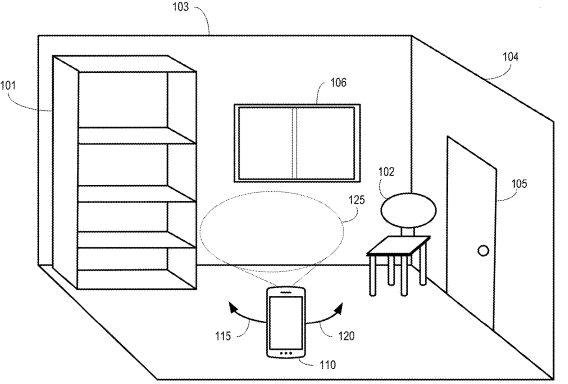 Apple Wants a Patent Related to a Wearable Electronic Ring Computing Device
US patent application 20190391645 reveals a wireless ring device wearable on a user's finger, wherein the ring device detects an input hand gesture directed towards an external device and transmits instructions to change the output of the external device. Two ring computing devices communicating with an external device are illustrated below.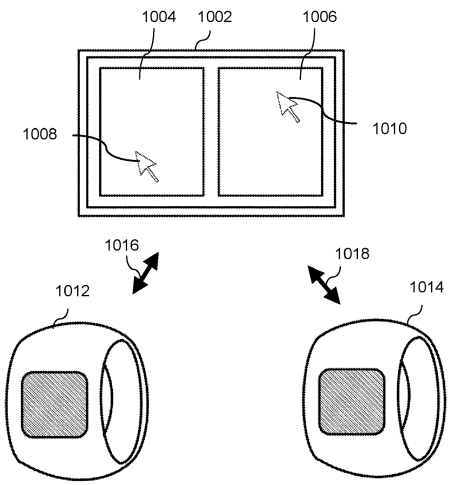 Microsoft Eyes a Patent for Environmental Control via a Wearable Computing System
US patent application 20190391544 discloses a head-mounted device (HMD) system for controlling ambient environmental conditions to affect other users wearing HMD systems. The HMD system sends commands to an environmental control system to adjust an environmental parameter of the environment to enhance the presentation of the AR image. The figures illustrate an example scenario where an ambient temperature is adjusted via an HVAC system to change a comfort characteristic of the user during presentation of AR content.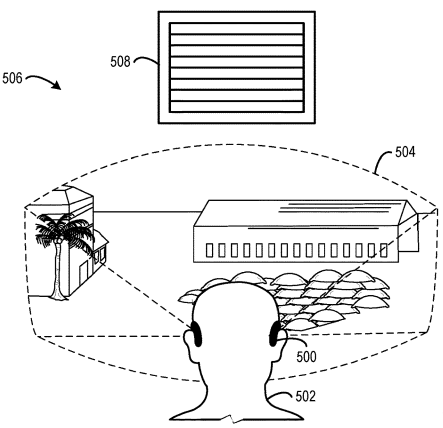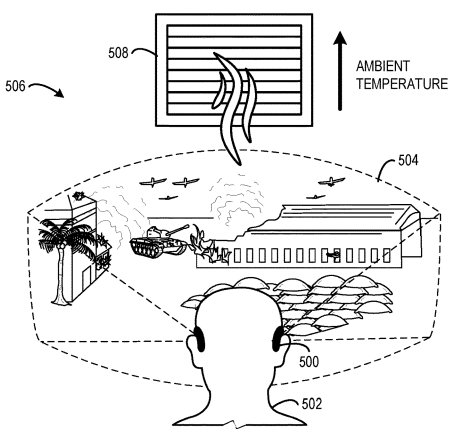 IBM Files a Patent Application for Switching Mobile Service Providers Using Blockchain
US patent application 20190394637 discusses a method that includes receiving a mobile number portability request, fetching mobile device porting data from a blockchain ledger accessible by the mobile service provider and by the current mobile service provider, verifying the fetched mobile device porting data in response to a successful verification, porting a mobile device number, and updating the mobile device porting data in the blockchain ledger. A permissioned blockchain network is illustrated below.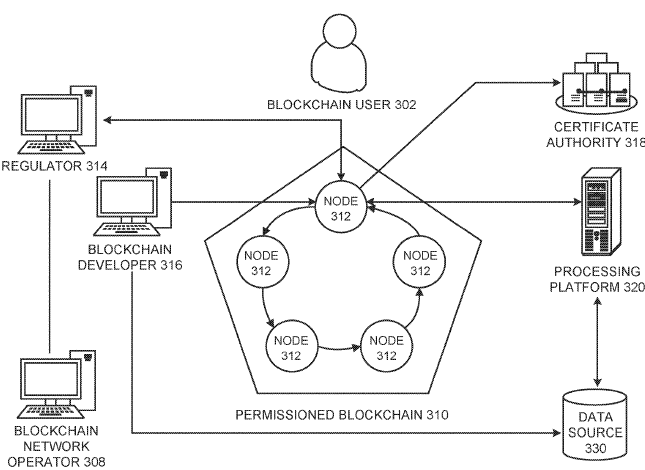 Samsung Aims to Patent a System and a Method for Generating Aspect-Enhanced Explainable Description-Based Recommendations
US patent application 20190392330 discloses a recommendation method that includes determining aspects of a first item based on at least one descriptive text of the first item and updating a knowledge graph. The method also includes identifying user sentiment and importance about the associated aspect of the first item and recommending a second item for a user with an explanation. The illustration depicts a GUI for providing recommendations to users.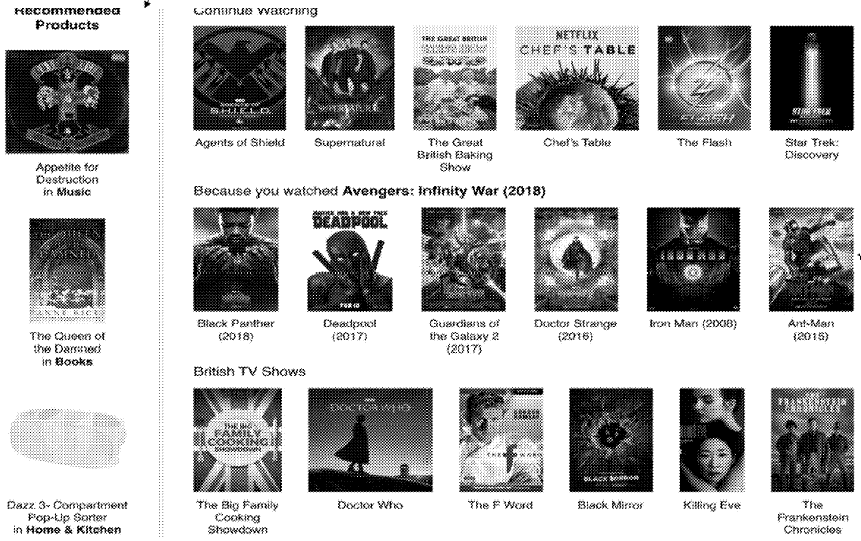 Boston Scientific Aims to Patent a Sheath for Enabling Needle Exchange
US patent application 20190388068 relates to medical systems configured to shield the sharpened distal end of exchangeable biopsy needles used for tissue biopsy and sampling under radial ultrasound guidance. The image below provides a perspective view of the needle assembly.

Medtronic Wants to Patent an Optimized Intrathecal Drug Delivery System
US patent application 20190388663 describes an intrathecal drug delivery system configured to monitor physiological conditions of the patient to time medicament delivery that coincides with patient activity inferring heightened cerebrospinal fluid oscillations and improving dispersion of the medicament within the intrathecal space of the patient. The figure below shows an implantable medical pump within the body of a patient.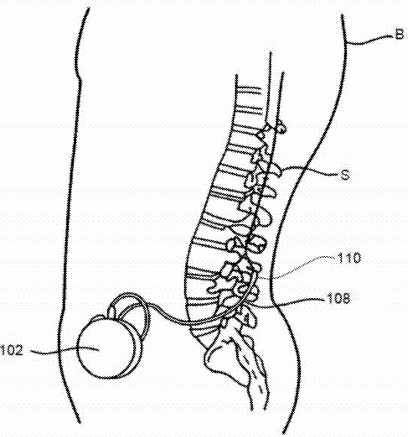 Roche Seeks to Patent a Laboratory Instrument Base Plate
US patent application 20190388898 presents a laboratory instrument comprising a single base plate with an embedded consumable compartment, an embedded sample processing compartment, an embedded waste compartment, an embedded activation device compartment, and an embedded rack receiving compartment. The illustration below depicts the laboratory instrument with the base plate.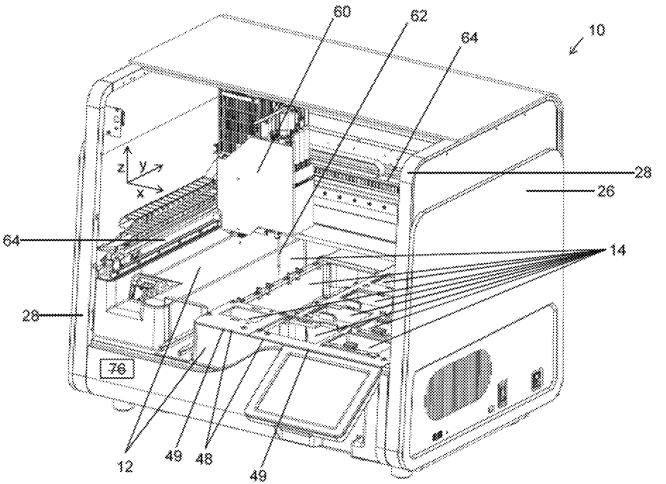 Merck Pursues a Patent on a System for Delivery of Antiviral Agents
US patent application 20190388590 discloses novel implant drug delivery systems for long-acting delivery of antiviral drugs. The X-ray image of a barium sulfate containing implant in a rat is shown below.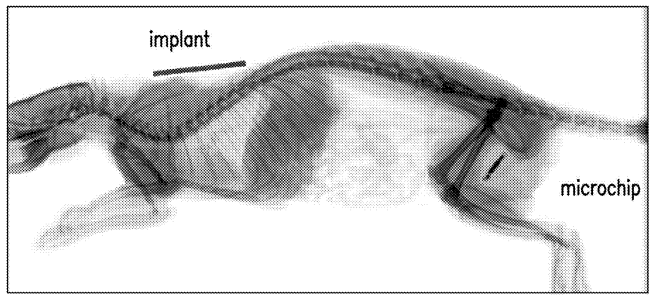 Novartis Files a Patent for a Dip Tube
US patent application 20190388300 describes a dip tube for extracting fluid from a bottle comprising an adapter configured to be partially inserted into the neck of the bottle, a connecting port connected to a suction device, an elongated hollow withdrawal tube which is configured to protrude from the adapter into a fluid receiving space of the bottle, and a sealing disc. The illustration below shows a side view of the dip tube.