Facebook files patent application relating to haptic sensations in artificial reality. Read about this and other recently published patent applications.
In this post, we take you through some of the recently filed patent applications of Facebook, Intel, Qualcomm, Apple, Amazon, Google, Boston Scientific, Medtronic, Merck, Roche, Novartis, and Abbott.
Facebook files patent application relating to haptic sensations in artificial reality
US patent application 20190121432 titled "Haptic Device for Artificial Reality Systems" discloses a haptic device interfaced with a head-mounted display (HMD) system to augment artificial reality experience using haptic sensations as shown below.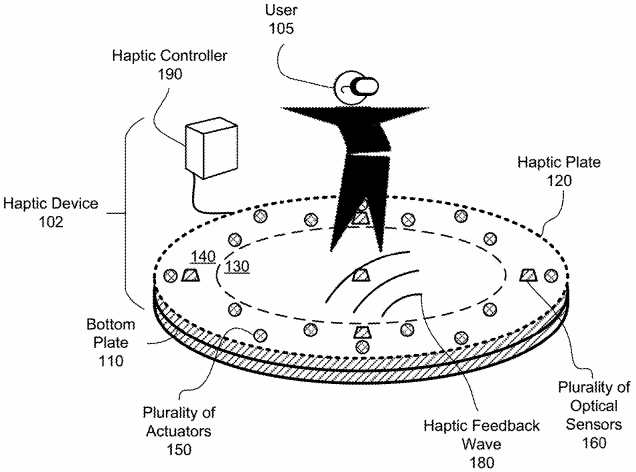 Intel pursues patent for fingerprint-based device control
US patent application 20190121481 discloses controlling devices using fingerprint input configured to manipulate a setting on the device. Figure below illustrates the disclosed concept.
Qualcomm eyes patent relating to navigation instructions to a destination
US patent application 20190120629 titled "Method and Apparatus for Navigation Based on Route Reuse" describes retaining a destination navigation instruction in memory and providing route data if the destination is in a no wireless network coverage area as illustrated in the figures below.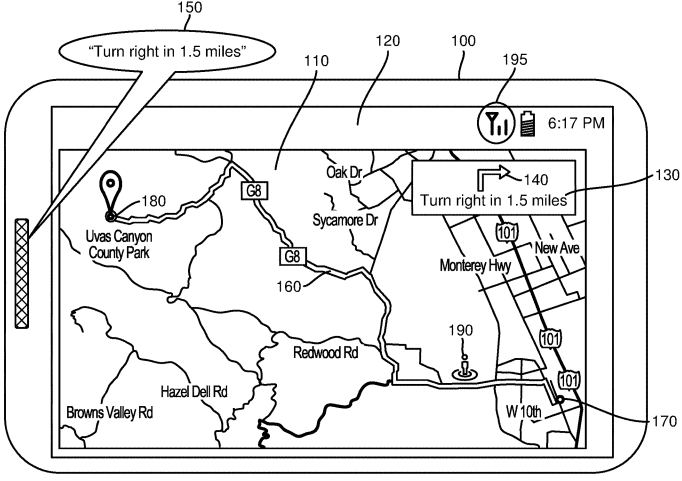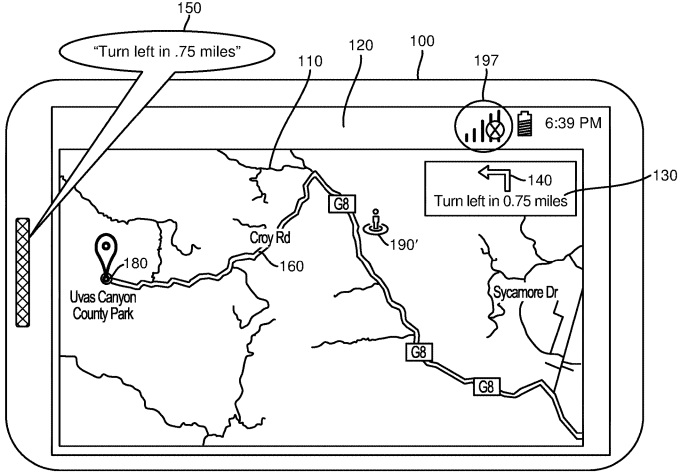 Apple wants to patent digital assistant that can whisper
US patent application 20190122666 relates to a digital assistant that detects whispered speech input and provides whispered speech response. Figure below illustrates a block diagram of the functions of the digital assistant.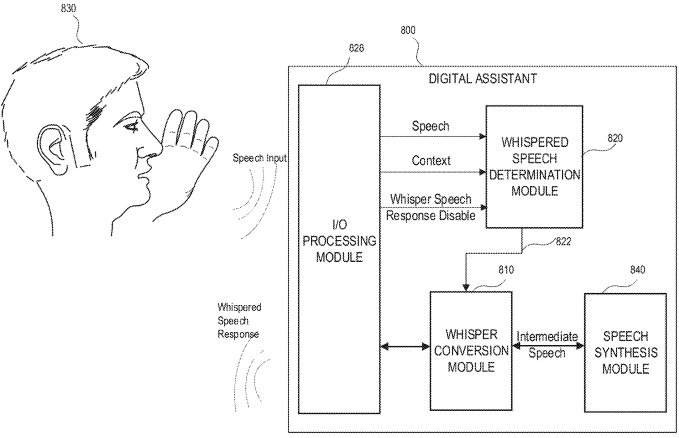 Amazon seeks patent for reconfigurable aerial vehicle
US patent application 20190118944 titled "Distributed and Reconfigurable Aerial Vehicle Configuration" describes modifying aerial vehicle configuration by changing positions, altitudes or orientations with respect to a payload, or adding new aerial vehicles to the configuration. Figure below illustrates a reconfigurable aerial vehicle configuration.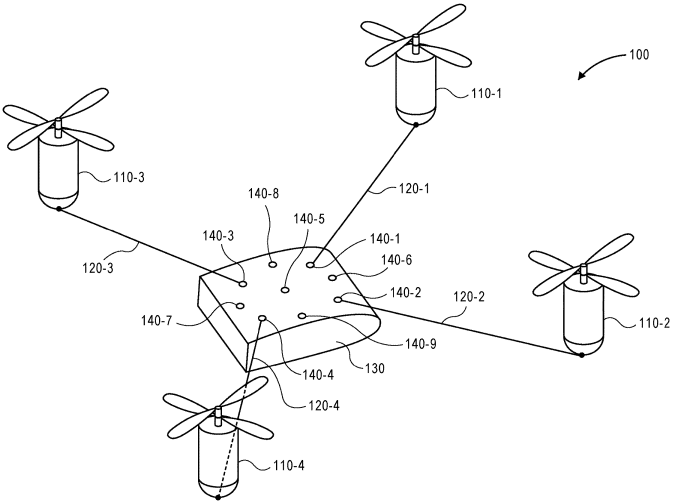 Google files patent application monitoring residents in smart home environment
US patent application 20190122522 titled "Thoughtful Elderly Monitoring in a Smart Home Environment" discloses identifying resident activity data indicative of unusual behavior based on an ordinary behavior model (OBM) and alerting an administrator when the monitored behavior differs from the OBM. Figures below depict a smart home environment and a notification based on the monitored resident behavior.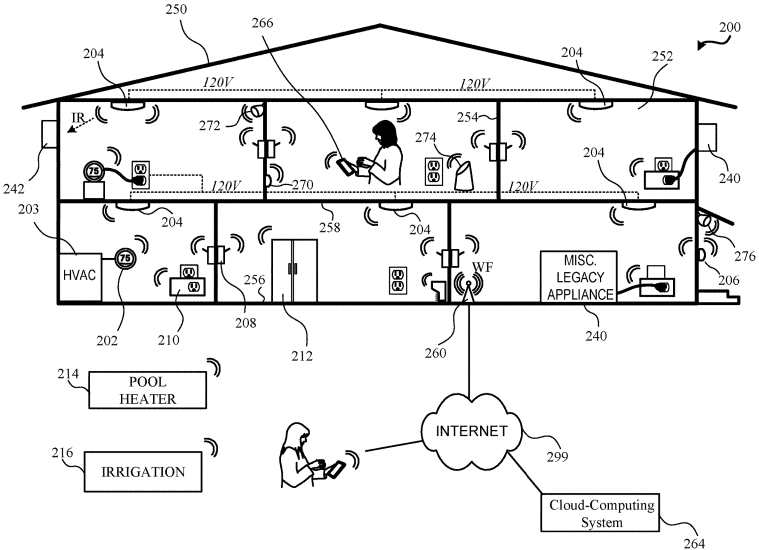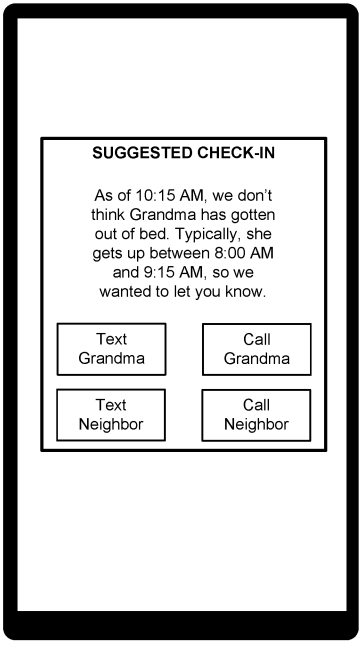 Boston Scientific applies patents for ureteral stent and fluid management device
US patent application 20190117422 is aimed to reduce pain and discomfort in a patient with an implanted ureteral stent, by providing a flexible stent that expands and contracts in response to movement between kidney and bladder, thereby reducing friction caused by the stent rubbing against ureter wall. Figure below illustrates placement of the stent within the ureter of the patient.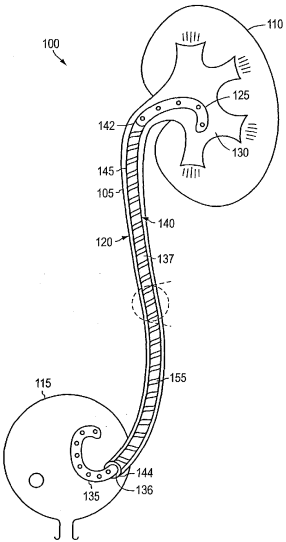 A fluid management device as disclosed in patent application 20190117043 is directed to managing fluid in a reservoir that is used to inflate the body cavity of a patient during an endoscopic procedure to provide a working space and to automatically set a fluid deficit alarm threshold that prevents excess fluid from being pumped out of the reservoir. Figure below illustrates the system for distending uterus and for assisting in tissue resection and extraction.

Medtronic files patent application for neural stimulation device
US patent application 20190117967 describes an oral neurostimulation device that comprises a mouth retainer attached to an electrical stimulator. The device is used to deliver electrical stimulation to neural tissue through a medical electrical lead. Figures below illustrate the device as implanted in the mouth.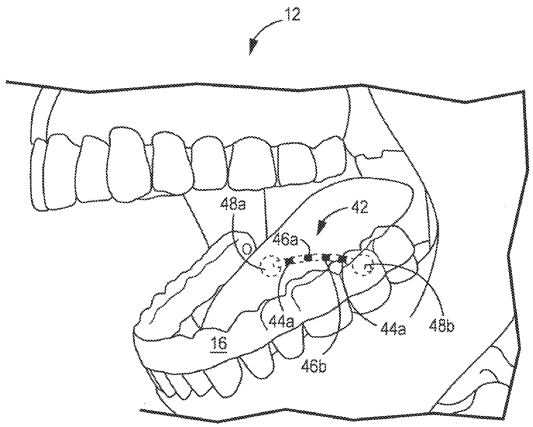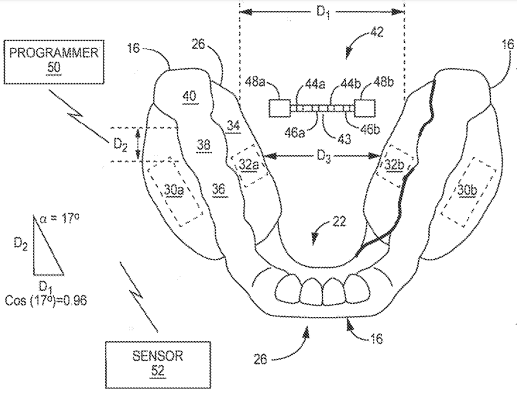 Merck applies for patent for a graft copolymer
US patent application 20190119415 discloses a graft copolymer having improved binding capacityfor the removal of charged biopolymers from liquids in a chromatograph.
Roche wants to patent a pipetting device
US patent application 20190120869 reveals an automated pipetting device and a pipetting device positioning system for use with an invitro diagnostic system. Figure below depicts the pipetting device.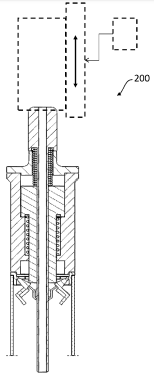 Novartis pursues patent for a paediatric composition
US patent application 20190117593 presents a pharmaceutical composition that hopes to treat, prevent or delay the progression of multiple sclerosis in pediatric patients.
Abbott wants to patent a suturing system
US patent application 20190117221 relates to a device for removing needles from systems or devices used for closure of arterial and venous puncture sites. Figure below illustrates the described suturing system.

Did you like this piece of content? We would love to hear your thoughts! Leave a reply below to let us know which companies you would like to see us follow, and any other suggestions you might have. Be sure to subscribe to our blog to stay up to date with the latest information on patents, applications, and more.