Facebook attempts to patent image perspective adjustment. Read about this and other recently published patent applications.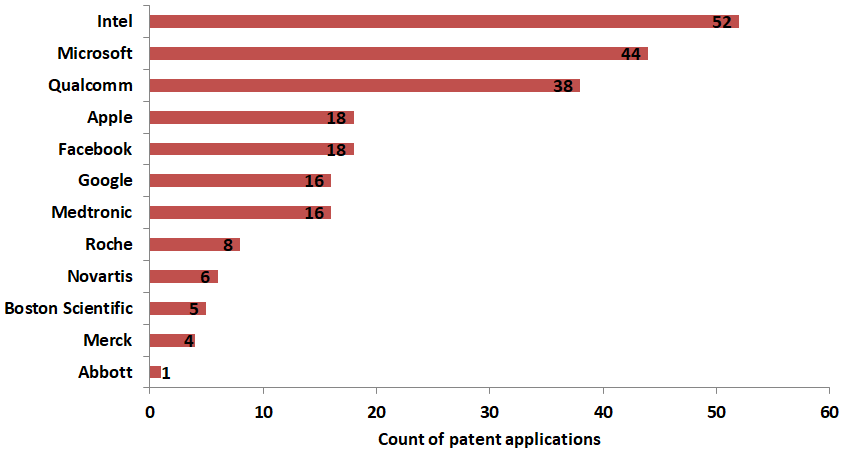 In this post, we take you through some of the recently filed patent applications of Microsoft, Qualcomm, Apple, Google, Facebook, Intel, Medtronic, Roche, Novartis, Boston Scientific, Merck, and Abbott.
Microsoft seeks patent for user interface in 3D virtual environment
US patent application 20190114051 describes a user interface (UI) having movable elements presented on a curved surface in a three dimensional virtual environment. Figure below offers a glimpse of the user interface displayed on a cylindrically curved visual surface.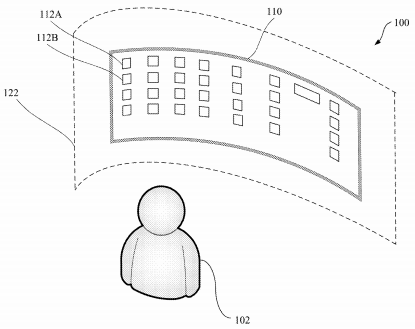 Qualcomm eyes patent relating to audio processing and user interfaces
US patent application 20190115045 titled "Audio Activity Tracking and Summaries" describes tracking and summarizing activity associated with an audio event identified from an audio signal. Figure below illustrates a summary of daily audio activity.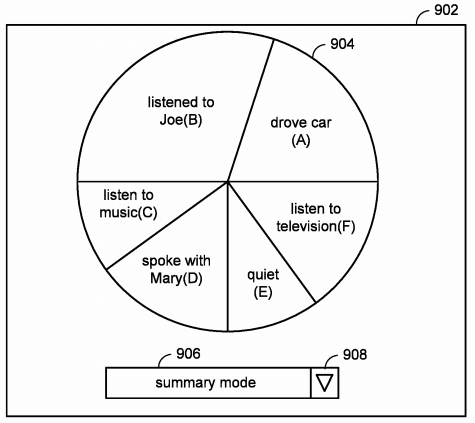 Apple files patent application relating to earbuds
US patent application 20190116415 titled "Earbuds with Compliant Member" discloses earbuds configured with biometric sensors as depicted in the figures. The earbuds can alter operation in accordance to which ear the earbud is placed in.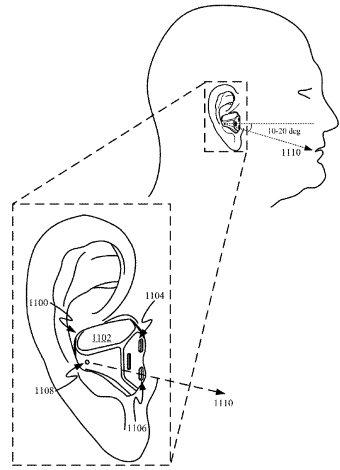 Google wants patent for video segment generation
US patent application 20190114487 titled "Generating a Video Segment of an Action from a Video" describes selecting a subset of video segments of predetermined actions based on a confidence score. Figure below illustrates user interface of highlights segmented from a full video.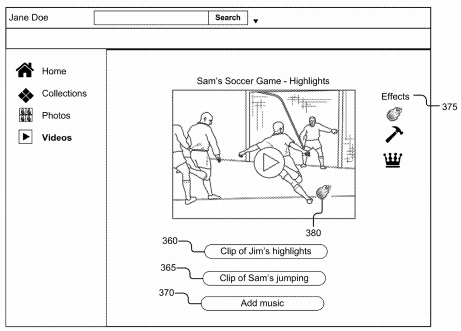 Facebook attempts to patent image perspective adjustment
US patent application 20190114058 describes adjusting the image from the initial perspective into an adjusted perspective in virtual three-dimensional space and modifying a viewable area of the adjusted image based on commands. Figures below illustrate example scenario associated with providing image perspective adjustment and automatic fitting.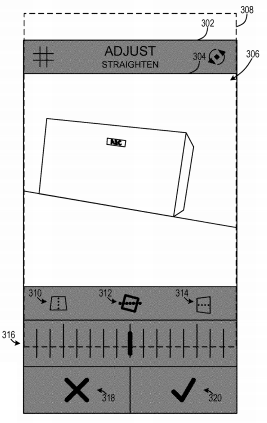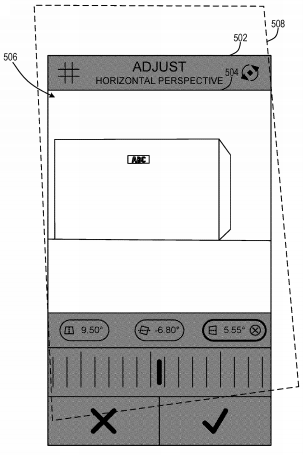 Intel aims to patent camera calibration techniques
US patent application 20190116354 describes a method for calibrating plurality of cameras by determining a relationship between each camera and a unique coordinate system. Figure below illustrates a camera system with cameras (104, 106) for capturing images of 3D objects.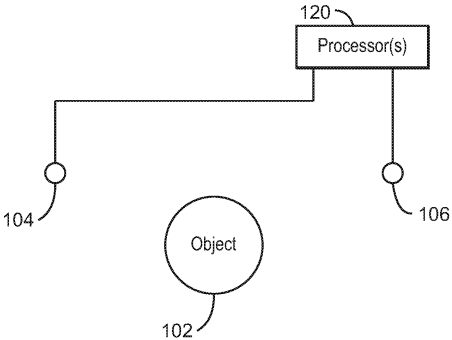 Medtronic attempts to patent drug depot and ablation catheter
US patent application 20190110982 describes a porous biodegradable drug depot film, patch, strip or sponge to be implanted in the nasal or sinus cavity to treat inflammation or pain. Figure below illustrates portions of a nasal cavity and sinus cavity with the drug depot in the form of a film or strip.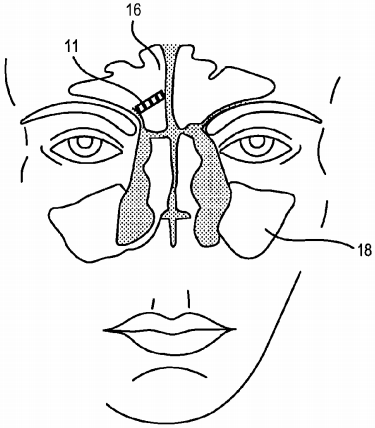 Roche seeks to patent a cartridge filling aid
US patent application 20190110953 discloses a filling aid used in preparing cartridges for ambulatory infusion systems. The filling aid is used for self-filling a cartridge from a storage vessel. Figure below shows a cross-section of a filling aid, a cartridge, and a storage vessel.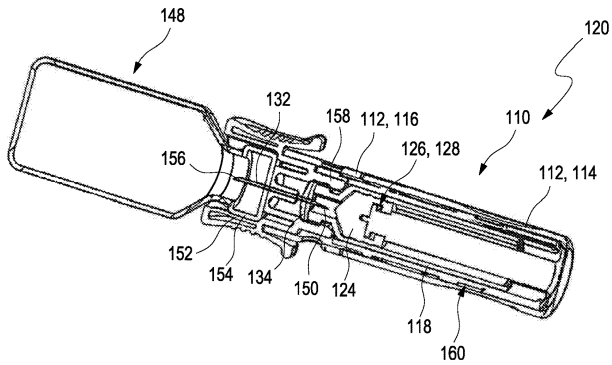 Novartis files patent application for presbyopia-correcting intraocular lens (IOL)
US patent application 20190110889 presents an IOL with high chromatic aberrations designed to treat presbyopia. Figures below depict side view and ray diagram of the described IOL.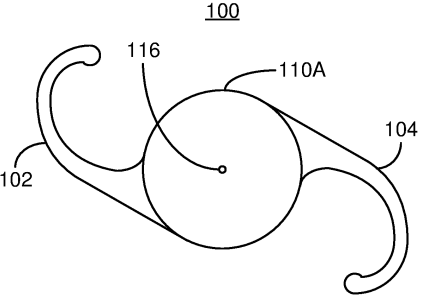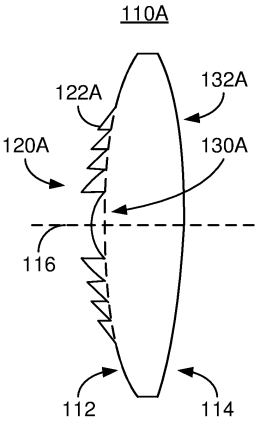 Boston Scientific wants to patent a guided endoscope
US patent application 20190110668 reveals an endoscope for use in bodily lumen having a guide on its external surface. Figures below illustrate the guided endoscope, and a depiction of the endoscope within the body lumen.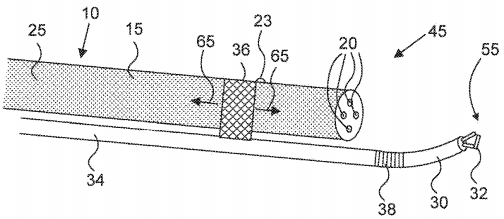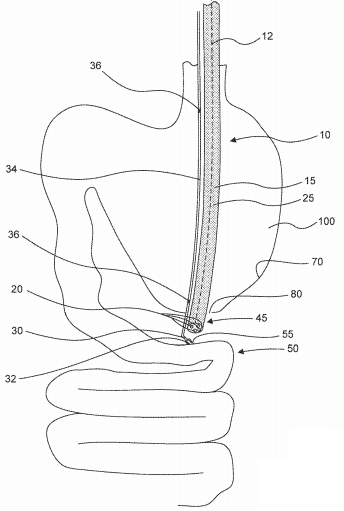 Merck attempts to patent probiotic oral administration
US patent application 20190110997 discloses a probiotic oral administration containing Lactobacilli, Bifidobacteria, or Streptococci in the form of a tablet, dragee, capsule, granular material or powder.
Abbott files patent application for a scaffold sheath assembly
US patent 20190110914 discusses a protective sheath for scaffolds and stents crimped to a delivery balloon. Once the stent is delivered, the sheath is removed from the body. Figure below shows the side view of a polymer scaffold-balloon catheter assembly with a pair of sheaths placed over the crimped scaffold.

Did you like this piece of content? We would love to hear your thoughts! Leave a reply below to let us know which companies you would like to see us follow, and any other suggestions you might have. Be sure to subscribe to our blog to stay up to date with the latest information on patents, applications, and more.