COVID-19 has infected over 3,257,996 people and claimed more than 233,429 lives globally (Source: JHU). This article addresses ongoing efforts to develop therapeutics, particularly novel vaccine candidates.
The present article is an update to our earlier coverage on COVID19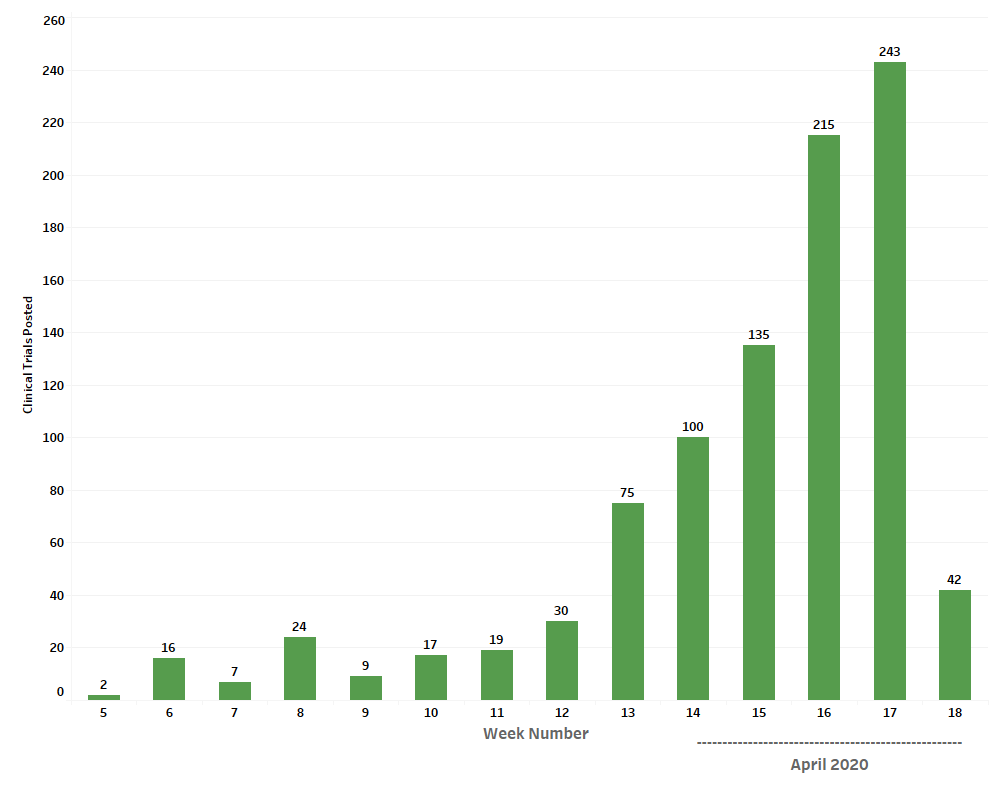 Figure 1 – Clinical Trial; Data Source: ClinicalTrials.gov
The number of clinical trials related to COVID-19 registered at various international and national clinical trial registries has increased dramatically to over 900 since our last update. Approximately 75% of these trials were initiated in the last month alone. Data from the National Institute of Health indicates that the majority of clinical trials are at advanced stages and are being conducted in countries reporting larger COVID-19 cases such as the United States, France, China, Spain, Italy, and the United Kingdom.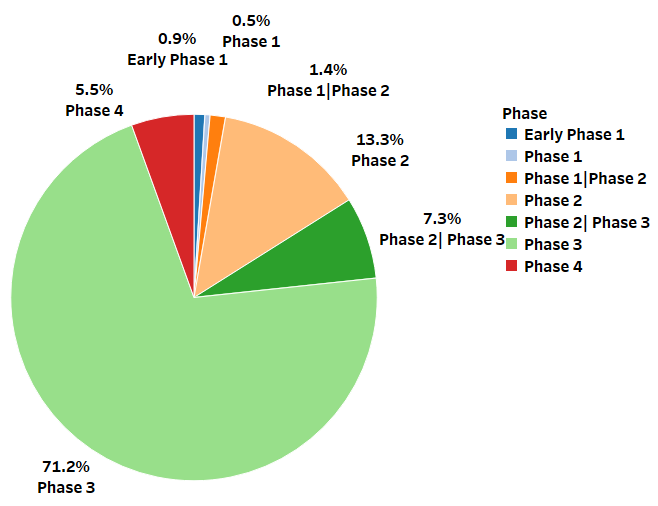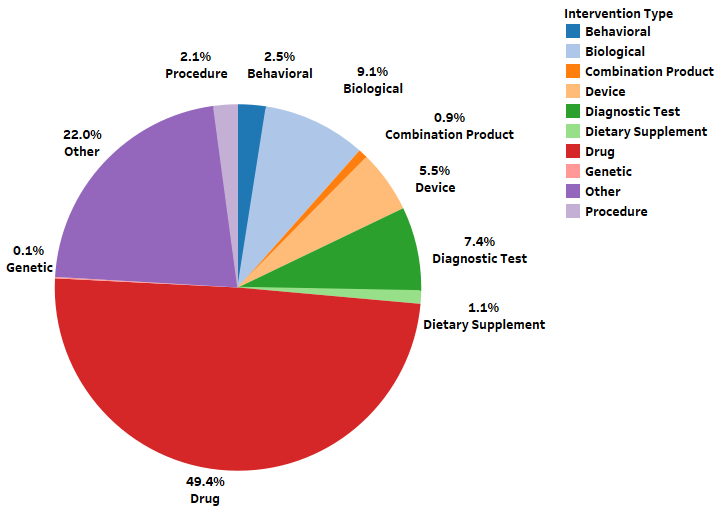 Figure 2 – Clinical Trial By Phase(left) and Intervention (right); Data Source: ClinicalTrials.gov
The advanced nature of the ongoing trials is due to drug repurposing efforts. These efforts are focussing on the safety and efficacy of medicines that have already been developed for similar Corona viruses and other diseases. Some of these include remdesivir, chloroquine/hydroxychloroquine, favipiravir, lopinavir–ritonavir, plasma therapy, stem-cell transfusion, vaccines and traditional Chinese medicines. Hydroxychloroquine, touted as a game-changer, is the most studied drug in the US with over 33 different trials. Although a combination of hydroxychloroquine with Azithromycin (a subject of 11 trials) has been suggested as a therapeutic option for the disease, some experts have raised concerns about the combination in some patient groups. Therapeutic antibodies such as tocilizumab, sarilumab, eculizumab, and nivolumab are also being tested in various clinical trials as immunomodulators.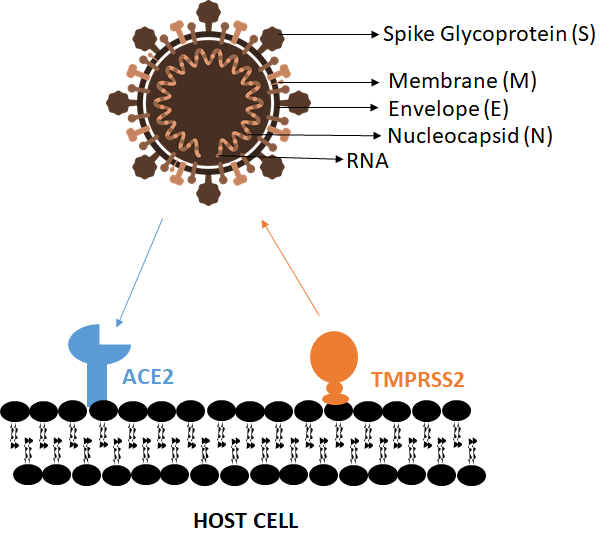 Figure 3: SARS-CoV-2 (COVID-19) is a single-stranded RNA virus made of 29,903 base pairs that is predicted to code for 24 viral proteins. Genes for the conserved and major structural proteins occur 5'-3' in the order: Spike (S), envelope (E), membrane (M) and nucleocapsid (N). SARS-CoV-2 binds to the cellular ligand ACE2 (the angiotensin-converting enzyme 2) in the host by its Spike (S) which allows the virus to enter and infect cells. The spike protein (S) has to be primed by a protease called TMPRSS2 for entry into the host cell.
The availability of the genomic and structural information from early samples has accelerated vaccine development efforts. There are more than 90 vaccine candidates in the development pipeline across the world. At least six of these are being tested in human clinical trials. The vaccine candidates come in many forms, including viral vaccines (inactivated or attenuated), subunit vaccines (peptide or virus-like particles), viral vectors (replicating or non-replicating), and nucleic-acid based vaccines (DNA or RNA).
Table 1, below, lists selected vaccines that are being tested at various stages of human clinical trials. The target antigen for many of these candidates is unknown although spike protein-based antigens appear to be an attractive option based on earlier studies of previous coronaviruses. The spike protein is a previously studied target on other coronaviruses. It mediates the binding of the virus to the host cell receptors and enables viral entry into the cell. The generated neutralizing antibodies from vaccine candidates is expected to prevent uptake of the virus via ACE2.
Company/ Institute
Vaccine Name
Type of Vaccine

Clinical Trial Details

Moderna/NIAID
mRNA-1273
mRNA
(nucleic-acid based)
NCT04283461
Inovio
INO-4800
DNA
(nucleic-acid based)
NCT04336410
CanSino Biological
Ad5-nCoV
Adenovirus
(Non-replicating viral vector)
NCT04313127;
Oxford Biomedica/University of Oxford
COV001 (ChAdOx1 nCoV-19)
Adenovirus
(Non-replicating viral vector)
NCT04324606
Sinovac
NA
Inactivated
(Viral)
NCT04352608
Sinopharm/ Wuhan Institute of Virology
COVID-19 vaccine (Vero cells)
Inactivated
(Viral)
Table 1 – Selected Vaccines that have entered Clinical Testing Stage as of April 26, 2020; Source: WHO
Some developers are focusing on next-generation platforms such as nucleic-acid based vaccines. Moderna Therapeutics, a unicorn company backed by a large patent portfolio, is betting big on its RNA-based therapeutic platform. Its synthetic vaccine candidate mRNA-1273, jointly developed with NIAID-NIH, is based on the spike protein (S). The mRNA vaccine, if successful, could be synthesised quickly, enabling quick scale-up and manufacturing.
Developing vaccines in a short-frame will require varied expertise and pooling of resources. For example, Inovio has recently partnered with Richter-Helm Biologics to scale up the manufacturing of its vaccine candidate, INO-4800, an investigational DNA vaccine backed by a patent portfolio built around Inovio's DNA medicine platform.
Table 2 lists additional partnerships between pharmaceutical companies, contract manufacturers, universities and research institutes aimed at developing effective and safe treatments for COVID19.
Table 2: Selected Partnerships and Collaborations Between Pharma Companies towards the Fight against COVID19
Traditional vaccine development is a long and drawn out process that can typically take five to ten years. However, we are in unprecedented times. The scale and speed of the global response to the COVID-19 pandemic is evident by the sheer number of vaccine candidates, developers and clinical trials that are already progressing. This outbreak has motivated many companies to shift their priorities, refocus and race towards developing the cure for COVID-19. Some experts believe effective COVID19 vaccines may become available as early as 2021.