In the October issue of "Hot Topics in Tech" newsletter series, we give a brief overview of the increasing role of Artificial Intelligence (AI) in drug discovery.
Big Pharma Seeks Help From AI Firms to Quicken Drug Discovery
Drug discovery is a resource intensive, time consuming and expensive process. On average, it may take 13 years and $2 billion to bring a drug to market. The process begins with the screening of compounds to identify potential drug molecules. The shortlisted molecules are then further assayed to study bioavailability, toxicity, and metabolism, among other things. Further, these shortlisted molecules may require tweaking of their structure or shape to increase their pharmaceutical activity or decrease binding with unnecessary targets, to improve drug-likeness or increase ADME properties of the molecule. This process, shown in Fig. 1, generally requires several iterative screening runs, during which the properties of the new molecular entities improve. This in turn allows for the selected compounds to proceed to in vitro and in vivo testing for activity in the disease model of choice.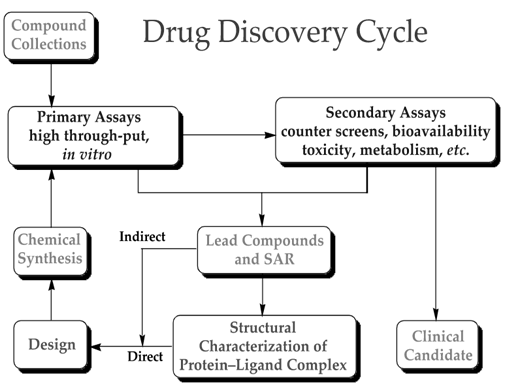 Source: https://upload.wikimedia.org/wikipedia/commons/1/10/Drug_discovery_cycle.svg
Fig. 1: Drug Discovery Cycle
The entire drug discovery process generates a lot of data from which pharma companies can draw insights and cut down on time, resources, and expenses. The existence of this vast amount of data offers the potential to help researchers quicken the drug delivery process. Big Pharma is looking at artificial intelligence (AI) and machine learning (ML) techniques to glean insights from such a large amount of data. Drug companies do not necessarily have the expertise to move quickly with big data projects. Therefore, several drug companies have announced strategic partnerships with AI companies. There are over 150 startups currently working in the AI drug discovery space. Most of these partnerships began within the past three years. Table 1 lists the companies, the AI technology used, the big pharma partners and the medical conditions for which the drug discovery processes are targeted.
| | | | | |
| --- | --- | --- | --- | --- |
| Technology Company | AI Technology | Pharma Partner | Indication | When? |
| Microsoft | Neural Networks | Novartis | Macular Degeneration, Acute Lymphoblastic Leukemia | 2019 |
| Atomwise | Deep-learning screening from molecular structure data | Eli Lilly and Company | Multiple therapeutic areas | 2019 |
| Insilico Medicine | Generative Adversarial Networks (GANs) and Reinforcement Learning (RL) | Jiangsu Chia Tai Fenghai Pharmaceutical Co., Ltd | Breast cancer | – |
| Atomwise | Deep Learning AI Technology for end-to-end drug discovery solution | Charles River Laboratories | Multiple therapeutic areas | 2019 |
| twoXAR | Deep-learning screening from literature and assay data | Santen Pharmaceuticals | Glaucoma | 2017 |
| Exscientia | Bispecific compounds via Bayesian models of ligand activity from drug discovery data | Sanofi | Metabolic diseases | 2017 |
| GNS Healthcare | Bayesian probabilistic inference for investigating efficacy | Genentech | Oncology | 2017 |
| Numerate | Deep learning from phenotypic data | Takeda | Oncology, gastroenterology and central nervous system disorders | 2017 |
| Benevolent AI | Deep-learning and natural language processing of research literature | Janssen Pharmaceutica | Multiple therapeutic areas | 2016 |
Table 1: AI and Pharmaceutical Companies
In addition to collaborations between AI firms and Big Pharma, there have developed consortiums aimed at sharing data between big pharma companies. For a long time, the main barrier to sharing the vast amount of data between pharmaceutical companies has been the fear of compromising intellectual property. Once such consortium, MELLODDY, aims to obviate the trade-off between data sharing and security, thus encouraging pharma companies to overcome their fears. The consortium seeks to use Owkin's block-chain architecture technology to extract insight from multiple datasets, without having to first pool the data. MELLODDY brings together the following partners: a) 10 leading pharmaceutical companies – Amgen, Astellas, AstraZeneca, Bayer, Boehringer Ingelheim, GSK, Janssen Pharmaceutica NV, Merck KgaA, Novartis, and Institut de Recherches Servier, b) 2 academic universities – KU Leuven, Budapesti Muszaki es Gazdasagtudomanyi Egyetem, c) 4 subject matter experts – Owkin, Substra Foundation, Loodse, Iktos, and d) 1 large AI computing company – NVIDIA.
A recent market study estimates that the AI in drug discovery market will reach $4.4 billion by 2025. Although there is a rush of excitement in using AI for drug discovery, we will have to wait until AI companies deliver on their promises. One of the challenges that AI companies face is the capability to make accurate predictions from available data. There is also a skills gap issue that needs to be addressed to train pharmaceutical researchers and scientists in the capabilities of AI and the requirements for implementing the same in their organization. Addressing these specific concerns can offer breakthroughs in time, costs and resources involved in the drug discovery process.