If you are involved in any patent litigation, whether you are the plaintiff or defendant, you naturally want to know the potential outcome of your case. At this stage, it would be helpful to be able to forecast the outcome of the litigation.
Applying Data Analytics to Predict Litigation Outcomes
In the last 5 years, Litigation Analytics has gained popularity as a way for law firms and corporations to forecast the outcome of a case.
These indicators can help answer such questions:
For a case of this kind,
What were the previous outcomes in this domain?
What is the typical time-to-closure?
What is the success rate with a particular district court?
What are the trends on damages awarded?
Of course, there are many sophisticated algorithms to compute the outcome of an infringement case, but there are also other handy ways as illustrated below, to predict the outcome of the case even at the very early stages.
There is no doubt the outcome of a patent infringement case involves many other external factors like change in the policy, law, financial flexibility, ability to deal with the business disruption of the parties involved, etc. But some indicators and historic data will help you predict the likelihood of the case.
Key Indicators
In the uncertain world of litigation, metrics like time-to-closure, outcome by courts/judges, damages awarded and success rate by the traits of an opponent, for instance, can be deemed as key indicators. Using these data cues, one can very well connect the dots while evaluating the merit of a case without much complication.
For illustrative purposes, let us take the cases affiliated with the pharma industry*.
To analyze time-to-closure we reviewed cases filed in 2015
To analyze judgments by industry as well as by courts/judges we reviewed cases closed in 2015
To study the damages awarded by industry and success rates with regard to the nature of an opponent we reviewed cases closed from 2011 to 2015.
1. Time-to-closure
Not all district courts are patent owner–friendly. In jurisdictions such as Eastern Virginia, Delaware, or Eastern Texas a typical lawsuit goes to the trial stage and gets closed within a year, when compared to the average 3+ years from filing date to time-to-trial and then to closure with other district courts. Generally, these delays may also impact other factors like the cost to run the case, market value of the patent litigated, etc.
In a panoramic view of patent litigations in 2015, we see the following statistics:
Over 550 Pharma cases were filed across various US district courts.
❏ The average time-to-closure was approximately 90 days.
❏ However, some power players took more than 325 days to contend with their opponents, for example CTE Global, Inc. and Otsuka Pharmaceutical Co. Ltd.
❏ About 70% of these cases were filed only in the district courts of Delaware and New Jersey.
2. Judgment by District Courts (or Judges)
Some US district courts have been showing a repeated pattern of outcomes in favor of either plaintiffs or defendants. Now look at the cases that closed with a judgment in 2015.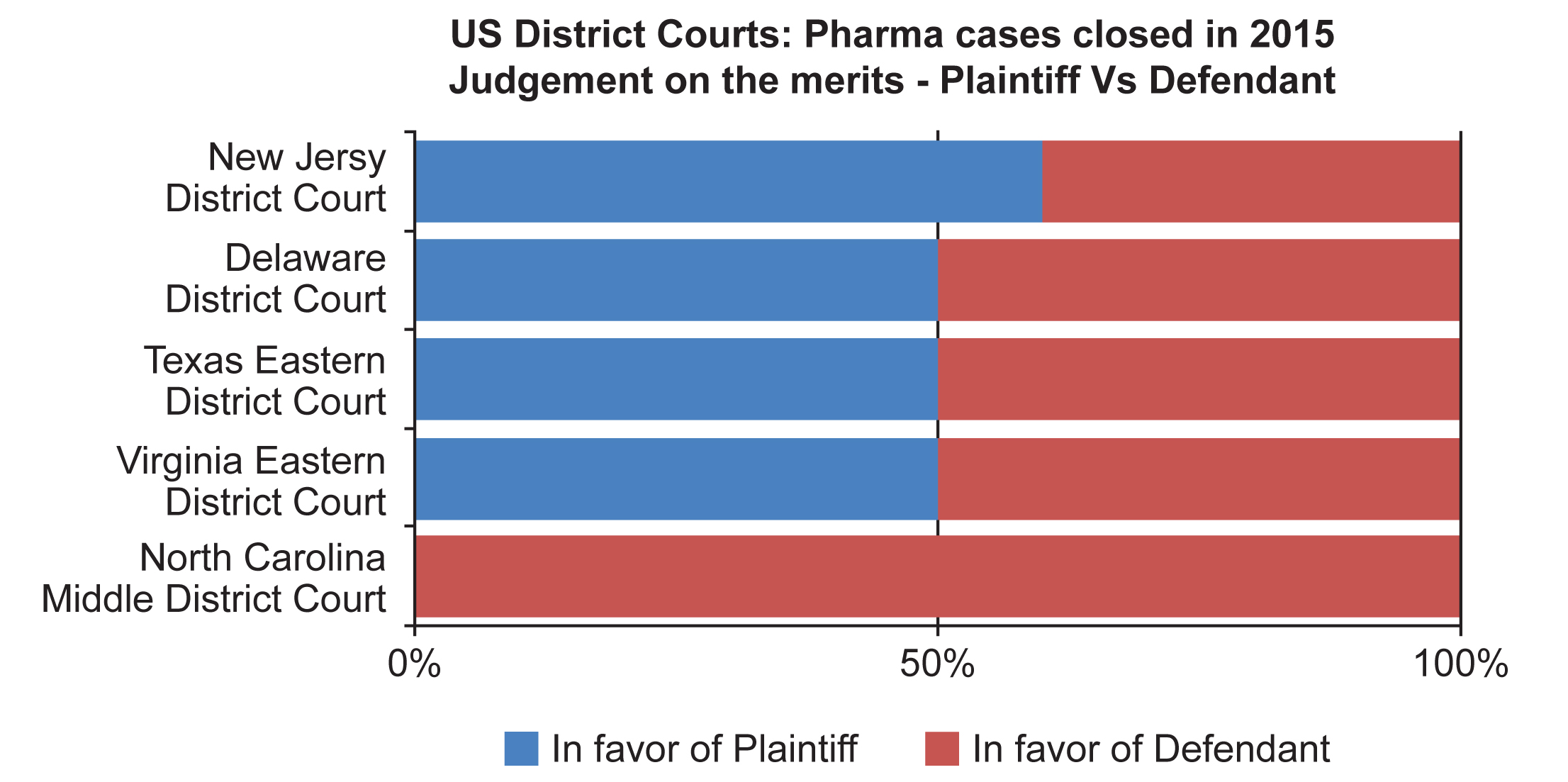 Historically, the district courts of DE, Eastern VA, NJ, and Eastern TX are said to have been the favorite destinations to file cases due to their plaintiff-friendliness. However, for pharma cases given judgments in 2015, in these courts neither plaintiffs nor defendants were favored, while at the same time those in NJ slightly favored plaintiffs. This analysis can also be applied to judges and their rulings.
3. Outcomes Within the Industry
Many recent studies have revealed the outcome trends by industry. Outcomes of patent litigation can vary between industries. It is helpful to look at the outcomes within your specific field. Below are the outcomes for the pharma-related suits filed in 2015: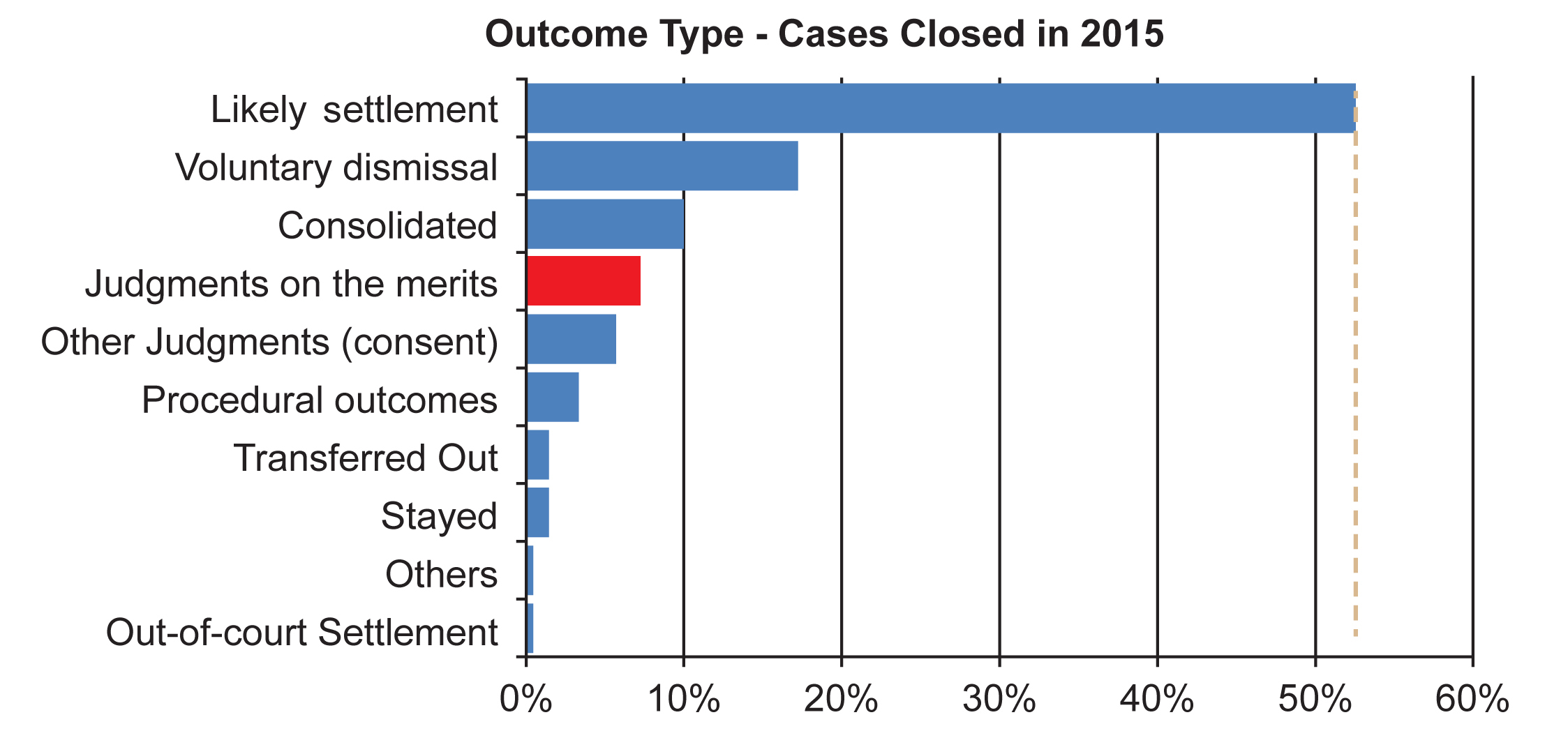 More than 52% of pharma-related suits filed in 2015 were concluded as likely settlement and about 17% as voluntary dismissals.
4. Damages Awarded
The bio/pharma industry has been awarded the highest damages for patent litigations. Since 2011, the published value of awarded damages is more than $2.14B in the bio/pharma industry alone – Centocor Ortho Biotech, Inc. and SyntrixBiosystems, Inc. were among those who were apportioned the most expensive settlements in 2012 and 2013.

In 2015, there were only two cases awarded damages in the pharma field in favor of plaintiffs – Astrazeneca AB and Monsanto. Astrazeneca, who had been combating this case since 2001 against Apotex Corporation, secured a large compensation of around $104.3M.
5. Success Rates by Traits of Opponents
Every year the number of litigations filed by NPEs, keep increasing. NPEs accounted for about 69% of the total cases that were filed in 2015 irrespective of industry type.
According to a recent study**, while the practicing entities had a lower median time-to-trial and a 10% higher success rate than NPEs for the last 10 years, in contrast, the median damages awarded for NPEs from 2011 to 2015 were 3 times greater than that for PEs.
While analytics becomes more and more handy and prescriptive, law firms and organizations have already started incorporating them as an essential component with their litigation strategies. By leveraging the analytical power of litigation tools like MaxVal's Litigation Databank (or the API), you can forecast, strategize, and benchmark yourself against others.
For the methodology used in this blog and to order any such detailed custom reports, contact us at [email protected].