The pharma industry and US FDA will reflect on a record breaking 2018 for drug approvals. The Center for Drug Evaluation and Research (CDER) approved 59 new drugs last year which is a significant increase from previous years (FIG. 1; area plots). In the last 10 years, the FDA has approved 271 novel drugs and 85 biologics (FIG. 1, line plots). The new approvals for 2018 includes 42 new molecular entities and 17 new biologics. Small molecules dominate the list contributing to 64% of the approved drugs, while antibodies represent another 20%. There was a 40% increase in approvals of cancer therapies as compared to 2017. Increased approval trends were observed towards the end of the year with the last quarters accounting for more than 70% of the approved drugs. Oral dosage forms, such as tablets and capsules, accounted for greater than 80% of approved drugs (FIG. 2).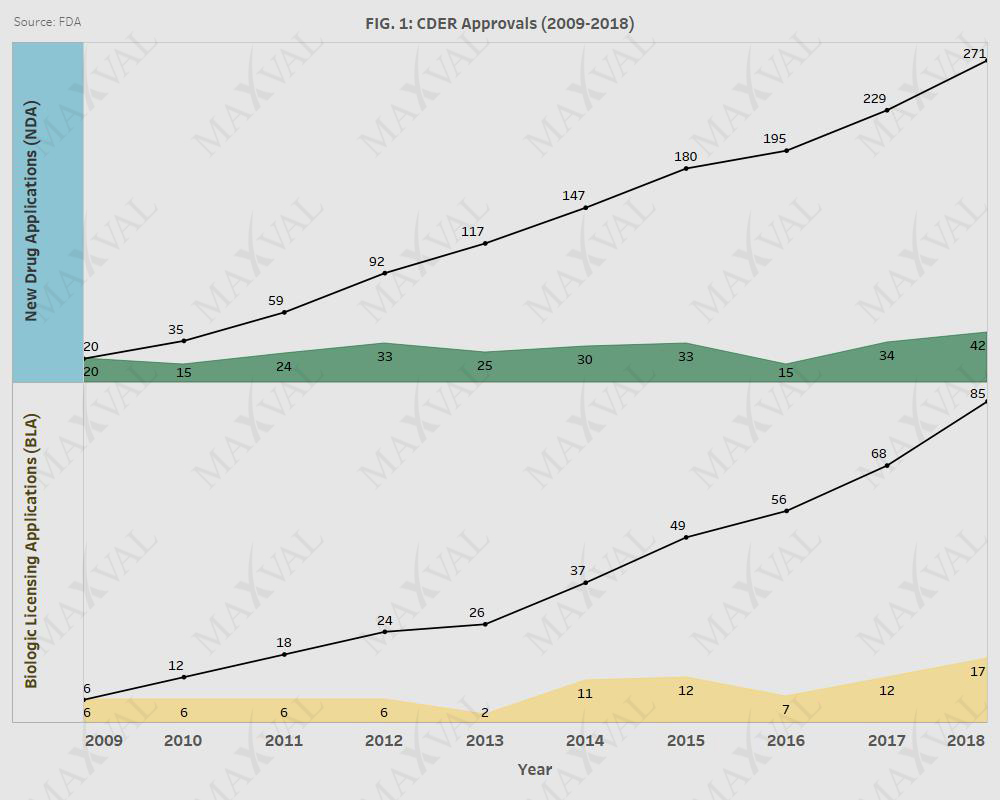 The number of orphan drug approvals have increased in recent years. Several blockbuster drugs including Humira, Enbrel, Remicade, Crestor and Neulasta were approved through this pathway. A high proportion of such applications have qualified for priority review and/or breakthrough designation.Such orphan drug approvals include both novel agents and new indications for the orphan drugs. For 2018 CDER approvals, 43 new drugs were designated for priority review, 34 were listed as orphan and 15 were listed as breakthroughs (FIG. 3). The increased approvals are consistent with FDA's policy to eliminate backlogs and expedite such orphan drug reviews. Oncology and hematology focused drugs were once again dominant in 2018 approvals followed by those targeting infectious diseases, neurological, immunological, respiratory and genetic conditions (FIG. 4).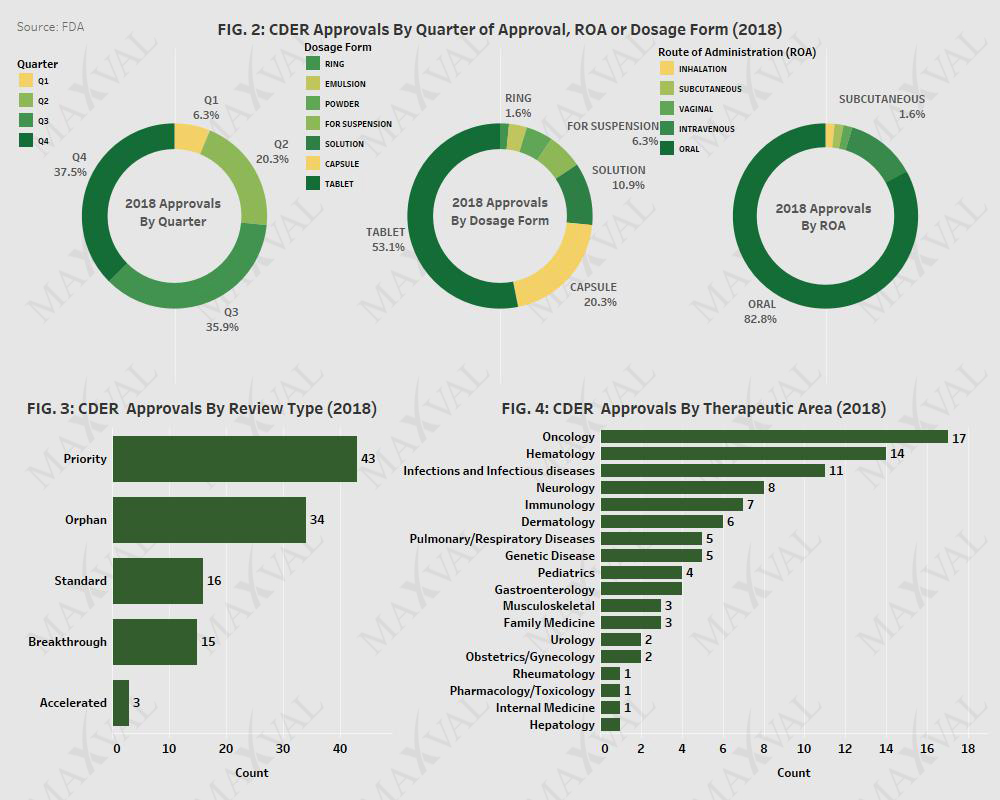 Unsurprisingly, many of the top pharmaceutical companies including Pfizer, Merck, Abbvie, Gilead, Eli Lily, J&J, Roche, Astra Zeneca, GSK, Shire and Amgen feature in the 2018 approvals (FIG. 5). Among the highlights of the year is the first ever RNAi therapeutic in Alnylam Pharmaceuticals' Onpattro. Onpattro intercepts the mRNA involved in the assembly of unwanted protein in the cells using short, double-stranded nucleotides. Amongst the other notables, Epidiolex is the first FDA-approved drug based on cannabis approved to treat a rare, severe forms of epilepsy. The medical cannabis market is expected to take off significantly in the coming years with several companies making a foray into the sector. Alexion's Ultomiris is approved for treatment of Paroxysmal nocturnal hemoglobinuria (PNH). Ultomiris is expected to extend the two-week interval dosing of Soliris to 8 weeks. The reduced dosing frequency and a 10% reduction in treatment costs is expected to make this drug a commercial success. GSK's tafenoquine is an quinoline-based drug sold under the commercial name Krintafel. It was approved as a prevention against malarial relapse. Gilead's Biktarvy is an antiretroviral combination of an integrase inhibitor (bictegravir), a nucleotide reverse transcriptase inhibitor (tenofovir alafenamide), and a nucleoside reverse transcriptase inhibitor (emtricitabine) and is given as a single-tablet regimen for adults with HIV. Abbvie's Orlissa (elagolix sodium) is an oral gonadotropin-releasing hormone receptor antagonist approved for treatment of pain associated with endometriosis in women.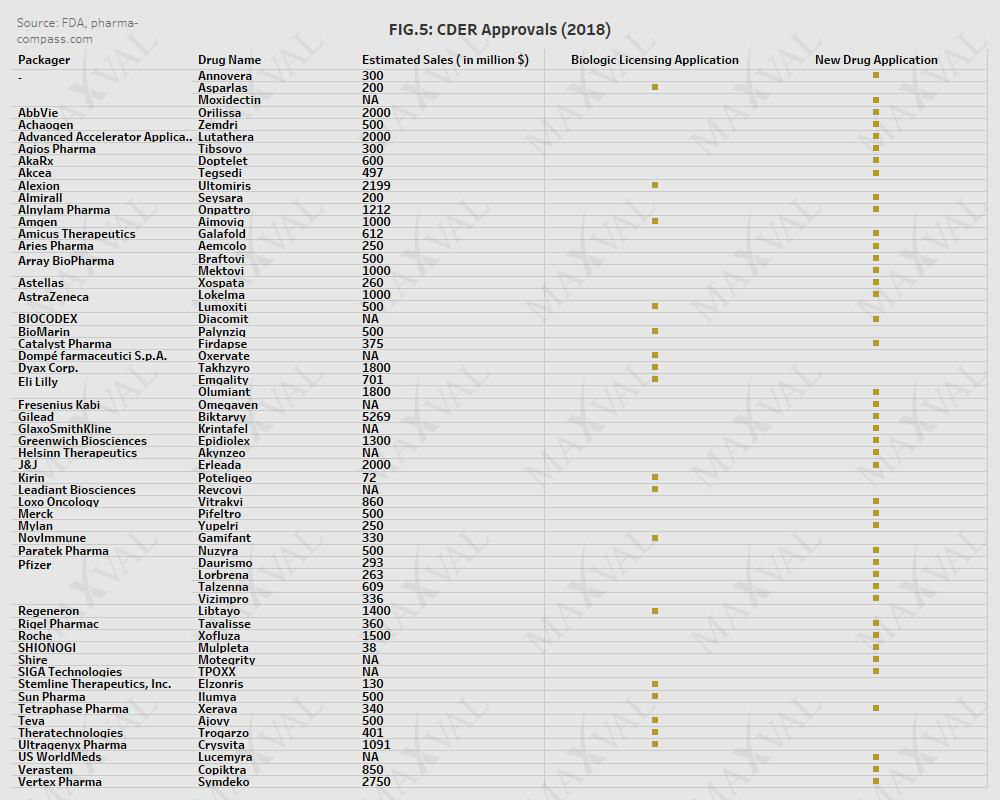 In terms of the bets and forecasts,
projected blockbusters
include Gilead's Biktarvy ($5.3 billion), Vertex's Symdeko ($2.7 billion), Alexion's Ultomiris ($2.2 billion) and Abbvie's Orlissa ($2 billion) (FIG. 5). The projected peak sales for several drugs including those developed by Pfizer, Astra Zeneca, and Merck in the 2018 list are expected to be less than $500 million consistent with the
projected
downward trends for all drugs. This suggests even big companies are starting to pay attention to rare disorders and targeted therapies with smaller peak sales potential.
As of Feb 14, 2019, 3 drugs have been approved by the FDA including Novartis's Egaten, Sanofi's Cablivi and Evolus's Jeuvea. Egaten (triclabendazole) is approved for the treatment of parasitic liver fluke infestation, a WHO recommended drug and the first of its kind. Cablivi (caplacizumab-yhdp), nanobody-based medicine targeting von Willebrand factor (vWF) protein, is approved for the treatment of acquired thrombotic thrombocytopenic purpura (aTTP) in adults in combination with plasma exchange and immunosuppression. Jeuveau (prabotulinumtoxina-xvfs) is a botulinum toxin type A formulation for aesthetic treatment of frown lines and a Botox (Allergan) competitor. Some of the anticipated drugs for 2019 include Novartis's Siponimod, Sarepta Therapeutics' Golodirsen, Sanofi's Zynquista, J&J's ketamine and Erdafitinib, Merck's Cladribine and Abbvie's Risankizumab and Upadacitinib. Siponoimod, an oral S1P receptor modulator, is submitted for treatment in secondary progressive multiple sclerosis. This comes against the backdrop of recent rejection of Celgene's ozanimod where a resubmission is expected. The pending approval of risakizumab looms over Sun Pharma's recently approved llumya and J&J's guselkumab in the crowded US psoriasis market. Risankizumab is a selective IL-23 antibody adding to Abbvie's immunological disorders portfolio and may help to position it as a leader in the space over the next few years.
We expect another productive year for FDA and drug approvals in 2019 with continued focus on neglected areas, rare disorders and targeted therapies. It is likely that we will witness more consolidation and M&A activity in the biopharma sector in 2019. The FDA commissioner, Scott Gottlieb, has recently reiterated his commitment to accelerate review times and focus on a variety of therapeutic targets. Further, the FDA has committed to developing regulatory framework for gene therapies, curbing anti-competitive practices and promoting biosimilars and generics to address the larger medical needs. There is an increasing pressure on pharma companies, that are facing hurdles such as increasing R&D costs, lower sale forecasts from new drug launches, regulatory and political uncertainties, to deliver blockbusters. However, 2019 also represents a massive opportunity for innovative pharma companies focusing on market needs.
Stay tuned for our future updates focusing on FDA drug approvals, market trends, financials, clinical trials, drug patents, prosecution analytics and patent litigation.